Mathew Street Music Festival 2008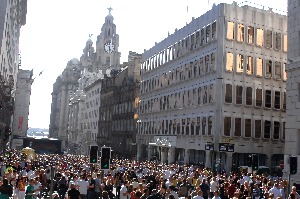 LIVERPOOL was in fine fettle on Sunday and Monday, when its annual Mathew St. Music Festival got under way. This is now the world's largest, free music festival and what a feast it has become! Liverpudlians, who love a bargain, flocked into the city in droves and were well rewarded for their efforts.

There were 6 large themed stages in the city centre. Traffic was diverted and the Queensway Tunnel was closed whilst over 80 hours of live music blasted out across the city from these and from many indoor and fringe venues in pubs, clubs, hotels and cafes all around, both official and impromptu. Over 95 bands from across the world were performing.
The weather, despite the occasional shower, was warm and often sunny and the public was in party mood. Huge hordes can be mildly daunting, even intimidating, when ranging freely around but these crowds were relaxed and friendly.

Liverpool wit and good nature prevailed and the City extended its welcome to the many British and international visitors, who in turn expressed their pleasure in the occasion and their warm reception here. People of all ages, from babes in arms to very senior citizens and from all sorts of backgrounds, race and culture united in response to the beat. This was family entertainment at its best. Liverpool has been deemed the most musical city in Britain, in an Arts Council poll and it lived up to its reputation. All the bands and performers were of a high standard, some up and coming youngsters eager to make their way. There were ,sadly, less old timers around but Connie Lush was still going strong on the Exchange St East stage, the Merseybeat and BritPop venue. Born and bred in Liverpool, she was a regular performer at nearby Walter's Bar in days of yore, we were told. She had her band of admirers around. Derby Square was a must for Beatle tribute band followers. It had its fair share of those reliving their 60s youth. It proved a popular site and also afforded good viewing access for wheelchair users. The Superlambbanana had its back to the goings on in Tithebarn St. where afficionados of Pub Rock and Blues & Soul were catered for. Further down in Water St. The Diva and Guitar Hero events were staged. Williamson Square hosted Streetwave and many new bands, whilst the area around the main Tunnel stage, in Byrom St. was thronged. As were the adjacent St John's Gardens, where people disported themselves on the grass in the sunshine as music wafted across whilst children got together for spontaneous games with a football.

There were also childrens rides and a variety of food and drink outlets. The smaller venues offered a similar range along with popular liquid refreshments. Elsewhere in the city, away from the stages the good humour continued and the streets were a hive of activity. hopefully all this will continue beyond Liverpool's reign in 08. Liverpudlians seem upbeat, even without the bands playing and rightfully confident of the enormous gifts it can contribute to the nation, not least in Music and the Arts.

Bridging the city festivities with the waterfront, the Albert Dock had a range of other musical showcases and the Beatles Museum, whilst at Salthouse Dock, a Sing-a-long, Hey Jude, was led by some of the 3,000 participants in the World Fire Fighter Games, which opened that morning with a large parade from the new arena and will be on for the next week at various sites around the area.

Once again, Liverpool showed the world that it can party in style. Apart from a few minor problems, the whole event passed of peacefully and successfully. Behind the scenes, as usual, much careful planning and hard work must have been put in to achieve this and we hope they and all the performers and their backers, are pleased with their success. Thanks are also due to the army of diligent street cleaners, who kept the roads clean and tidy throughout. The public, perhaps inspired by their efforts, seemed more careful with litter, despite the numbers picnicking happily in mid road, a real sight to behold, and other fast food and drinks abounding.

Thanks also to the Police and security staff who, although reassuringly highly visible remained good humoured and friendly throughout. So too to the other emergency workers, fire, ambulance and St John Ambulance, All of whom it is easy to forget but who play such an essential role in such events. Liverpool citizens neighbours and visitors all seem to have had a whale of a time. Here's to next year!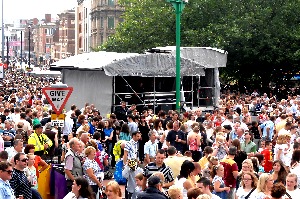 Please note that more photos and a video will be added to next weeks issue.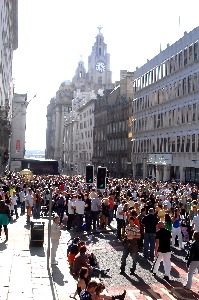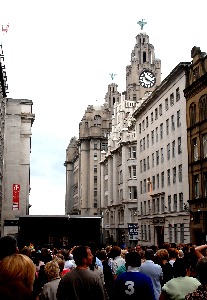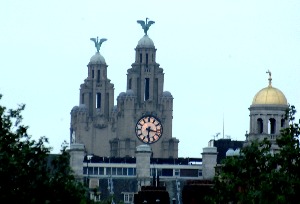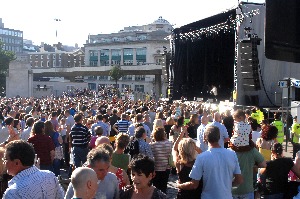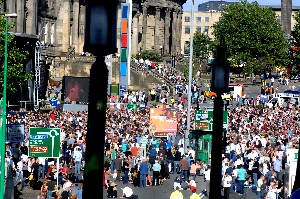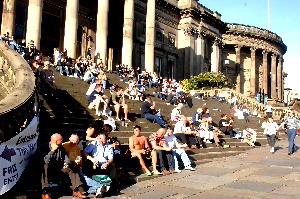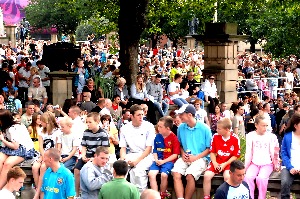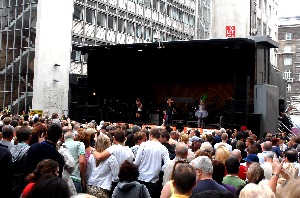 Order your photos today... Click here to find out how...