SALES GROWTH AT LIVERPOOL'S METQUARTER
LIVERPOOL'S exclusive Metquarter has welcomed a new independent lingerie boutique to its Whitechapel premises.

Secret Drawer, owned by local entrepreneur Leona Nicholas, opens for trading at the Metquarter in September.

Jennina O'Neill, Head of Marketing at the Metquarter, says:- "It is fantastic that Leona has chosen to expand her business into Metquarter; offering luxurious lingerie and corsetry will only enhance our customer experience and product mix.

The opening of Secret Drawer reflects our ambition to support Liverpool's thriving fashion and design industry."

Leona told us:- "I'm really pleased to be launching a new store in such a prestigious location and surrounded by so many great retailers."

The opening of Secret Drawer comes as the Metquarter, which houses brands such as DKNY Jeans, Flannels, Hugo Boss and MAC, has witnessed an average footfall increase of almost 20% over the first two quarters, significantly out-performing the national average.

This has led to like for like sales growth of 15% at a time when many are tightening their purse strings.

Jennina believes this is down to the brand mix and excellent customer shopping experience.

She said:- "We have a really diverse product mix on offer at the Metquarter which is one of our strengths and is certainly helping maintain the growth we have seen."

Despite being virtually fully let, interest from new tenants has also increased. Secret Drawer comes on the back of three recent lettings completed to Hamiltons, Azendi and DKNY Jeans.

Aspecto have also recently created a shop-in-shop G Star Raw concept, which opened at the start of this month.

In a final show of resilience against the UK's economic downturn, customer demand has led to all stores now opening at 9.30am.

"We have had a great year. I look forward to continued growth over the next six months." said Jennina.
Increase in fuel surcharge due to World fuel cost increases
AFTER absorbing all the rising costs of fuel for several months, the Isle of Man Steam Packet regrets that it must now pass on a proportion of the additional costs to customers with effect from 1 September 2008.

The freight fuel surcharge will increase by £6.00 per metre, to £8.00 per metre – or £40.00 per trade/unaccompanied car and low van. The passenger surcharge will increase by £2.50 to £5 per single journey.

These fuel surcharges are regulated by the Department of Transport by reference to the weighted average cost of marine fuel oil incurred over the previous six months and are determined by an agreed formula contained in the Fuel Surcharge Agreement between the Department and the Company. The September 1st increase will be reviewed in February 2009.

Chief Executive Mark Woodward explained:- "World fuel prices have reached record levels in recent months, and in the marine transport sector the scale of the increase this year has been quite exceptional.

Over the last decade, marine fuel costs rose from around $100 per metric tonne to around $600/mt by last year. This year has seen that price rise dramatically and it can now exceed $1,200/mt."

Mr Woodward added:- "The Steam Packet Company has absorbed much of the increased cost over the last few years, and since March this year has already absorbed several million pounds in extra costs, which it essentially cannot recover.

We have made reference several times this year to the fact that surcharge increases would be inevitable, but we have not increased fares this summer even though fuel now costs as much as £15,000 per return trip to Liverpool. Other UK shipping companies increased their fares in the spring - we did not, even though marine fuel costs have almost doubled. Airlines have increased their fares and, regrettably, some have ceased trading."

Captain Michael Brew, Director of Harbours for the Department of Transport, said a fuel surcharge agreement was signed by the Isle of Man Steam Packet Company and the Department in August 2005.

Captain Michael Brew told the media that:- "This agreement sets surcharges on passengers and freight and tries to be fair and reasonable in their application. The level of surcharge is linked to the variable costs of fuel actually incurred. The agreement will ensure that any sustained reduction in fuel costs will lead to reduced surcharges at the next review.

The Company is not charging its full entitlement under the agreement as the Company is not charging a number of categories of passenger and freight traffic, effectively absorbing the extra costs incurred.

Based on the information regarding increased fuel costs supplied by the Isle of Man Steam Packet, information gathered from other sources and the formula contained in the Fuel Surcharge Agreement, the Department concurs with the surcharges for freight and passengers outlined by the Company."
Merseyside Community Games 2008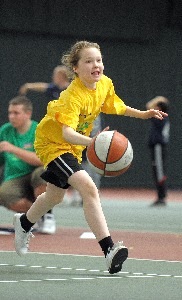 ON the Wednesday, 13 August 2008, the third Merseyside Community Youth Games was held. The Games are designed to encourage those young people within the community who are seen as socially excluded to engage in sport and cultural activities.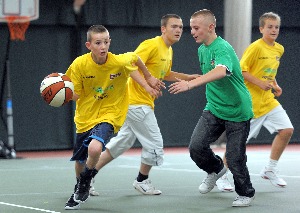 Competitive team games that took place included:- Badminton, Basketball, Cricket, Football, Netball, Rounders and Table Tennis. There where sports taster sessions for 8 to 16 year olds as well in:- Athletics, Boxing, Hockey, Rugby, Street Dance, Tri Golf and Water Polo.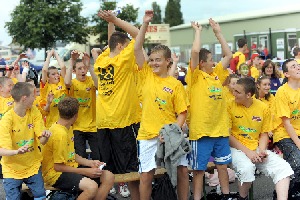 Boxer Courtney Fry provided tips to those attending the taster sessions, taking part in a question and a question and answer session was held in the afternoon.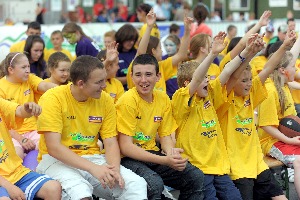 Katie Crozier, Marketing and Research Officer for Merseyside Sports Partnership said that:- "The Games are designed to promote sporting opportunities, to encourage children, regardless of social and environmental constraints, to get involved with sport so that they become fitter, and feel better about themselves both physically and socially and to offer pathways to enable young people to improve their sporting performance and express themselves through the arts. We also aim to promote a sense of identity between participants and the community they represent, to develop sporting and social links for young people outside of their own community and to develop and encourage participation, training and coaching."
To see the results - click here.
Cheshire M6 overnight closure
THE M6 in Cheshire will be closed in both directions for one night next month to remove a damaged bridge. The Hollowood Farm footbridge over the M6 between Knutsford and Lymm was struck by a lorry in July and now has to be removed from the area. The bridge is about one mile north of junction 19 and the motorway will need to be shut overnight from 10pm on Saturday, 6 September 2008, to carry out the work. Highways Agency contractors say the closure could last until 9am on Sunday, 7 September 2008, but the work could be completed earlier. Northbound M6 traffic will leave at junction 19 and follow the A556 joining the M56 at junction 8 and travelling west to rejoin the M6 at junction 20. Southbound M6 traffic will leave the M6 at junction 20 and join the M56 eastbound leaving at junction 7 and following the A556 south to rejoin the M6 at junction 19. The diversion route for traffic on the M56 eastbound wanting to join the M6 south will be to continue on the M56 to junction 7 and then take the A556 south and join the M6 at junction 19 instead. The work will be signed in advance to warn drivers. Diversions will be signed on the night.