Rosetta spacecraft meets asteroid Steins
ESA's Rosetta spacecraft will make a historic encounter with asteroid (2867) Steins on 5 September 2008. The doors of ESA's European Space Operations Centre (ESOC) in Darmstadt, Germany, will be open to the World's media on Friday, 5 September 2008 to follow the fly-by events.

Steins is Rosetta's first nominal scientific target. The spacecraft will rendezvous with the asteroid in the course of its first incursion into the asteroid belt located between the orbits of Mars and Jupiter, while on its way to comet 67/P Churyumov-Gerasimenko.

The study of asteroids is extremely important as they represent a sample of Solar System material at different stages of evolution - key to understanding the origin of our own planet and of our planetary neighbourhood.

The closest approach to Steins is due to take place on 5 September 2008 at 20:38 CEST (Central European Summer Time), from a distance of 800 km, during which the spacecraft will not be communicating with Earth.
Ed Trollope, originally from Liverpool, is responsible for the Lander's operations during the Flyby of asteroid Steins. He told us:- "Everybody on the team is very excited right now. This is the first of three science objectives during the ten year mission which was launched in 2004, and we're hoping for some great results."
The first ground contact with the spacecraft and announcement of successful fly-by will take place at 22:23 CEST. The first data and images collected by Rosetta will be sent to Earth throughout the night of 5 September to 6 September and will undergo preliminary processing in the morning of 6 September 2008.
The first images will be made available for on Saturday, 6 September 2008 (details will be given on television.esa.int).

Related story "Space Missions Has A Local Connection".
SOUTHPORT BOY STEPS FORWARD TO MAKE A GREAT SAVE AT MANCHESTER CITY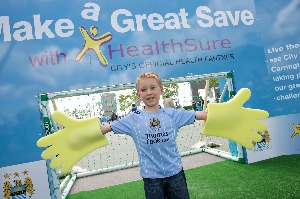 JOSEPH Ball, aged 6, from Southport, Merseyside, stepped forward to make a number of great saves at Manchester City's first home game of the season against West Ham last Sunday.

To celebrate the launch of the new Manchester City health plan from Health Sure, fans at the stadium were invited to don a pair of oversized goalie gloves and make a series of great saves from shots fired by the Health Sure promotional team for their chance to win a number of great prizes.

Mirroring the team's excellent performance on the pitch, Joseph saved three shots on target and will go forward into an exclusive draw to win the chance to watch the Manchester City squad in training at Carrington.

The stadium event marks the start of Health Sure's partnership with Manchester City Football Club. The two 'teams' have come together to design a health plan to help keep fans healthy, well and fit to support City.

Craven Minor JFL New 2008/09 Season
THESE are the first 11 a side fixtures for September 08, plus the JFL mini fixtures in a down loadable pdf format.
Click here to read now Fixtures
Click here to read now Mini Fixtures