CREAMFIELDS 2008
Written by Dionne Ankrah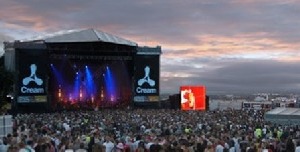 THE Creamfields 2008 10th anniversary festival brought 35,000 people to the countryside, to party to a mixture of live acts and DJ's. The legendary event was extended to a 2 day event for the first time this year and with 85% of revellers opting to camp. This year's line up is one of the most diverse ever seen at a UK dance festival with artists such as Kasabian, Sasha, Paul Oakenfold and 2ManyDJ's.

As my guest ticket didn't stretch to Sunday, 24 August so I can only review Saturday's line-up and this involved paying £20 before my guest ticket was handed over. Very unusual as I have never been asked to stump up money on arrival to any other event I have covered and unlike in previous years I didn't have access to the hospitality so cannot comment on the Cream & Goodgreef Arena.

One of the main attractions live on the main stage on Saturday was Fatboy Slim, who played an amazing set and had the other arenas empty within minutes of starting. He delighted the masses playing a mix of house and techno, as 'Right Here Right Now' was played into the crowd a sea of glow sticks was raised in the air.

In the Subliminal Sessions Arena after finally getting into the place, it was bursting to capacity with security having to stop people coming in; the reason why this Arena was so popular was plain to see. Dj's such as Tom Novy, Anton Powers and special guests Felix da housecat, but all in all one of the best DJ's had to be Erick Morillo who raised the roof with his set.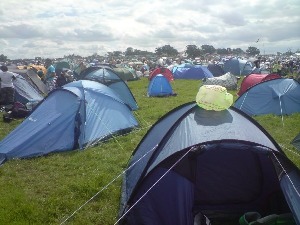 As the rain fell and the mud got stickier, this still didn't dampen the spirits of party goers who most definitely were not dressed for the weather. Meanwhile in the Cream tent which is usually one of the favourite Arena's, James Zabiela played one of the best sets of the night as he started off slowly and built the music up to a crescendo.

One of the new additions to this year's Creamfields was the Ape Arena which played Drum 'n' bass and was packed all night. Another new addition was the BBC introducing bus which hosted special guests and music, which was broadcast to the nation.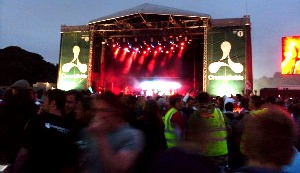 All in all it was an amazing event, one not to be missed and for anyone who missed this year's Creamfields, next year is going to be a 2 day event with tickets already on sale. So go on don't miss out on one of the world's best dance events and purchase your ticket early.

Did you go? Let us know what you thought of the event by emailing us at:- news24@southportreporter.com.
Family fun at Transport through the Ages
TRANSPORT enthusiasts are invited to step back in time to view a stunning array of vehicles and vessels.

Around 10,000 people are expected to flock to 'Transport Through the Ages', which takes place at Birkenhead Park on Saturday, 13 September 2008 and Sunday, 14 September 2008.

One of the main attractions on Sunday at this free event will be 4 vintage full sized steam boats on the lake in Birkenhead Park - a sight that is regularly seen on Lake Windermere but not been seen in this area since the early 1900s.

There will also be around 80 vintage and classic cars, commercial vehicles, motor cycles and pedal cycles at the event – which is organised by the Lions Club, on Wirral, and the Wirral Transport Museum.

A vintage Victorian steam driven fairground ride and vintage traction engines will be on offer on both days guaranteeing 'Transport Through the Ages' will be a fun family day out.

Choirs, street entertainers, trade and charity stalls, exhibition stands, displays and many other attractions complete the event.

Ken Fretwell the Organiser said:- "This event promises to be a fantastic day out, not only for transport enthusiasts but for families as well. We really hope people will come along and soak up the atmosphere at this free event. The event is being supported by Wirral Borough Council, Merseytravel and many other local businesses.

Merseytravel, will provide a free vintage bus service from Liverpool to Birkenhead on Sunday, 14 September 2008 only. There will also be a regular vintage tram service / bus service from Woodside Ferry terminal via the Wirral Transport Museum, in Taylor Street, to Birkenhead Park. Merseytravel have produced a souvenir timetable for buses all buses running to the Event from Liverpool and Birkenhead."
HAVE YOUR SAY ON LIVERPOOL'S NEW PUBLIC ART MURAL CELEBRATING THE LINKS BETWEEN LIVERPOOL AND IRELAND
FOLLOWING the successful Beatles mural in Croxteth Avenue, Litherland earlier this year, the Liverpool Mural Project now has a new mural to paint and want you to get involved. In collaboration with, Liverpool Culture Company, Open Culture, The Liverpool Irish Festival and The New Picket music venue, we hope to create a distinctive, non-political mural, celebrating Liverpool and Ireland's proud history and culture.

The Liverpool Mural Project is a unique and exciting project, which unites the skills and experience of Belfast mural artists from both communities, Belfast Loyalist Mark Ervine and Republican Danny Devenny, together with community groups and artists in Liverpool. The current project is to restyle the facade of The New Picket venue which is located on New Bird Street, off Parliament Street.

Peter Morrison, Project Manager:- "Following the recent success of the Litherland mural and the fantastic response, we are delighted to be working with the Culture Company on this project. We want everyone to play a part, so tell us your ideas, come and watch the artists at work and have a go!"

How to Participate… anyone and everyone can get involved by providing suggestions of links between Liverpool and Ireland for the content of the mural. This could be people, buildings, or anything that is symbolic of the strong historical union between Liverpool and Ireland, or is of a musical theme. Some current suggestions being considered include Irish trade union leader James Larkin, who was born in Liverpool, musician Elvis Costello, and Kitty Wilkinson who was born in Ireland and pioneered the country's first wash house.

We are also looking for enthusiastic people to get involved with the painting of the mural, which will take place early September at the Picket. If this sounds like fun, then please get in touch, telling us about yourself and why you're interested, you don't have to be an expert we want everyone to get involved, have their say and take ownership.

To get involved email getinvolved@theliverpoolmuralproject.com.