JAZZCOTECH DANCERS...
I was told a group of dancers were fantastic and that they were hear in Southport for the jazz festival. I could not work out what was so special about them, so I decided to go and see for my self.....
The JazzCotech are a UK Dance group specializing in the untapped art form of Old School Jazz Dance, a dance which developed in the UK clubs in and around the 80's. It is unique to the UK and relatively untapped, combining fast, intricate footwork with floor moves to express mostly the heavy Brazilian Fusion and also Swing tunes. How do you describe Jazz Dance? Most people will think of clean-shaven, suited and booted Dancers gliding and spinning across polished floor boards in a contemporary, serene style, their audience consisting of a well-dressed, classy, cocktail- sipping crowd in a continental bar, their music a tinkling mix of piano and saxophone...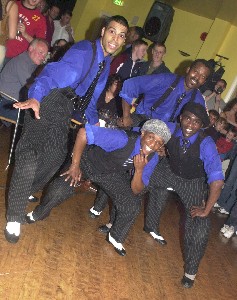 Enter JazzCotech - Dancers from all walks of life - their Jazz Dance style is anything but serene. These guys are mad, combining high-speed, intricate footwork moves with crazy, acrobatic elements. They all have their very own individual styles, and come out with moves so fast, you have to see them more than once to take it all in! This group was so fast my reactions were really put to the test. I am use to photographing Jets and fast moving racing cars, but these chaps would leave Superman Breathless! I have to admit I my self have never seen moves like it and with the Commonweal Games coming up, I think this group could give the athletes a run for their money.

I decided to find out more about how they got their moves, so I spoke to their manager who told me "JazzCotech Dancers found each other in the clubs of London some ten years ago. When London's club scene moved away from the heavy, bassy Jazz Funk of the early 80's to the slick, clean-cut Sweet Soul and Rare Groove rhythms, these Dancers stuck to their guns and supported the reducing number of clubs and DJ's who stuck to their non-commercialized and no-nonsense music policy of Jazz, Jazz Funk and Latin. Then, it was all clubbing and the love of music and dancing which brought them together every weekend and it was then that I had the idea to preserve this type of dance style and take it one step further." Perry Louis said.

After dancing for a London-based dance group and performing the odd show or video, Perry's idea grew into a dream and then into reality when he was made redundant from his job in a Marketing Department of a large company. He took a part-time job as a local government officer in his home town of Luton, and used the other half of his time to build up a network of dancers and musicians who shared his dream; "Keeping the Art of Old Skool Jazz Dance Alive".

"It was more than hard work", remembers Perry, "and still is. Finding sponsors, publicity and performances, as well as dancers with the right attitude and commitment. I didn't want JazzCotech to go down the same path as other dance groups. I wanted to be professional, have a professional image. Too many event organizers and musicians have this perception of dancers being unreliable, lazy and only interested in quick fame and fortune - I wanted to show that this is not always the case. I know that we may never be famous or rich, but we have held out for something we love and believe in".

This hard work and mature attitude have certainly paid off. Large festivals such as Glastonbury, Phoenix, Montreux International Jazz festival, Dublin Jazz week and Ballroom Blitz are repeatedly asking JazzCotech to come back to perform and hold workshops. Well known jazz icons such as James Taylor Quartet, Mark Murphy, Count Bassie Orchestra, James Brown and most recently Wynton Marsalis are more than willing to have Perry and his JazzCotech on stage with them. "We can make their music come alive and visible", says Perry!

At the moment, if you missed them at the festival you can catch Perry and some of his Dancers every Saturday at the Jazz Cafe in Camden, where they promote and host their weekly club night, "Messin' Around", a night of 70's Funk, Jazz Funk, Latin and soul.

"Sometimes the whole club just stops for a little while to watch us dance. That feeling is exhilarating to me, as it shows me that the interest in our style is not fading, but getting bigger and bigger".

I wanted to know if any one could learn the dances so I asked and they said "People always ask how they can learn the moves and where we hold classes. This is why we hold very popular workshops across the country and in Europe. But it seems public interest is increasing by the minute, and I am currently working on ideas on how to teach it regularly, in a proper dance class environment".

These days, Perry's dream is to show and teach his Jazz Dance Style all over the world. So far this year he has been to New York presenting a clinic at the IAJE, performing in Toronto, Bergen and Oslo. Now they have been to Southport! Perry and the group said "Southport is a lovely town and is a very good venue for Jazz. We are glad we came and we hope to see you next time!" Later this year trips to Japan, Finland, Italy and U.S.A are in the pipeline.