Fear of the internet hinders learning
DATA from a study by the Chartered Management Institute suggests that senior executives across the UK are missing easy opportunities to hone their skills, as they fail to make use of the online resources available to them.

According to the findings, which were explored by the Institute and Centre for Applied Human Resource Research, the majority of UK managers (67%) spend 30 minutes or less using company intranets, the internet or e-learning materials to solve any one problem. Just 54% have made use of online management resources in the past year and just 1 in 5 have participated in a structured e-learning programme. This is despite an overwhelming proportion (90%) confirming that internet access is readily available to them.

Jo Causon, director of marketing and corporate affairs at the Chartered Management Institute, says:- "It's particularly worrying to discover what amounts to an 'internet phobia' given the transformation made by the training and educational sectors in recent years.
With rapid technological changes being the one constant to the way we work, it is vital that individuals and organisations embrace the internet and use it to their advantage."

The research shows that 47% of respondents claim resistance to e-learning is caused by the 'loss of the human touch', but 46% say they have 'too many distractions' diverting them from PC-based development.

To address these concerns and provide guidance for managers and leaders, the Chartered Management Institute will run a special session on 'Technology and Enhanced Learning' at its National Convention, at the Hilton Birmingham Metropole, 9 October to 10 October 2008. Focusing on the challenges of building useful technology-driven learning programmes, it will enable participants to understand how to create an enriched and cost-effective learning environment.

Under the theme of 'Skills and Innovation', the seminar will form part of a series of 40 workshops at the two-day conference. This year's national Convention will also host a 'Question Time' style debate on the future of management and leadership. Panelists include Sir David Brown, chairman, Motorola, Terry Morgan, chief executive, Tube Lines and Dame Lynne Brindley, chief executive, British Library.

The conference will also host keynote addresses from senior business leaders, including:-

• Ben Verwaayen KBE, chief executive, BT Group
• Mor Lockhead OBE, chief executive, First Group
• Stephen Holliday, chief executive, National Grid
What are your views about this report? Email our news room to day via news24@southportreporter.com and let us know!
Holland's launch search for the North West's pie experts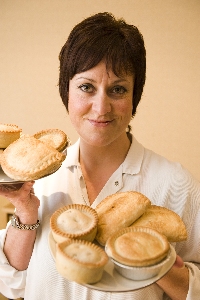 LANCASHIRE'S leading pie maker, Holland's Pies, is searching for the North West's most passionate pie people to join their specialist panel in a quest for pie perfection. The move is the brainchild of new managing director, Neil Court-Johnston, who is determined to reawaken the region's passion for pies: "Wherever you are, the issue of what makes a good pie generates a lively debate and it's fair to say that the North West is livelier than others. Right now, there's a real desire for good quality, traditional British fayre and, as a company that makes over 80 million pies, puddings and pasties each year, we've decided to open the debate on the great British pie. It's all about letting people know that we do listen."
The new MD is looking to select a 12 person panel from across the North West to help Product Development Manager, Maria Yuste, ensure that the famous pies are of the highest quality. Those selected will be invited to a series of specially arranged pie-tasting sessions to review every recipe and offer their opinions. Maria Yuste explains:- "As a selected member of the panel, you will be invited to advise us on existing products, help us create new recipe ideas & try new dishes before anyone else. For many years, we've remained loyal to the recipes people have known and loved for generations and keeping in touch with people's tastes is incredibly important to us. This is a great opportunity for people to play an important role in the future of Holland's Pies – and help us to shape the decisions we take. The message is simple, if you're passionate about great-tasting, traditional, wholesome food, we'd love you to hear from you."

Holland's employs over 400 people at its Lancashire base and is part of the chilled division of Northern Foods. The company enjoys a 60% share of the market in the North West, an area where 92% of people have heard of Holland's Pies.
Anyone wishing to be considered should contact Leanne.Holcroft@NorthernFoods.com.