She's top of the One Stop Shops!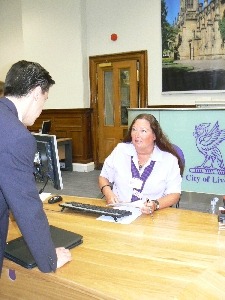 A Liverpool city council worker who has helped thousands of people is up for a national award. Georgina Grant has been short listed for the prestigious National Customer Service Awards. Georgina, 54, who works as a Customer Service Adviser in the City Centre One Stop Shop, has been short listed to be the Front –Line Customer Service Professional of the Year.

Sponsored by ICS (Institute of Customer Service), the award has been voted on by more than 120 judges across a variety of industry sectors.

Georgina, from Southport, will now go head to head with 9 of the country's finest customer service advisers. She has transformed the lives of hundreds of people by helping them in difficult situations such as danger of losing their home, claiming benefits or paying bills.

She said:- "I'm absolutely delighted to be shortlisted. I try to be an ambassador for Liverpool City Council and raise the profile of the city to local people and visitors. It is really important to me to make sure every single one of our customers receives a 1st class service. I have enjoyed every second of my 7 years working at the One Stop Shop and I feel honoured to receive this recognition."

Liverpool City Council Leader, Warren Bradley, said:- "I am absolutely delighted that Georgina has been shortlisted for this prestigious award. Her achievement is a reflection of the hard work of the whole team and it demonstrates the top quality service provided by the city council."

Rob Bracey, Team Manager of the city centre One Stop Shop, said:- "By being incredible professional and sacrificing her spare time to help others, she has become a mentor for other staff. I am extremely proud and happy that she is receiving the recognition she deserves."

The winner will be announced on 23 September 2008 at the Grosvenor House Hotel in London (UK).
Irritating passengers driving partners around the bend
DOES your partner drive you mad when they're a passenger in the car with quips about your driving, fiddling with the radio and telling you where to go? Well you're not alone, as new research has shown that a 3rd of motorists get irritated by their partner when they're a passenger in the car, with women getting more irritated than men.

Women's car insurance specialist Diamond quizzed 1,000 motorists on their feelings towards their partner in the car and whilst 33% find their partner irritating, it's women who feel it the most with 39% of them admitting to getting irritated compared to 23% of men.

But what irritates drivers the most about their partners?
Top of the list is criticising driving followed by trying to give directions and changing the music or radio station on the stereo. The full list of irritations is:-

1. When they criticise my driving
2. When they try to give me directions when I know where I'm going
3. When they change the music/radio station I'm listening to
4. When they pick their nose
5. When they belch/pass wind
6. When they shout

Women are more likely to get irritated by their partner criticising their driving, whereas men are more likely to get irritated by their partner trying to give directions or changing the music/radio station they're listening to.

Diamond managing director, Sian Lewis, commented:- "Our research suggests that the car is a place of tension for couples with both sides irritating each other in different ways. But it's important to remember that however irritated you feel by your partner criticising your driving or changing your favourite music, you shouldn't react as it could affect your concentration and impact on your driving ability."

Diamond delved deeper into the issue of directions and found that over half of motorists admit to arguing with their partner over directions, with women more likely to do so than men. 96% of women will admit if they're not sure where they're going compared to 89% of men, however, in a surprising result, 87% of women will stop and ask for directions if they're not sure where they're going compared to 91% of men.

Sian continued:- "The stereotype has always been that men won't ask for directions but these results seem to turn this on its head with more men than women admitting they'll stop and ask for directions. But stubborn men are still more likely than women to carry on driving without actually knowing where they're going so maybe the stereotype's not completely vanished after all. Of course there is a safety aspect for women when asking for directions and we'd advise women to stop somewhere safe such as a petrol station if they should lose their way."