Nearly 1 million jumping the turnstiles
A new study commissioned by G4S Security Services (UK) ('G4S') has revealed the potentially huge losses the events industry faces with nearly 1 million people (826,000) admitting to deliberately entering a festival, music or sports event without paying in the last five years. With tickets for an event such as the Reading Festival costing £155 for a weekend's entertainment, promoters face losing millions of pounds in revenues as a result of these 'fence jumpers.'

Alarmingly for the industry, 1-in-20 of those questioned (equivalent to 2.2 million GB adults) believe that entering an event without paying is morally acceptable. The research suggests that 16 to 24 year olds are the least concerned with avoiding ticket costs with 11% of those questioned thinking such behaviour was morally acceptable. 1-in-10 25 to 34 year olds were of the same opinion and half of those (5% of those questioned) admitted to having committed the crime in the last 5 years.

Mark Hamilton, Managing Director of G4S Events, said:- "Revenue protection is a key concern for the music and sports industry. Unfortunately, many Britons do not regard it as morally reprehensible to enter an event without paying. It is the same attitude that sees Britons that would not dream of stealing a DVD from a store, downloading music illegally, or purchasing a copy on the black market. Given this attitude, it is vital for event organisers looking to protect their revenue and ensure the health and safety of event goers that robust security measures are in place. Organisers of events like the Glastonbury Festival have successfully reduced the number of people 'fence jumping', by installing a robust perimeter security solution."

The research also suggests regional disparities in the security provided at music and sporting events. Approximately 1-in-10 adults living in Greater London thought that attending an event without paying was morally justifiable, but only 1% of those in the capital admitted to actually having done so. Only 3% of those in the Midlands considered entering an event without paying to be morally acceptable.
Thornton to Switch Island Link Road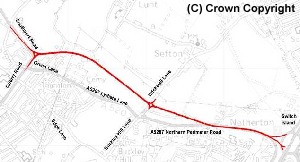 ON Thursday 16 September 2008, the Transport Minister, Rosie Winterton, announced that the Bypass will now be built to link Thornton to Switch Island. This comes after a very long running Public Consultation in to ways to reduce traffic congestion in the area between Switch Island and Thornton. The first plan was a major new dual carriageway, that was rejected after a Public Inquiry in 1996. Fallowing that Sefton Council produce a series of leaflets with request for more ideas. The resulting feed back gave the Council more options. According to Sefton MBC:- "The option that performed the best in the assessment was a new single carriageway road link between Switch Island and the A565 Southport Road, Thornton." This option was then adopted as the preferred option for the Thornton to Switch Island Corridor. This preferred option was a single carriageway route between Thornton and Switch Island. Then in the autumn 2003, a major consultation with local people and businesses was held and more than 10,000 leaflets and questionnaires were given out. This was backed up by three public exhibitions. By then there was strong support for a new highway link among those responding to the survey. Also traffic congestion in the area was becoming even more of a problem and many felt a major accident was on the cards. Although a majority also supported the proposed preferred option, it was not as strongly supported as the principle of a new link as some reservations were expressed about the detailed routing of the proposed option. But now the scheme is to be undertaken and it is expected to be completed by 2012. When completed the £15.6m Thornton to Switch Island link road will take thousands of vehicles a day away from the narrow, contested residential streets between Switch Island, where the M57, M58, A59 and A5036 meet, and speed up travel times. It will also create batter access to the A565 to Southport and Crosby link. Rosie Winterton told the media that:- "This new bypass will make the area safer journeys for all road users in Sefton, while providing much needed relief to residents in Thornton and Netherton." Rosie Winterton also, on Thursday 16 September 2008, approved a project that will see £76m being spent on Bidston Moss Viaduct, which connects the M53 and Kingsway Tunnel. Miss Winterton told the media that the money would be spent on strengthening the Bidston Moss viaduct, allowing the current weight restriction to be lifted and improving traffic flow. When we contacted Seftom MBC last week about this fantastic news, we where officially told:- "No comment."
Please email your views to:- news24@southportreporter.com on this decision and let us know what you think about it.
"SCARY", "DEPRESSING" AND "CONFUSING" – VOTERS SHARE THEIR VIEWS OF SOCIAL CARE
WELL over half of respondents to a brand new poll of adults in the North West carried out by the 'Right care, Right deal' campaign think that the social care system for older people is "depressing". 55% of people in the region questioned were prepared to agree with that description, with 48% of respondents stating that social care for older people who need help is "confusing".

Alongside the new poll, Help the Aged, Counsel & Care and Carers UK – the three members of the 'Right care, Right deal' campaign - are launching a major new report on care and support in England in the 21st century. Entitled 'It's Everybody's Business', the report underlines the task Ministers face as they prepare a Green Paper on social care, due early next year.

Paul Cann, Director of Policy & External Relations at Help the Aged comments:- "The results of this new research show in the starkest terms that the social care system in the North West clearly does not have the confidence of the people who will come to need it in older age. Ministers must now grasp the nettle and show leadership. The case for reform of social care has been made. It is now incumbent on the Government to respond in the right way – and to do so quickly.

However, it's not only the Government who must engage with this vital issue. The 'Right care, Right deal' campaign is determined to show that social care is not just a distant concept which can be ignored – it is an issue that affects us all. It truly is everybody's business."

Other key findings of the research include:-

Trouble for the future? – An overwhelming 86% of North West respondents to the 'Right care, Right deal' poll said they have not made any plans to pay for personal care in older age. A meagre 3% of people confirmed they have plans in place already, with just 7% in the process of currently sorting out how they'd finance their care. Alarmingly, 61% of people said they did not know how much they might need to pay for their social care needs.
Independent age – 59% of respondents in the North West expect to be still living independently when they are 80. 30% expected themselves to be increasingly frail and in need of social care assistance, while only 4% expected to still be working.
Keeping control – Almost a 3rd of people in the North West (28%) questioned said that the most important aspect of their older age would be the ability to retain control over how they lived their life. 17% said they wanted to stay active more than anything else, with 21% saying that seeing family and friends regularly would be most important to them.
Care generation – 6 out of 10 of North West respondents believe that people who need care and support in older age are treated badly or very badly by society. Only 16% took the opposite view. Almost a fifth of people questioned in the North West said that they expected to be caring for relatives or friends once they reached 80 years of age.

Stephen Burke, Chief Executive of Counsel & Care said:- "It's worrying that so many people in the North West – across different age groups – do not know how they will fund their social care needs when they are older. Further, the fact that close to nine out of ten respondents have not made any plans to pay for social care shows just how essential it is for the Government to act to create a system which is easier to navigate, which responds to the needs of those that need it and which secures dignity and choice. There can be no more burying of heads in the sand."

Imelda Redmond, Chief Executive of Carers UK concludes:- "Care and caring in older age is a huge political and social issue – but it's one that too many people haven't yet grasped. All of us must wake up to the responsibilities and costs involved. We need to forge a care and support system that is simpler and which values and supports carers far better than today's hotch-potch of unfair state benefits and often impenetrable advice. Now really is the time to develop an effective and fair system which promotes health, well-being and independence."

The 'It's Everybody's Business' report – published in advance of the political party conferences - calls for:-

* A personalised system which enables people to assess their own needs and to choose the right support;
* An affordable system which is better funded, sustainable and more efficient;
* A supportive system which supports families and unpaid carers as an integral part of the system;
* A preventative system which reaches more people at an earlier stage;
* A fair system which offers individuals a fair, simple and consistent deal;
* An accessible system which is easy to understand, access and use.