YOUTH PROJECT ON A ROLL AFTER PILOT SCHEME IS HAILED A SUCCESS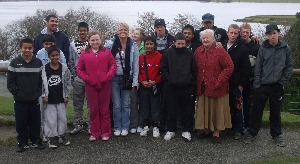 WIRRAL teenagers will receive support from The Social Partnership's youth inclusion project for 12 months following a successful pilot scheme.

From February to March of this year the Woodchurch Neighbourhood Management team funded a pilot youth scheme on the estate, primarily to reach out to young people on anti-social behaviour orders (ASBOs) and acceptable behaviour contracts (ABCs), who had been classified as 'hard to reach'. Such was the success of the trial scheme in reducing anti-social behaviour on the Woodchurch estate that the Neighbourhood Management Team agreed to provide ongoing funds to allow the project to continue until March 2009.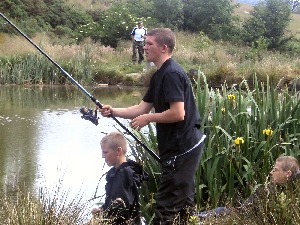 Run by a dedicated team of youth inclusion workers, the service operates a drop in centre at the Woodchurch Leisure Centre three days a week and provides opportunities for youngsters and teenagers to break the cycle of unacceptable behaviour.
Activities arranged by TSP's project workers include an angling club and regular visits to places such as the Crocky Trial in Cheshire and Liverpool Museum. They also plan camping trips for one in every four weekends and have organised several alcohol-free teenage 'raves'. To raise money for the excursions, many of the teenagers have taken part in bag-packing sessions at Sainsbury's. Other activities have included youth involvement in a number of community art projects, including the graffiti mural on the underpass between the Woodchurch and Noctorum estates.

Referral arrangements are now in place with local schools to enable to project staff to contact the families of excluded pupils in order to engage them on the scheme.

Liza Parry, director of The Social Partnership, said:- "Much of the project's success is down to the dedication of Marina Cotgrave and Jaimie Cannon, who have gained the respect of these youngsters by listening to them as well as offering guidance and support. Their achievements were recognised recently when they were nominated by Merseyside Police for a Tackling Drugs Changing Lives national award and we are keeping our fingers crossed for their success.
Both Marina and Jaimie give up a lot of their free time to involve the youths in meaningful and enjoyable activities that will not only divert their attention away from the possibility of engaging in anti-social behaviour but also teach them valuable life and social skills such as team work."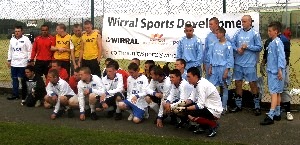 For more information on the Youth Inclusion Project call Marina or Jamie on 0151 678 0015. Office hours are 9am to 5pm.
DAVE HOCKLEY TRIBUTE NIGHT
A tribute night to Southport writer and actor, Dave Hockley, who died on 15 July at the age of 58, is planned for Saturday, 18 October. Dave was well known among Amateur Dramatic circles in Southport, participating in a number of productions.
He was also a poet, publishing a volume of poetry called:- "Not In the Same Class", and organising poetry readings at Southport Arts Centre. Dave was active on the local music scene in the 1970s and 80s, being a member of several local groups, "Severed Head", "Spirit Anthem" and "The Very Ideas", as well as being a songwriter of note. Dave was a primary school teacher in Lancashire for a number of years, latterly at Lordsgate Township Primary School, Burscough. He was also a dedicated supporter of Liverpool F.C.
Struck down by terminal cancer, Dave spent his final days in Queenscourt Hospice, one of his last wishes being that his friends in the local music, writing and drama scenes would hold a benefit night for Queenscourt.
The event on 18 October will be held at the Café Matisse, Cambridge Arcade, Southport, and will begin at 7pm. Artists appearing will be drawn from local musicians (Folk and Rock), poets and actors, who will perform many of Dave's songs and poems. Well-known broadcaster, Allan Beswick, will be present, and the evening will conclude with music from 3 local bands: The Runnies, The Hampton Attic Band, Shot in the Dark and Fnarr Fnarr.
There will be no admission charge, but a contribution to Queenscourt would be welcomed.
Midwife of the Year Awards 2008 announces Southport midwife as UK winner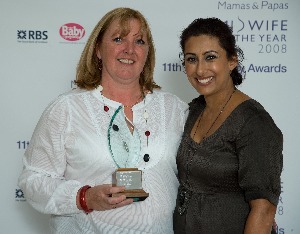 THE 11th Anniversary Midwife of the Year Awards announced the UK winner selected by a panel of midwifery judges at a glittering awards luncheon today hosted by TV presenter and new mum, Saira Khan. The winning nomination for the Midwife of the Year Award was not only selected from thousands of entries for all the midwives that attended on the day but also from a number of entries for the same midwife, Jan Sanders from Southport.

It was 1 nomination from a young mother in need of not only midwifery support but also education and direction that made the judges, with a collective experience totalling 112 years, unanimously selected Jan Sanders at the Midwife of the Year 2008. Mother Samantha Cull wrote a 3 page letter of commendation regarding Jan Sanders' exceptional work stating:- "Whatever stage in your life you become a parent, especially when you are young and on your own, it is difficult and she helped me through that time in my life. She helped me get my life back on track by connecting me with amazing support groups like Sefton Women's & Children's Aid and the Linekar Street Children's Centre who have special confidence building course called APPLE, which covers Ante-Natal, Post-Natal, Parenting, Learning and Education and was devised by people that work alongside Jan to help people like me. The result is that I am now studying to become a nurse and I am securing a future for me and my baby. I now have lots of friends from the centre and a new future and that is all thanks to Jan."

On winning the award, Jan Sanders said:- "I don't feel that I do anything special but I do love the young people that I work with and I know they have so many needs that are not answered evenly across the health service. What we have on Merseyside is very special and it gives me and the team I work with a real sense of success to see young parents make positive steps forward in their lives. This award is so unexpected. I am at a real loss to know what to say and I am delighted to have been nominated to represent the North West but to win a national award for what I do is absolutely amazing. "

Jonathan Parry, Chief Executive of the Southport and Ormskirk NHS Trust said:- "We are absolutely delighted that Jan has been recognised for such a prestigious national award. Jan always demonstrates professional commitment to her role and always strives to go 'that extra mile'. This award highlights her hard work and ability and it is pleasing that this was a unanimous decision by a panel of judges who are award winning midwives themselves."

In addition to the Midwife of the Year Award, two further awards were created to meet the demands of the profession to celebrate success and encourage new talent. The winner of the Lifetime Achievement Award went to Scottish midwife Gillian Elborn from Stirling Royal Infirmary who has served 38 years supporting her community.

Gillian Morton, General Manager of Women, Children's & Clinical Services and Head of Midwifery NHS Forth Valley:- "Gill has worked for many years in NHS Forth Valley, initially as a Labour Ward Sister, then as a Community Midwife. Jill now works within the Tulip Team, within the integrated midwifery team system. Gill is an extremely professional, conscientious and enthusiastic midwife who continues to contribute to the unit in a number of ways. Gill is a very caring individual who supports and empowers the women and families in her care, as well as her midwifery colleagues. I am personally delighted that Gill's work has been has been recognised by a wider audience and I congratulate her on her achievement. "

The winner of the Student Midwife of the Year went to another Scottish midwife, Lesley- Ann More. In her nomination letter her tutors regarded her as a real talent that had overcome private misfortune to produce professional star quality. In a unique twist to the awards and for the first time ever, the Student Midwife of the Year Award went to another representative of Stirling Royal Infirmary.

Gillian Morton, was delighted to hear that Stirling Royal Infirmary had 2 heroes working for the hospital:- "The Department of Nursing & Midwifery of the University of Stirling is delighted to hear that one of our student midwives, Lesley-Anne More, has been awarded the Mamas and Papas 'Student Midwife of the Year' bursary. This bursary is to enable a final year student midwife to gain work experience in an area of expertise not available locally. Lesley-Anne intends to undertake an elective placement later this year and we are certain that this experience will enable her to develop a deeper understanding of the demands of the Midwifery Profession as she continues her midwifery education."

A representative from Mamas & Papas said:- "Over the last 11 years we have seen the same names come up for awards again and again, which is a great testament to their consistent standards of care. What is unusual is for multiple nominations to arrive for the same hospital midwifery unit and this goes to show that Stirling Royal Infirmary has a class of care and talent that shines out on a national level. The people of the Forth Valley area should be very proud of their local midwives as they have received one of the greatest accolades any individual can win; the vote of the people they serve and the vote of their colleagues. "

Nursery brand Mamas & Papas, along with support from The Royal Bank of Scotland, have together issued thousands of nomination forms in stores, magazines and online and this year witnessed a record number of entries. The awards recognise the dedication and commitment well beyond the call of duty which is delivered day in and day out by practising midwives in the UK and the 'peoples award' is determined by the parents whose lives they have touched in a remarkable way. The awards were held in Huddersfield, West Yorkshire on Wednesday, 1 October 2008 where midwives, the nominating parents and the children they helped deliver attended a glittering celebrity luncheon hosted by new mother and BBC Money Programme presenter Saira Khan.