LORRAINE KELLY LAUNCHES SEARCH FOR THE NATION'S TOP LOLLIPOP PERSON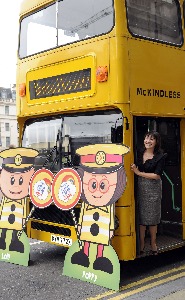 THE search to find the UK's top Lollipop person has launched with TV favourite Lorraine Kelly joining children on their big yellow double decker school bus and taking to the streets of Britain. Lorraine officially launched the Kwik Fit Insurance Lollipop Person of the Year Awards 2008, which will include finding the North West's top crossing patroller, and encouraged school children across the region to vote for their lollipop person.

The annual awards aim to recognise the hard work and important role of school crossing patrollers and will this year branch out from Scotland, where the competition has run since 2003, to crown special Lollipop people from across the UK. The search will find 11 regional winners and one overall Lollipop Person of the Year, with the winners receiving over £7000 worth of prizes. The overall winner's school will also get an exclusive performance from Britain's Got Talent winner and street dancing sensation George Sampson.

The North West is home to some top lollipop people, including 78 year old Joan McLoughlin who was honoured with an MBE from the Queen in June 2008 after patrolling at the Oak Tree crossing in Huyton, Mersyside, for an amazing 41 years. Another good candidate is Mary Cross from Manchester who, at 80 years of age, is still crossing children at Reddish Road in Stockport. Organisers of the Lollipop Person of the Year Awards are hoping to hear about similarly outstanding crossing patrollers from across the country.

Lorraine Kelly said:- "The Lollipop Person of the Year Awards is an important way to recognise and draw attention to people who make the roads safer for our children. Crossing patrollers are vital in communities across the UK and, as a parent, I think it's important to highlight what a fantastic job they do for our kids.
This year the competition is bigger than ever before and more children have the opportunity to show how their lollipop person makes a real difference. Kids, teachers and parents alike – show your support for your local lollipop person by casting your vote now!"

Organisers are hoping to hear from school children across the North West who think that their Lollipop person is Britain's best. They are encouraging children to get creative with their entries and write, draw or even sing about how great their crossing patroller is.

Bert Main, Business Development Director at Kwik Fit Insurance, said:- "This year the Lollipop Person of the Year Awards will recognise crossing patrollers across the UK and we're hoping to receive plenty of nominations for lollipop people from the North West. We're looking for individuals who really go above and beyond the call of duty to make the school journey safer for our children. In previous years we've been inundated with drawings, poems, posters and letters from school children showing why their lollipop person deserves an award, so we're hoping to get a similar response this year."

The initiative is supported by Brake, the UK road safety charity, and is part of an ongoing programme of road safety initiatives from Kwik Fit Insurance. Katie Shephard, Education Manager at Brake, said:- "Lollipop people are community heroes who risk their lives every day to keep our children safe on the roads. Brake is delighted that Kwik Fit Insurance are launching this competition. We hope it will help remind children and their parents to be safe on the road, as well as rewarding lollipop people who are crucial to protecting children near their schools."

The winners of the Kwik Fit Insurance Lollipop Person of the Year Awards and their schools will receive a range of prizes including holiday vouchers, school books, shoes from children's footwear brand Buckle My Shoe and a special visit from George Sampson.
Nominations for the Kwik Fit Insurance Lollipop Person of the Year Awards 2008 will be taken until Friday 24 October 2008.
More information and entry details can be found at www.bestlollipop.co.uk.
Merseyside opticians give Zambia the gift of sight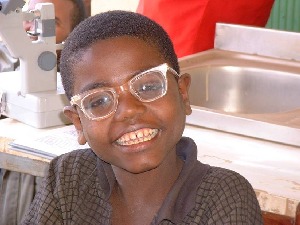 OPTICIANS across Merseyside raised over £1000 on the 5 October towards the construction of an eye care clinic in Zambia.

Specsavers, at Southport donated a proportion of the day's takings together with stores in Bootle, Norris Green and central Liverpool to Vision Aid Overseas, the UK charity dedicated to helping people in developing countries whose lives are blighted by bad eyesight. The Southport store has also been donating a further 50p to the fund for each pair of unwanted glasses that are donated and will match the sum collected in the collection tins that have been in store.

They Merseyside stores joined more than 450 Specsavers stores across the country in collectively raising more than a quarter of a million pounds on Sunday, which will go towards building the first VAO training facility and a brand new eye clinic in Zambia.

Store director at Specsavers in Southport, Stuart Roberts, says:- "This is an extremely worthwhile project. Store staff and customers gave their all to make the day a big success and raise as much money as possible to help give people in Zambia the gift of sight. I would like to thank everyone for the time they gave up and for their generosity."

The fundraising activity has been kicked off to mark World Sight Day on Thursday 9 October 2008.

Zambia is a southern African country with a population of 12 million people but no public eyecare provision. People walk for miles to attend a clinic in the hope of receiving glasses. The money raised by Specsavers will fund a new building that will include a laboratory, optical workshop and eyecare clinic, offering vital optical services to millions.

"We also collected pairs of used specs on the day, which will be taken by VAO to countries, like Zambia, and dispensed to people with little current access to eyecare. These old specs can be truly life-changing and we invite our customers to drop their unwanted glasses into our VAO collection bins in stores any time." says Stuart.

The project in Zambia is supported by celebrity photographer Penny Lancaster Stewart, wife of rock legend Rod Stewart. Penny says:- "The difference that something as simple as glasses can make to a person in Zambia is tremendous. We take eyecare for granted because it is readily available on every high street but to the people of Zambia, it might mean that they can see their child for the first time, or that they can return to work to fend for their family, which they have been unable to do because they cannot see properly. It can be truly life changing"

It is intended that, with Specsavers' help, VAO will have the clinic open in early 2010. Specsavers is also supplying optical equipment and resources and will work with the VAO team to dispense glasses and train Zambian opticians so they are able to maintain the clinic themselves.

VAO director Tym Marsh says:- "We are very grateful to Specsavers across Merseyside and Penny Lancaster Stewart for supporting this vital project. Thanks to the hard work and effort of Specsavers stores across the country, the money raised will help Zambians help themselves in the fight against uncorrected refractive error."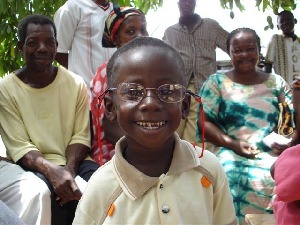 UK-based charity VAO is dedicated to helping the eyesight of people in the developing world by sending teams of volunteer optometrists and dispensing opticians to target countries to set up clinics and screen patients. To make a donation or book an eye examination in Specsavers in Southport, please call 01704 501 944 or visit www.specsavers.co.uk/southport.