BAN ON SUGARY DRINKS AND SNACKS COULD TREAT ALL TO GOOD HEALTH
BRITAIN'S leading oral health charity has called for a UK-wide ban on sales of fizzy drinks and sugary snacks on healthcare and education premises.

The British Dental Health Foundation applauds NHS Tayside's announcement this week that it will stop stocking unhealthy drinks in vending machines and canteens, and calls for similar schemes to be rolled out across Britain. Fizzy drinks have been replaced by healthier options such as unsweetened fruit juices and bottled water in pilot schemes in the Scottish health authority's premises, and will be banned by March next year. The move could set a benchmark for health and education organisations' snack and meal menus - the Foundation adding sugary snacks to the list of undesirables. Such changes make statement on behalf of health authorities, and will boost oral health and overall health.

Foundation chief executive Dr Nigel Carter BDS LDS (RCS), said:- "The Foundation not only backs the NHS Tayside decision, but calls for a UK-wide ban on sugary drinks and snacks in hospitals, surgeries, health centres and schools. Sugary products taken between meals are the main cause of tooth decay, which can lead to fillings and extractions. Your teeth are under acid attack and risk of decay for up to an hour each time you eat sugary products. Poor diet has also been linked with gum disease - which not only threatens tooth loss, but overall health. Research is proving time and time gain that gum disease is linked to diabetes, heart disease, strokes and premature and low birth-weight babies. A healthy mouth can lead to a healthy body, so we hope everyone can do their bit to promote a healthy, balanced diet."

The Foundation's annual "National Smile Month" campaign has long promoted the simple message "Brush for Health". Banning unhealthy products in healthcare centres follows that message perfectly. Good oral healthcare depends not only on brushing teeth twice a day and visiting the dentist regularly, but on a healthy diet. Savoury snacks such as nuts, cheeses, yoghurts or raw vegetables balance the ph in the mouth to combat acid erosion.

By tackling the sale of unhealthy snacks in schools, young people can be encouraged to get into good oral health habits at an early age. Currently half of the nation's children under 5 years old suffer from tooth decay.
Funny news this week:- "Pasta Hut?"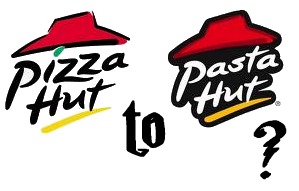 RE-BRANDING is nothing new, but Pizza Hut re-branding itself as Pasta Hut has surprised many in the restaurant trade. The company is now undergoing a six year refurbishment programme costing around a hundred million pounds sterling to revamp its restaurant interiors, introduce a new menu and extend its number of outlets. The idea is to give the firm a healthier look.
Technology is Putting Young People at Greater Risk on the Streets
A new poll suggests that almost 75% of young people put themselves at greater risk of being attacked or mugged when walking down the street alone at night by chatting on their mobile or wearing headphones, both of which prevents them from hearing danger approaching.

The figure comes from a poll of 17 to 25 year olds in the Greater London area, which was conducted by Suzy Lamplugh Trust as part of their Safe & Sound campaign for National Personal Safety Day 2008. 82% of the females asked and 65% of the males said they would chat on their mobile phones whilst walking down the street alone at night. 1 in 3 of the respondents believed this made them safer. When this was broken into gender there was a marked difference with 54% of females, who where asked, believed it made them safer, but only 28% of the males agreed with this. In addition 54% of the total respondents said they would wear headphones even though 78% said they were aware that this would put them at risk. Overall, more young males recognised the risks of chatting on their mobile, but did it anyway, whereas the female respondents were most likely to chat on their mobiles because they mistakenly thought this made them safer.

"Talking to my mum or my mates when I'm walking makes me feel less scared and safer." 17 year old respondent

The most striking figure is that whilst 76% of all respondents answered yes to the question "Do you constantly check out your surroundings when walking down the street alone at night?", 71% also said they chatted on their phones and 54% said they wore headphones in these circumstances. This indicates that they believe that only sight is needed to "check their surroundings" and they do not realise the importance of being able to hearing warning sounds, such as footsteps behind you or raised voices around the next corner.

Ann Elledge, Director of Personal Safety at Suzy Lamplugh Trust, said:- "To minimize the risks when out on the streets, you need to stay alert and this means using both your eyes and your ears. The sooner you see or hear potential danger, the easier it is avoid it. By all means use your mobile to call home to say you are on your way, but don't spend time chatting on it as this will only distract you. It's dangerous to think that because you are chatting to someone on the phone, they will be able to help you if you get into trouble. In most cases they will be too far away to get to you in time to stop any violence so surely it is better to avoid it in the first place."

National Personal Safety Day, which is run by Suzy Lamplugh Trust, is an annual event aimed at raising awareness of a range of personal safety issues. This year's Safe & Sound campaign is being promoted to schools, colleges and workplaces throughout the country. For further information visit www.suzylamplugh.org.

Other tips Suzy Lamplugh Trust recommend for staying safe on the streets include:-

· Stay alert at all times

· Think of safe places en route where you could go if you felt threatened eg. police station, garage, hotel, pub.

· Walk facing oncoming traffic to avoid kerb crawlers

· Whenever possible stick to busy well-lit streets and avoid deserted areas

· Keep your valuables out of sight.

· Carry a personal safety alarm which can be used to shock and disorientate an attacker giving you vital seconds to get away.