CAMRA Creates Unprecedented Alliance to Use New Law to Defend Your Local
HAZEL Blears, Secretary of State for Communities and Local Government, on 14 October 2008, will invite councils to 'opt in' to a radical new law - the Sustainable Communities Act. The Campaign for Real Ale (CAMRA) is leading a national coalition of organisations, ranging from the Association of Chief Police Officers to the Womens' Institute, who have written to the leaders and chief executives of every council in England, asking them to seize this opportunity.

The Act enables councils and their communities working co-operatively to get government help to assist them in reversing the decline of services and amenities such as local pubs, post offices and bus services, but also on dealing with fuel poverty, protecting the environment and obtaining greater involvement in civic activity. Government then has a legal duty to reach agreement with councils on how it will help them.

Originally a Private Members Bill introduced by a cross-party coalition of MPs led by Nick Hurd MP, the Act became law last November with full support from the Government and the Conservative and Liberal Democrat front benches. In the Commons third reading debate, then local government minister Phil Woolas described it as one of the most significant Private Members' Bills of the past 40 years and said it could change the face of British politics.

Welcoming Hazel Blears' invitation to councils, CAMRA's Chief Executive, Mike Benner said:- "The Sustainable Communities Act could not have come at a more crucial time. The global economic downturn will hit pubs and brewers hard and also have a huge impact on our local communities. Local high streets are likely to be decimated as outlets are forced to close. CAMRA has brought together a huge coalition of very diverse citizen organisations who all want one thing - thriving and prosperous communities.

If local communities are to weather this storm, they will need far more autonomy than they currently have. Local people are the experts on the problems of their areas and the solutions to them. Yet currently they are at the complete mercy of the global stock exchange. The Sustainable Communities Act will give real power to local people to protect and revive their areas."
Media Question Time

Southport 2008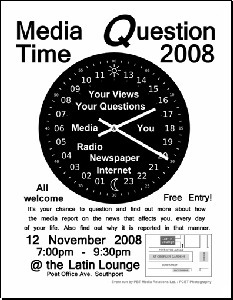 OVER the last few weeks we have been attempting to organise a free public meeting to let you, the public to have your say about local issues to the local, regional and national media. The event is to be held at the Latin Lounge on Post Office Ave. Southport, from 7pm on Wednesday, 12 November 2008. This meeting will be your chance to talk to the people who make the news you read and hear. If you have any ideas as to who you think should be on the panel, please email us via news24@southportreporter.com. So far we have the following confirmed:-

Ian Fairbrother, Freelance Photographer and Reporter - Big Pictures

Patrick Trollope, Editor of the Southport & Mersey Reporter


Our host on the night is still to be announced and we still have four more media groups to confirm.
Click on and print to help us promote this fantastic opportunity for you to have your say!
.DOC Word
.JPG Picture
Thank you.