Liverpool South Parkway takes off!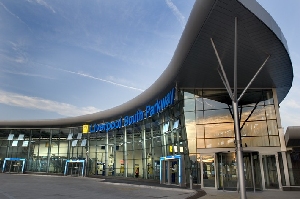 MERSEYTRAVEL'S award-winning Liverpool South Parkway transport interchange is hitting new heights. Latest figures show the station, which links public transport with Liverpool John Lennon Airport, is being used by more than 26,000 passengers a week – compared with a combined total of around 10,000 a week at Garston and Allerton stations which the interchange replaced.

There are to be more services linked to the national rail network and bus operators Stagecoach have now extended their number 82 service – which used to run from Paradise Street to Garston – to Liverpool South Parkway to cater for increased demand.

Les Burton, Operations Director for Stagecoach in the North West, said:- "The extension of this route is as a direct result of the increasing popularity of Liverpool South Parkway.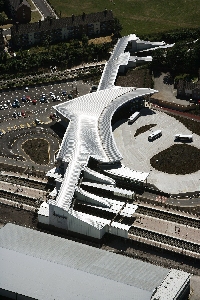 Neil Scales, Chief Executive and Director General of Merseytravel, said:- "We are delighted with the performance of Liverpool South Parkway, which has exceeded our forecasts. It is particularly satisfying because the 150% increase in the number of passengers shows we are attracting many more people onto the network. This figure will continue to grow with even more services linking up to the national rail network within the next 3 months."

From December there will be additional train services calling at Liverpool South Parkway each hour, one from Manchester Piccadilly and the East Midlands and an additional service to and from Birmingham. This will result in 9 trains every hour to Liverpool (4 to Liverpool Central, 5 to Liverpool Lime Street); 3 trains per hour to Manchester and 2 to Crewe and Birmingham. Discussions are continuing with train operating companies to bring more services on line in the near future as timetables are set.

The sustainability elements of Liverpool South Parkway are also continuing to reap rewards. Its giant rainwater harvesting system saves some 700, 000 litres of mains water a year. The geo thermal heat pumps have exceeded targets by saving more than 33 tonnes of CO2 a year; the enhanced roof insulation has saved 3.4 tonnes of CO2 and the solar photovoltaic cells on its south facing windows have saved some 1.5 tonnes of CO2 by providing an electricity supply to the building.
Email our news room with your views about this!
The majority of shopworkers face verbal abuse
56% of shopworkers have suffered verbal abuse from customers in the past year, according to the latest survey by shopworkers' union, Usdaw.

Contrary to popular belief, it's not just 'hoodies' who are responsible for such anti-social behaviour. Usdaw, the shopworkers' union, says that violence and abuse against shopworkers is often caused by the most unlikely perpetrators.

The union is pressing the point to MPs as part of its Freedom From Fear campaign, which seeks to highlight and curtail the frequent abuse of shopworkers. At the launch in Westminster, MPs, including Home Secretary, Jacqui Smith, will be talking to Usdaw members who have suffered violence, abuse and threats at the hands of customers who, on appearance, may look quite respectable. The MPs will also be looking at 5 life-size caricatures of shop customers and trying to guess which ones were guilty of which offences.

Usdaw General Secretary, John Hannett, said:- "The issue of abuse against shopworkers is a serious one. Our latest survey of members shows that the majority (56%) of respondents were verbally abused at sometime in the last 12 months, with 4% claiming they are verbally abused on a daily basis. These figures are lower than last year, thanks to our annual campaign. For example, many customers who signed our petition last year to respect shopworkers said that it would make them stop and think before 'sounding off', so it seems that the message is hitting home. However, the incidents of verbal abuse are still unacceptably high, with shopworkers never being sure whether the next customer is going to kick off or be offensive so it is important that we continue to highlight the pressures they face on a daily basis.

Usdaw's 'Respect Week' will be taking place all over the country from 3-7 November. The MPs will take back what they've learned to events in their constituencies, and encourage local shoppers to sign a Christmas card to shopworkers, pledging to show them due respect over the stressful Christmas period."
Diabetes UK honours Southport, Formby and Ormskirk Voluntary Group
LEADING health charity Diabetes UK today honoured Diabetes UK Southport, Formby and Ormskirk Voluntary Group for its outstanding voluntary contribution to people with diabetes. The group was awarded the Working With Children and Young People Award, which was presented at the gala dinner of the charity's Volunteering Conference at the Hilton Leeds City Hotel.

The Southport, Formby and Ormskirk Voluntary Group reformed from being a mainly fundraising organisation, to a group that supports families, encourages healthy lifestyles and raises awareness of diabetes and diabetes management. The group regularly organises fun family-friendly events that can bring people together to talk about and share their experiences. The group places particular emphasis on supporting families with newly diagnosed children offering home visits and telephone support. The group also acts as advocates and has had success in addressing inpatient services.

Verity Steddon, Volunteer Development Manager at Diabetes UK said:- "This award acknowledges the remarkable work of our volunteers. The group's voluntary work has made a real difference to many people with diabetes. Much of the work that Diabetes UK does could not happen without the support and efforts of our volunteers. We are delighted to be able to recognize Southport, Formby and Ormskirk's achievements and commitment with this award."

Lorraine Evans, Treasurer of Diabetes UK Southport, Formby and Ormskirk Voluntary Group, said:- "Our group is delighted to have been awarded this accolade as it celebrates the support given by extraordinary people who just so happen to be the mums, dads and families of a child with diabetes ."