ENGLAND RUGBY LEAGUE WORLD CUP TEAM RELAX IN QUEENSLAND, AUSTRALIA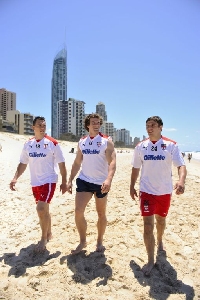 THE England Rugby League Team time take some out to explore the beaches of the Gold Coast in Queensland ahead of their opening World Cup game against Papua New Guinea on 25 October 2008. The team is currently staying on the Gold Coast and will head up to Townsville where their opening game will take place in the Townsvilleís Dairy Farmers Stadium.
For further information about Queensland, please visit:- experiencequeensland.com.
Interview:Ė "MTV Liverpool Music Week 2008"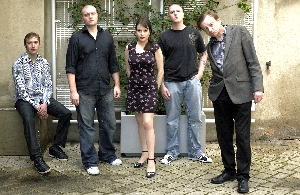 THE creative force behind, seminal band, The Fall since its inception back in 1976, Mark E Smith has earned a reputation as a formidable front man. While developing a line in often incoherent, absurd lyricist (with his cryptic delivery riding those abrasive guitar grooves), thirty years of performance havenít detracted from his appeal. He now joins the likes of Goldfrapp, Black Kids, Martha Wainwright, Vampire Weekend, Mystery Jets and Dizzee Rascal for the sprawling MTV Liverpool Music Week.

Mark E Smith of the band The Fall was interviewed by Gill Nightingale and this is what he had to say about the band and also the MTV Liverpool 08 Music Week.
Mark E Smith of the band The Fall was interviewed by Gill Nightingale and this is what he had to say about the band and also the MTV Liverpool 08 Music Week.

How are you? "Okay. Iíve just found out that itís International Fall Day today. Nobody thought to tell me any earlier."

So are you looking forward to the Liverpool Music Week performance? "I am. The Fall hasnít ever been a Ďfestivalí group. Weíre more of a club band so this works for me in as much as what weíre doing is part of a load of stuff thatís also going on around the same time. And loads of younger bands are on too. Thatís good."

What young bands do you like? "My minds gone blank now. I do listen to a lot of stuff... I get sent a lot of new shit. And I watch some of them on that daft show on T4. You know... where they get the chance to play or talk in between that girl going on. Some of them sound all right.
Thereís that one band from Liverpool who are pretty good. The Wombats? Yeah, thatís them." ...continued...
...continued... During one era for The Fall, wouldnít your contemporaries have been seen to be Liverpool bands like The Teardrop Explodes and Echo and the Bunnymen? "Yeah. But we always held them in contempt. There was a bit of a rivalry there."

Hasnít there always been some rivalry for musical supremacy between Liverpool and Manchester? "Personally, Iíve always preferred Liverpool over Manchester. Then again, Iím actually from Salford."

Fellow Salfordian Tony Wilson used to further the banter between Manchester and Liverpoolís music scenes. So you never saw it as Ďthemí and Ďusí? "No. Not at all. People forget that we could never get a show in Manchester for ages. Then weíd drive over to Liverpool and find that we were top of the bill. That went on for about three or four years, believe it or not. We couldnít get jack shit in the place where we lived."

The Fall have never really fitted in with the various Manchester bands, have they? "No. We tried to keep it all at armís length. Iíve never seen us as part of the cityís music scene. Every few years theyíll revive some Manchester thing. One year it might be The Buzzcocks or whatever. But a mate of mine was saying itís the same in Glasgow and thereís this cycle where people try to spark some kind of revival. We never did that. We never saw us as part of any particular movement. If you want the brutal truth, Manchesterís really just a lot of big fish in a small pond. And while we were being ignored there, we were playing to crowds in Liverpool. We were bigger in Germany. People donít appreciate whatís on their doorstep."

Do you think that itís because you werenít closely associated with any particular movement that The Fall has really endured? "I do think thatís true. But then weíve also been through a lot of different line-ups and thatís helped too. People move on, donít they?"

So who, for you, are The Fallís peers? "I donít really see any. Iím not much of a musician, me. Believe it or not. Iím more of a writer. Iíve always thought about what I do in those terms. When it comes to the music, I do like it to be pretty brutal and I canít think of an example of anyone else who is working along similar lines."

So where do you get your inspiration? "I do go back to a lot of rockabilly and dub reggae. I like how raw some of it sounds compared to a lot of new music."

Do you listen to your own music? "When I do, I donít tend to listen to a lot of the early records. The thing is, I am a pretty big fan of The Fall. I am" [he laughs] "Sometimes Iíll play an old recording and Iíll be like, ďthatís great, that isĒ. It does surprise me how great some of it is."

So who is the average Fall fan these days? "From what I see, theyíre all like 17 years old. Real wild boys. The dads must be stood somewhere near the back or something. We played the other night and people went mad, barricades were broken, all that."

And you donít tire of playing? "No. These MTV Music Week events look good and - especially as itís for Liverpool - I was up for playing a gig. Sometimes we get invited to do these things and theyíre not as well organised. I mean, we did one and we played after that Karl bloke. You know: the f*cking doctor from Neighbours. And then, after we were on, there was this other old crock from Barclay James Harvest or summat. You looked at the brochure for that one and there were no new groups. None. But even some of the new bands that you see coming through at these things, half of them seem to be made up of professional actors. Groups that were all formed at some London college or stage school. Theyíre not proper groups. It is all pretty polished but, behind it, thereís really nothing there."

So you reckon The Fall would never have made it beyond the first X Factor audition? "Too right. Because what programmes like that forget is something called creativity. I look around sometimes and I think Iím in the wrong *@*@* job."

The Fall open this years MTV Liverpool Music Week, performing at Nation, Courtyard on Thursday, 30 October 2008, tickets on sale now £16+BF, Tickets:- 0151 256 5555 / Info:- liverpoolmusicweek.com.