Women urged to sign up to No Pay Day protest letter to Peter Mandelson
WOMEN across the North West are being urged to add their names to the growing list of signatures on an open letter to business secretary Peter Mandelson.

The letter has been written by leading campaign group The Fawcett Society and public sector trade union UNISON to demand an end to the prevailing gap between men and women's pay.

The call for women to sign the letter is timed to coincide with national No Pay Day on 30 October – the day working women throughout the country effectively start earning nothing for the rest of the year because of the gap between male and female earnings.

Official figures show women work for free from 30 October 2008, when their hourly earnings are compared to the hourly rates paid to men.

On average, women working full-time earn 17% an hour less than men working full-time. Women working part-time earn 36% an hour less than a man working full-time.

UNISON North West's Equalities Officer Dion Baugh said the disparity is the equivalent of women across the UK working the last two months of the year for nothing while men are being paid all year round.

She said:- "This is unjust. It's a national scandal."

UNISON, which represents more than a million working women, has lodged a record number of equal pay cases and has secured some landmark victories. UNISON blames the explosion of equal pay claims on a lack of action by most employers to reform pay systems.

It says tackling unequal pay requires an arsenal of approaches including collective bargaining, tribunal claims and legislation.

It has joined forces with the Fawcett Society to challenge the Government to use the Equality Bill due to be introduced in Parliament to fully close the gender pay gap.

Both organisations want Mr Mandelson to:-

· Make it a legal requirement for employers to undertake compulsory equal pay audits which compare the earnings of their employees

· Introduce measures to make it easier for women facing pay discrimination to take their case to court. Last year, there were tens of thousands of claims of pay discrimination – but only 126 made it through the courts

Katherine Rake, Fawcett Society director, said:- "The new Equality Bill is a once-in-a-generation opportunity to close the gender pay gap. We hope Mr Mandelson will rise to the challenge and bring an end to pay discrimination in the UK."

Women can sign the letter by visiting the Fawcett Society website.
UFO at the Southport Air Show???

OVER the last few weeks we have been contacted by a reader called Pat Regan who clams to have seen another UFO. His first on he says he photographed was after a funnel cloud was sited over West Lancashire in July 2008. He now says he photographed yet another at the Southport Air Show, in September 2008. His email to us on 23 October 2008 says "The mystery continues –what was the object?" after he received a reply to his letter he had sent to the MOD. Pat says that the MOD has told him that "they have been advised by RAFAT, that there was no damage sustained, nothing unusual reported by the pilots and no damage was sustained to their aircraft. No unusual circumstances were reported in their engineering logs."
For interest, here at Southport Reporter, we have been over all our photos and video and not spotted any odd objects... Have any of our readers got this object? We would love to know.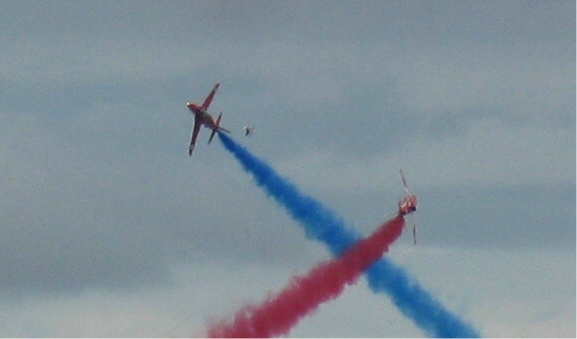 Our editor Patrick Trollope says the outline looks like a Red Arrow... He thinks that the object is a optical error with his camera or dirt on the CCD. He also thinks it could be one of the other Red Arrows returning to the formation. Do you agree?
If you know what it is, please do email Pat via his email address:- reganclan@hotmail.com.