Heritage Lottery Fund support announced for natural heritage across the North West
THE Heritage Lottery Fund (HLF) on on Monday, 27 October 2008, announced an earmarked awards totalling £3,170,000 made through its Landscape Partnership Scheme for Sefton Coast and the South Pennines.

The HLF rural regeneration and landscape conservation Landscape Partnership Schemes highlight the diversity of the UK's geography and its impact on our culture.

HLF's Landscape Partnerships have been running for the past four years and these new awards now bring the total invested to £48million. 29 landscapes across the UK are benefiting, including the area around Lake Bassenthwaite. The schemes help forge public and community partnerships, enabling people to tackle the heritage needs of their local landscapes in a practical and effective way.

Sara Hilton, Head of the Heritage Lottery Fund in the North West, said:- "The North West's stunning landscapes are one the region's greatest assets yet we often take them for granted. This scheme is helping to protect some of the most spectacular scenery by bringing together groups to form strong partnerships that can transform the fate of the natural environment and local culture."

Ray Mears, survival expert and broadcaster, said:- "I grew up loving landscapes - they were the backdrop to my childhood and continue to be an essential part of my everyday life. I'm delighted to hear that such a significant amount of Heritage Lottery Fund money is being invested into protecting so many wonderful natural spaces; what a great way to spend Lottery money!"
More oxygen for Merseyside's 'coastal green lung'
The Sefton Coast Landscape Partnership Scheme (led by Sefton Council), comprising 80km² of coastal land to the north and south of Southport, is being supported by HLF to the tune of £1.2million. A popular place to visit for those who live in Northern cities such as Liverpool, Manchester and Preston, the area is characterized by low-lying coastal stretches and is home to 20% of dunes in England.

The project will include improved access and management of the coastline and the re-invigoration of local asparagus farming.
Spine-tingling news for the South Pennines
The South Pennines Watershed Landscape (led by Pennine Prospects, a regeneration partnership) partly runs up through the backbone of northern England, separating the major conurbations of Greater Manchester and East Lancashire to the west and West Yorkshire to the east. Covering 350km², this part of the South Pennines consists of wide sweeping moorlands rich in wet bog, cotton grass, heathland and pastures.

The project, which has been awarded £1.97million, is made up of six elements including getting people involved in the area's history and geology and enhancing key habitats for wildlife, such as the rare 'Twite' which is also known locally as the 'Pennine Finch'.

Pam Warhurst, Chair of Pennine Prospects, said:- "This is another fantastic boost for the South Pennines and our work to raise the profile of the area and the public's appreciation and enjoyment of its value and qualities. The Watershed Landscape focuses upon the historic and current role that our uplands play in water catchment, maintaining biodiversity, providing space for recreation and sustainable tourism. The 20 or so reservoirs that supply the 7 million people living within an hour's travel time of our moorlands are an important feature of this iconic landscape and represent a key heritage asset.

The area also faces some important challenges for the future including increased pressure for food production, renewable energy and flood prevention. This HLF money will help us conserve the landscape, improve access to key sites, promote understanding of the heritage and engage people in managing future pressures."
ONLY ONE MONTH TO GO FOR GIRLS WANTING TO BE TRUMP'S GIRL AT MISS UNIVERSE GB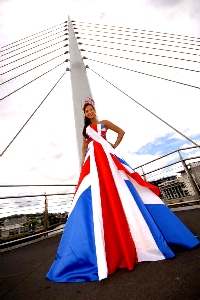 THERE is only one month left for girls to enter one of the world's leading beauty pageants, "Miss Universe Great Britain 2009", and organisers are urging local girls to give it a go.

The Miss Universe pageant is owned by American tycoon, Donald Trump, and is one of the largest beauty pageants in the world.

Great Britain has never won the event, but the organising team, Vibe Models, are hopeful that in 2009 this could change.

Director of Vibe Models Paula Abbandonato, said:- "The beauty pageant is arguably more popular than it has ever been and 100 years in, this is without doubt, the opportunity of a lifetime for someone. We want proud, confident, bright and ambitious women to enter who are up for a roller coaster of experiences and a year like no other."

She added:- "Our winner must be a head turner who can stand out on a stage of beauties from across the globe. Great Britain has never won Miss Universe – until now!"

To enter the Miss Universe Great Britain competition, women must be aged between 18 to 27, should be a native of England, Scotland and Wales and should never have been married or had children.

A series of quarter finals will take place in Glasgow, Edinburgh, Birmingham, Manchester, London and Cardiff next year to choose the 50 women who will go on to take part in the grand final in May.

The winner of Miss Universe Great Britain will receive an incredible prize package including an all expenses paid three week visit to Miss Universe 2009.

She will also visit Australia, Mexico, Mongolia and Lapland in her capacity as ambassador for The Joshua Foundation; a charity which gives life experiences to children with terminal cancer and their families. In 2008, the competition generated more than £35,000 for the charity.

To enter the competition, visit missuniversegb.co.uk. The deadline for entries is 30 November 2009.
Support BBC Children in Need 2008 Night
ON the 14 of November 2008 a BBC Children in Need will be held at Café Mateese in Southport from 8pm until late. The night will have:-

Fancy Dress (Optional) - Disney Theme; Live Band; Neil's Disco & Buffet.

Ticket price is £5 or £6 on the door. For tickets call in at Café Mateese or phone Neil on 01704 874851, 07704 431 250.