MENINGITIS VACCINE REMINDER IN COUNTDOWN TO HAJJ
MUSLIMS in the UK are being urged by the Meningitis Trust to ensure they are immunised against meningitis as part of their preparations for their Hajj pilgrimage to Makkah, Saudi Arabia over 6 December 2008 to 9 December 2008.

The Meningitis Trust is reminding pilgrims from all over the UK that the vaccine will protect them from strains of meningitis that are not common in the UK but may be carried by pilgrims from other areas of the world.

Alison Osborne, UK BME Co-ordinator at the Meningitis Trust, says:- "Meningitis and meningococcal septicaemia (blood poisoning) can affect anyone at any time and can kill within hours. Survivors can be left with disabling after-effects, including brain damage, deafness and, where septicaemia has occurred, loss of limbs.

"People need to be fully aware of the dangers of meningitis both in the UK and abroad and receive appropriate protection where available. When people are in prolonged close contact in large gatherings, such as the Hajj, opportunities for transfer of bacteria between people are increased. "

The Meningitis Trust is reminding all pilgrims from the UK to have the ACWY vaccine at least three weeks before they travel, as it is a legal requirement for entry into Saudi Arabia.

The quadrivalent vaccine protects against four different groups of meningitis - A, C W135 and Y. Everyone travelling should book an appointment with the practice nurse at their G.P surgery now, to allow time for the vaccine to be ordered and for it to become effective.

Alison continues:- "Pilgrims should be aware that there is still no vaccine to protect against all types of meningitis. Awareness of the common signs and symptoms will protect both the pilgrims and their families"

Anyone with concerns or wanting more information about meningitis and available vaccines can call the Meningitis Trust's free, 24 hour, nurse-led helpline on 0800 028 18 28 or visit the Trust's website.

In addition to raising awareness of meningitis and meningococcal septicaemia, the Meningitis Trust offers practical support for life to people coping with devastating after-effects. Support services include a free, 24 hour nurse led helpline, professional counselling, home visiting and financial support grants.

The Meningitis Trust is a registered charity and relies entirely on voluntary donations to carry out its vital work.
The end of incapacity benefit for new claimants and the start of employment support
24 October marked the end of Incapacity Benefit for new claimants and the era of writing people off and marks the dawn of a new benefit, Employment and Support Allowance, designed to give people the support they need to improve their health, their skills and look for work.

The new Employment and Support Allowance (ESA) is tailor made for disabled people and people with ill-health and is part of the Government's radical welfare reforms, which aim to get 1 million people off incapacity benefits by 2015.

From the 24th new claimants who cannot work due to ill-health or disability will be able to claim Employment and Support Allowance (ESA). Within weeks of making a claim, customers will have their capability assessed by an expert health professional through the new Work Capability Assessment. The new assessment is designed to look at what people can do rather than what they can't - and will ensure that those who can work are given the help and support they need to get back to work and will make sure that no-one is written off and consigned to a life on benefits.

People who are assessed as having the severest disabilities or health conditions will go into the 'support group' and get more money - the poorest of receiving a minimum of £102.10 per week. Everyone else will go into the 'work group.'

Secretary of State for Work and Pensions, James Purnell said:- "In the 1990s people were written off on Incapacity benefit with no help to overcome their problems or support to get them into work. It is even more important during an economic downturn that we increase support for people not take it away.

The introduction of Employment and Support Allowance, which marks a significant landmark for the delivery of our welfare reforms, will offer the help and support disabled people and people with ill health are telling us they want in order for them to get back to work."

Employment and Support Allowance replaces Incapacity Benefit and Income Support on the grounds of incapacity for new claimants only. Incapacity Benefit and Income Support continue in payment for existing customers.

ESA claimants who are assessed as being able to prepare for work, will be required to engage in a back to work programme and assigned a personal adviser who will help them overcome any specific barriers to work, including having a skills check and getting involved in work experience opportunities. People identified as being in the 'support group' can engage with these back to work programmes on a voluntary basis.
SOUTHPORT POLITICIAN NOMINATED FOR MEP OF THE YEAR AWARD
A Southport Euro-MP has been nominated for a prestigious award by a panel of leading opinion formers. 7 distinguished judges, including former Belgian prime minister Wilfried Martens, have identified Chris Davies as an MEP who has most influenced the EU's agenda over the last year.

The panel selected the Liberal Democrat as a contender for 'MEP of the Year' for blowing the whistle on abuses of MEP expenses earlier this year. The European Voice Newspaper Awards acknowledge and celebrate the work of politicians and EU officials within five categories: National politicians, European Commissioners, MEP of the Year, EU Officials, and Inspiration of the Year. Notable nominees include the French prime minister Nicolas Sarkozy and Jean-Claude Trichet, president of the European Central Bank.

Chris Davies is delighted his name has been put forward for the award but has described progress on improving the financial accountability of MEPs as 'mixed'.
He said:- "For every 2 steps forward at least 1 is taken backwards by those who seek to obstruct improvement."

New arrangements for the employment of MEP staff in Brussels are due to be introduced next year and details of the expenses available to parliamentarians are now published on the internet.

However, Mr Davies said it was deplorable that those responsible for the finances had refused to support plans for accountants to carry out spot checks on MEPs, had failed to require receipts to be kept for office expenses, and still left the conditions for the employment of other staff opaque.

He said:- "We have a very long way to go before the procedures are as tight as one might expect of well managed public organisations."

The closing date for voting is 16 November 2008 and the winners will be announced at a gala dinner to be held in Brussels on 2 December 2008.
CHILDREN COUNT THEIR BLESSINGS AS WORK PROGRESSES ON £6.5M SCHOOL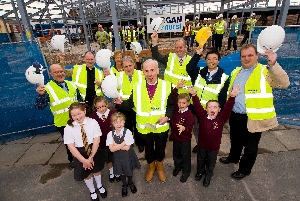 CHILDREN from across Sefton helped the Bishop of Warrington to bless the site of the £6.5 million Rimrose Hope CE School, which is being built by local construction company Morgan Ashurst.

During a moving ceremony, Rt. Rev David Jennings led prayers and laid a foundation stone, donated by Liverpool Cathedral, to mark the start of work on the new building; sited next to the existing school in Thompson Road, Seaforth. The new school will accommodate children from the former Beach Road and William Gladstone CE Primary Schools.

Representing Sefton Borough Council, which is leading the scheme, were Rosemary Tootill from Children's Services, councillor and chair of governors Paul Cummins and architect Patrick Lai. Also in attendance were Rimrose Hope headteacher, Lawrence Crilly; Cannon of Liverpool Cathedral, Roger Driver; Gregor Cuff, Reverend of Christ Church Waterloo and the construction team from Morgan Ashurst.

"This ceremony marks an exciting time, not only for the project but also for hundreds of children across Liverpool.
Morgan Ashurst has extensive experience of constructing public sector buildings but it's always particularly satisfying to work on schools which will benefit the whole community." said Morgan Ashurst site manager Gordon Robinson.

Morgan Ashurst, which has offices in Highfield Street, Liverpool, is building a new school comprising a 26-place nursery with soft play area, 11 multi-purpose classrooms, a shared activity space, assembly hall, kitchens, parish rooms for community use, staff rooms and two specially-adapted classrooms for children with moderate learning difficulties. In addition, there will be playing fields, a games court, a 21-space car park and a bike shelter.
Morgan Ashurst is one of the construction partners helping to deliver Liverpool City Council's £140 million wave two Building Schools for the Future (BSF) programme.

The company has also completed several construction projects across Merseyside, including a £5.3 million contract to design and build a three-storey enterprise park in St Helens, on behalf of Langtree, and a recent extension and refurbishment of the Islamic Cultural Centre in Mulgrave Street, Liverpool.

Rimrose School is due to be completed in April 2009.