Does This 'John Peel' Train Stop on Merseyside?
Photographs with thanks to Keith Fairbrother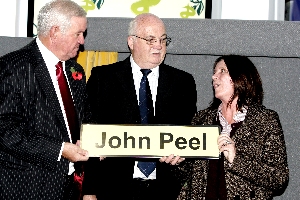 FAMILY and friends of the legendary DJ and music icon John Peel OBE came together to celebrate his life thanks to Merseytravel, on Thursday, 23 October 2008, at the Liverpool South Parkway Interchange in Garston, Liverpool.

John once admitted his second favourite song of all time was Amsterdam's "Does this train stop on Merseyside?" so Mersey Travel, who coordinates passenger transport in his home region Merseyside, thought it fitting to honour him with a train bearing his name. It is hoped that this will be a lasting tribute to John's memory.

Councillor Mark Dowd, Chair of Merseytravel said:- "We are very proud of the man John was and of his connection with Merseyside. Naming this train in his honour is our tribute to a true broadcasting legend."

Councillor Chris Blakeley, Chair of Merseytravel's Rail Services Committee said:- "John was one of our own and we are delighted to be able to remember him this way."

Sheila Ravenscroft, John's wife, will join Merseytravel to officially launch the "John Peel" train and travel on its first journey into the city of Liverpool.

Neil Scales, Chief Executive and Director General of Merseytravel added:- "Having Sheila with us to launch the train makes it that extra bit special. This train will forever be linked to John; a man whose influence on music was, and to some extent still remains, unparalleled."

After a short dedication ceremony, Ian Prowse, from Amsterdam, performed the song "Does This Train Stop on Merseyside?" at the event in front of guests.

Speaking about the song as part of the Radio One tribute evening, John's wife Sheila said:- "John just loved the song. He always became emotional when he played it. He wasn't capable of playing it without crying. If he played it on the radio he'd have to put something on straight afterwards because he wouldn't be able to speak. When he played it at home, he'd always need a cuddle afterwards. We are just really delighted that John is being honoured with this train. He would have loved it!"

Also on the day copies of a new book, a collection of John's writings, edited by his wife Sheila, called:- "The Olivetti Chronicles", where given out to passengers on the train during the first journey.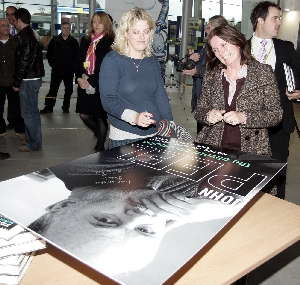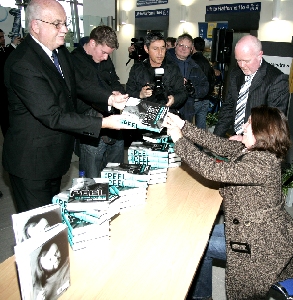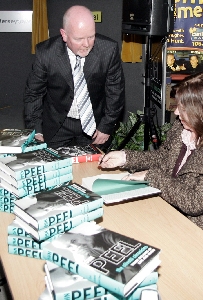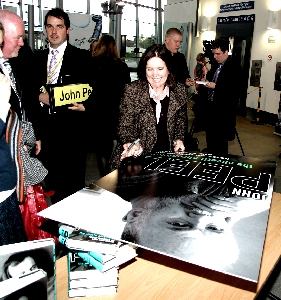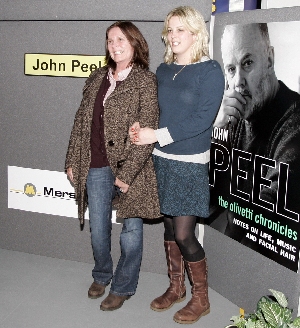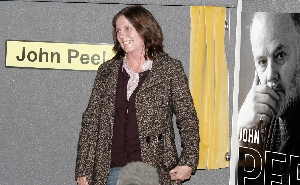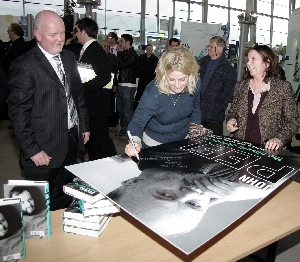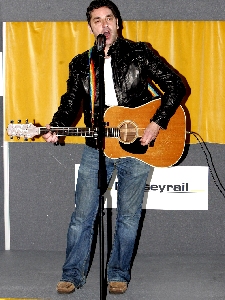 Did you know?
John Peel was born John Robert Parker Ravenscroft in Heswall, Wirral in Merseyside on 30 August 1939.

He was the longest-serving of the original BBC Radio 1 DJs, broadcasting regularly from 1967 until 2004.

The train naming ceremony took place one day before the anniversary of John's death on 25 October 2004, aged 65.
John Peel passed away on 26 October 2004 following a heart attack whilst on a working holiday with his wife Sheila in Peru.
More info. about John can be found via:- Wikipedia BBC Radio 1