CALLING ALL FOOTBALL LEAGUE FANS – NOMINATE YOUR FAN OF THE YEAR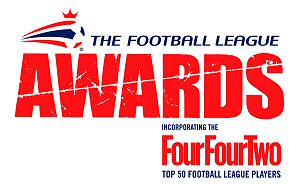 THE Football League has launched a nationwide search to find the 'EA SPORTS Fan of the Year' run in conjunction with BBC Radio Five Live, with the winner to be honoured at a spectacular gala dinner at the Grosvenor House on Park Lane on Sunday, 29 March 2009.

The Football League Awards are held in conjunction with FourFourTwo magazine and supporters are now being asked to put forward fellow fans for consideration for this award by submitting nominations via www.footballleagueawards.com.

Anybody who knows a fan who has gone above and beyond the call of duty, and shown extraordinary dedication to their club is encouraged to put their nomination forward, along with the reason why they feel their nominee should win this prestigious award. Voting closes on Wednesday, 14 January 2009.

The fourth annual Football League Awards event will recognise footballing excellence both on the field and behind the scenes - with clubs and players awarded alongside the fans. There will be 20 categories in total, including a range of football awards and industry specific honours.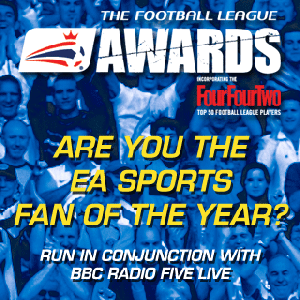 The nominations for the Football League Fan of The Year Award will be judged by an expert panel, including representatives from The Football League, EA SPORTS and FourFourTwo.

The Football League's Commercial Director, Stewart Thomson said:- "The Football League Awards has become an important fixture on The Football League calendar.
Once again, this year's ceremony will present us with an opportunity to recognise the outstanding contributions made to The Football League by fans, players, clubs and sponsors alike.

The Football League relies on the support of dedicated fans, and the awards are a fantastic way for us to identify and reward such loyalty, and hard work behind the scenes.
I would encourage fans to put forward any individuals they believe should be in contention for the award, and give them a chance to receive the recognition they deserve."
The last games of 2008 - Peter Brown Craven Minor JFL

Match Reports Week Ending 21 December 2008
Under 10
The top two, Fleetwood and Trinity, both won to remain level on points.
Fleetwood Hesketh 4-2 Ainsdale
The last game of 2008 was played in favourable conditions at Ferryside Lane today and Ainsdale Juniors were the visitors. Right from the first whistle this was an entertaining encounter with both teams having some good early possession. Both J.Griffiths and S. Gradwell at the back had to be on their game to protect J.McCall in nets. It was however Ainsdale who scored first with a well taken goal after a concerted effort to move the ball quickly and accurately past the Fleetwood fullbacks. As in previous weeks Fleetwood found themselves a goal behind but it was not through a lack of effort or good football this time but due to some great work by Juniors. It wasn't long though before Fleetwood got themselves on level terms when a beautifully weighted ball from the left hand side found K.Graham in the middle unmarked and he tucked the ball home with confidence. Fleetwood then took then went on to control the game in midfield through K.Bell , K.Wilson and relative new boy to the setup, K.Graham. It was Graham who was to benefit again when S.Gradwell, K.Wilson and K.Bell combined well again on the left to suck the Ainsdale defence across leaving him in space in front of goal and he showed his growing confidence tucking the ball away for his second. The second half was equally entertaining as both teams battled to gain the upper hand but when a great individual goal by K.Bell made it 3 to 1 to Fleetwood, Ainsdale responded with determination and played themselves back into the match with their second well taken goal of the day to make it 3 to 2. From there on in though it was going to be hard for Ainsdale to force the issue because, to a man, the Fleetwood team stepped up a gear and denied the opposition any meaningful possession by moving the ball slickly amongst themselves and winning the first ball repeatedly. L.J.Pape was to finish the scoring today with another tap in from close range following, again, some great work down the left hand side of the pitch. Man of the Match went to stand in captain S.Gradwell but he was not alone in producing a great performance.
Under 15
Birkdale went level on points with Formby after this fine win. Formby JSC 2 to 7 Birkdale N. Birkdale made a bright start to this game but it was Formby who scored first after nine minutes, against the run of play, a teasing corner from the left headed into the goal. Birkdale continued to press forward and were awarded a free kick on the edge of the penalty area after 16 minutes. James Frew stepped up to fire the ball into the top left corner. Two minutes later, Birkdale went ahead when Dominic Platts latched on to a through ball from Greg Rawsthorne and slotted the ball past the advancing keeper. Formby nearly got straight back into the game when they were awarded a free kick on the edge of the area which hit the cross bar and was cleared following a goal mouth scramble. Birkdale's third goal came five minutes before half time when Luke Williams put Greg Rawsthorne through to score. Straight after the break Formby applied some early pressure but were unable to make it pay. After five minutes, a well worked goal from Birkdale following some good passing between Jack Young, Liam Aindow and Greg Rawsthorne which saw him get his second goal of the game. Two minutes later Brodie Pike latched on to a through ball to blast the ball past the Formby keeper into the bottom right hand corner. Birkdale continued to press forward and were awarded another free kick on the edge of the area. Once again James Frew stepped up to take it and curled the ball into the top left hand corner. A brief lapse in concentration by Birkdale allowed Formby to get a second goal after 20 minutes. With a minute to go, the five goal lead was restored when Greg Rawsthorne completed his hat trick with a well taken goal. It was decided to award joint Man of the Match again this week to Greg Rawsthorne for his hat trick and Liam Jackson for a strong performance marauding forward from midfield. James Frew was also a close contender for his two free kick goals and good all round performance at right back.