Early Christmas award for Mayor of Sefton's Charity 2008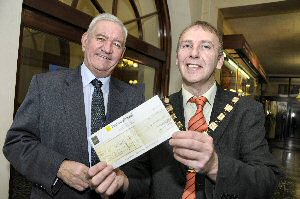 MERSEYTRAVEL Chair and Bootle councillor Mark Dowd has presented £1,000 to the Mayor of Sefton's Charity.

The presentation was made by Cllr Dowd to Mayor of Sefton Councillor Paul Tweed at Bootle Town Hall.

The cash award comes following Merseytravel's decision to hand out any surplus money from tunnel overpayments made at the tolls to some of the region's most deserving charities.

All five Mayors in each of Merseyside's district councils will receive the same sum.

Cllr Mark Dowd, Chair of Merseytravel, said:- "I was delighted to make the presentation.
I know from speaking to Paul that, as Mayor, his fund will be supporting a number of different charity and voluntary organisations this year, all within Sefton, which is fantastic.
In particular we hope this helps many of the smaller organisations that sometimes find fund-raising difficult.
Every one of the district Mayor's charities deserves our support and all will receive the same amount to support charities in their areas."

Receiving the cheque from Councillor Dowd, Councillor Tweed, said:- "I am very happy to receive this money from Merseytravel on behalf of the fund.
The people of Sefton will benefit directly from this money and I hope to support a number of very deserving local groups who are working hard to make a difference."

Some examples of groups that have been helped by the Mayor of Sefton's fund in previous years include playgroups, scout packs, older people's groups; groups for people with disabilities and health problems, young people, animal welfare organisations, and many more.

As well as the five Mayor's charities, the surplus money from cash overpayments made at the Tunnel booths is being donated to a range of charities this year, including the BBC Radio Merseyside Charitable Trust and Foxfield Special School, for pupils with severe and complex learning difficulties, in Wirral.
Free Christmas Day transport
MERSEYTRAVEL is offering a seasonal present of free bus services on Christmas Day designed to help hospital staff and visitors. Councillor Mark Dowd, Chair of Merseytravel, said:- "At this time of year it is important that we think of those who are unfortunate enough to be spending Christmas in hospital; as well as all those who are working hard to support them. We hope this goes some way towards helping families see their loved ones on Christmas Day."

Neil Scales, Chief Executive and Director General of Merseytravel added:- "We have been working closely with our operating colleagues to ensure that there are services over the Christmas and New Year period for the people who need them. The free Christmas Day transport is our contribution to helping those people as best we can."

Free buses will operate a limited service on routes including 10A, 20A, 92A, 102, 201 and 212 in Liverpool, 110 and 118 in Wirral and the 10A, 24X and 194/195 St Helens Circulars. First buses go from around 12 noon and run until around 6pm.

Hospitals served include the Royal Liverpool, Liverpool Women's, Whiston, Walton, Alder Hey, St Helens, Broadgreen, Fazakerley, Clatterbridge and Arrowe Park.

A limited network of bus services on all major corridors will also run throughout the region on Boxing Day and New Year's Day, with most services operating from around 10am.

As in previous years, Mersey Ferries will operate every day except Christmas Day, Boxing Day or New Years Day.

Queensway (Birkenhead) Tunnel will be closed from 10pm on Christmas Eve, reopening at 6.30am on Boxing Day.

Kingsway (Wallasey) Tunnel will operate normally throughout the holiday period.

No train services will operate on Christmas Day and Boxing Day. On New Years Day all City Line services will start later but run to a normal service and the Wirral and Northern Lines will be operating a Sunday service.

Due to non-running Merseyrail trains, the Merseytravel 'Soccerbus' service will not be in service for the Liverpool home
tie against Bolton Wanderers on Boxing Day.

Merseytravel's Traveline – 0871 200 22 33 – will operate normally on most days throughout the holiday period (7am to 8pm, Monday to Friday and 8pm to 8pm on Saturdays and Sundays), except:-
Christmas Eve (7am to 6pm)
Christmas Day (closed)
Boxing Day (9am to 6pm)
New Year's Eve (7am to 6pm)
New Year's Day (8am to 8pm)
A booklet giving full details of all bus, train and ferry services on Merseyside throughout the Christmas and New Year period is available from local timetable outlets, Travel Centres and from Merseytravel's head office in Hatton Garden, Liverpool.

For more information please visit:- merseytravel.gov.uk. Alternatively, people can ring Merseytravel's Brochure Hotline on 0151 330 1066.