CORONATION STREET STAR GETS RUNNERS RUNNING!
Photographs by Ian Andrew Fairbrother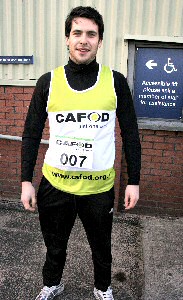 ON 27 December 2008, many people from all over the region descended on Wavertree to burn off the chocolate and turkey by running in the Liverpool CAFOD Fun Run in Wavertree Park, Liverpool. The annual event, which began in 1983, had a fantastic turn out despite it being the day after Boxing Day. The event was started by actor Rob Collier (who played Liam Connor in Coronation Street) as well as a live jazz band! All money raised by the runners helps CAFOD give hope to poor communities across the world.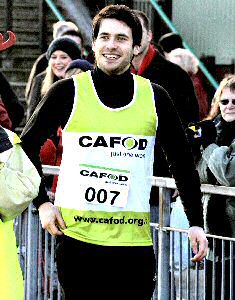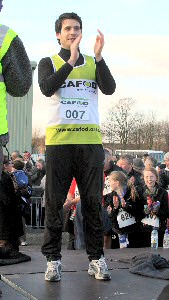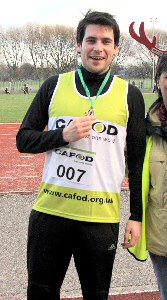 To find out more about the event go to:- www.cafod.org.uk.
Entries will be going live very soon for 'Pedal it Pink'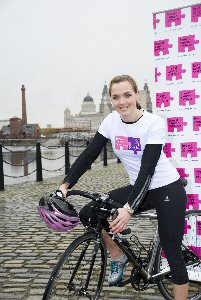 A new cycling event is being launched in Liverpool 2009, especially for women! So if you are looking for a new get fit goal for 2009 why not enter the first ever Pedal it Pink, organised by Breast Cancer Campaign. Taking place in Sefton Park on Sunday, 19 April 2009, entries for the event go live on 6 January 2009 on their website.

Pedal it Pink has a variety of cycle routes to choose from so there is something to suit all abilities. Women can choose between a half (13.1 miles) or full marathon (26.2 miles) distance and if you want to involve your family or partner in the event there is a 5k Family Lap as well. All routes are completely enclosed in the park, so it's safe, traffic-free and suitable for both beginners and experienced cyclists. And if you don't already have a bike you will be able to hire one through the event organisers.

Olympic champion and glamour girl of the British cycling team, Victoria Pendleton, is an ambassador of Pedal it Pink. She said:- "After winning Olympic gold in the Sprint cycling event in Beijing this summer, I'm so thrilled to lead Breast Cancer Campaign's very first Pedal it Pink. It'll be really exciting to see hundreds of women getting on their bikes in Liverpool to help beat breast cancer, so I really hope you can join us on 19 April in Sefton Park. I know it'll be lots of fun and together we can make a difference!"

The money raised from taking part in Pedal it Pink will help Breast Cancer Campaign to fund innovative world-class research throughout the UK to understand how breast cancer develops, leading to improved diagnosis, treatment, prevention and cure.

Samantha Campbell, Senior Events Manager at Breast Cancer Campaign, said:- "We're so pleased to launch the Pedal it Pink event so why not join us on this very exciting day and help us to raise vital funds for breast cancer research? Not only is it a great way to stay fit but the cycling challenge is sure to be a fun day out for friends and family with all proceeds going to a very worthwhile cause."

Breast Cancer Campaign's mission is to beat breast cancer by funding innovative world-class research to understand how breast cancer develops, leading to improved diagnosis, treatment, prevention and cure. We believe that research is the start of the solution and with your help we can build a brighter future for people with breast cancer.

To join the pink revolution, visit:- breastcancercampaign.org, or email:- pedalitpink@breastcancercampaign.org or call 020 7749 3700 to sign up.
So come on girls! Let's get together and put the brakes on breast cancer!!!!!!