Our Santa Cam is a huge success again...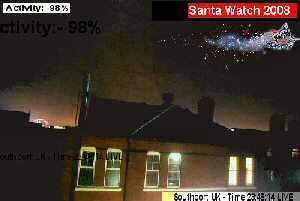 THIS years Santa Cam has been yet another success as we managed to capture the man in Red as he passed over Southport. We also had good support from EmailSanta.com.
NEW YEAR'S RESOLUTION:- MAKE 2009 THE YEAR OF DONATION
NHS Blood and Transplant (NHSBT) is calling on the public to mark the year ahead with a commitment to donation by giving blood and signing up on the NHS Organ Donor Register.

7,000 donations are needed every day to maintain healthy blood stocks and ensure life-saving treatment for patients across the country. Despite the thousands of transplant operations which take place every year, almost 8,000 people are registered for a transplant, of whom about 1,000 will die while waiting.

Lynda Hamlyn, Chief Executive of NHS Blood and Transplant told us that:- "A donation really does save lives. Every time someone gives blood or adds their name to the Organ Donor Register, they are offering the possibility of transforming someone else's life and the lives of their families.

At this time of year we all look back and wonder if we could have achieved more.

If you are making resolutions for the year ahead, then please consider whether you could include making this gift of life part of your own intentions for 2009.
Many people's lives have been saved in 2008 and I would like to thank those donors whose generosity already makes possible the blood transfusions and transplants carried out every day across the NHS. To those who have always thought about becoming a regular blood donor or signing up to the Organ Donor Register, but have never got around to it, please make this your New Year's resolution and act now."

Dave Clarke, who received a replacement kidney on Christmas Eve in 2001, supports this call for action:- "Before my transplant, I was ill for eleven months; today I am working full-time as a teacher. My kidney was the best gift I could ever have received and I am forever grateful to the donor and their family. Please make 2009 the year you join the NHS Organ Donor Register – it could save someone's life."

In 2004, Rachel Stanley suffered from a rare complication during pregnancy where foetal cells got into her blood, causing micro clots to form throughout her body. All the natural clotting factors in the blood were used up and she needed 35 units of red cells and plasma to 'flush' her system, the equivalent of having all the blood in her body replaced four times.

Rachel said:- "Because of blood donations my life was saved - I'm able to watch my children grow up and was present at the birth of my granddaughter. Please don't just leave donating to someone else, make a New Year's resolution to become a lifesaver today."
The Picket Liverpool - 'FUSE Tomorrows People'
ON night of the big end of the Capital of Culture celebration, 'Transition', on Saturday. 10 January 2009, a fntastic event called 'FUSE Tomorrows People' will be held at the The Picket, Liverpool. Tagged by the organisers as "Creating the future out of the now." the event will see not one, but four young Merseyside bands playing live, on stage, at The Picket. The bands will be The Curetones, Off Target, The Metropolitans, My Auntie Sam and Freq will play FUSE's Tomorrow's People event. Thid event will be open to under 18s. The event offers them the opportunity to play live, with quality equipment, and to get some gigging experience in. The enterence is FREE. For more information please go to www.myspace.com/picketliverpool or visit www.savethepicket.com.
INTERNATIONAL GOSPEL STAR TO APPEAR AT BANKS METHODIST CHAPEL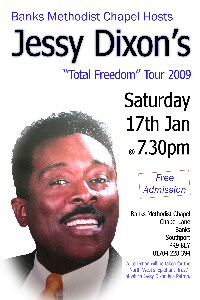 THE man who the International Herald Tribune newspaper dubbed 'The King of Gospel Music' as a result of his prolific performances across Scandinavia and Europe as well as America and many other parts of the World, is flying in from Chicago, Illinois to do a concert at Banks Methodist Chapel, Southport on Saturday, 17 January 2009 at 7.30pm.

Jessy Dixon will appeared with Mica Paris in a BBC 'Songs of Praise' special, 'The Story of Gospel' on Sunday, 28 December 2008. Jessy is an American gospel singer, songwriter, and pianist, with success among audiences worldwide. He has three Gold albums and seven Grammy nominations. Born in San Antonio, Texas, Jessy sang and played his first song at the age of five. As a youngster he moved to Chicago, Illinois, where he was heard and discovered by James Cleveland, who was one of the first artists to sing and record Jessy Dixon's compositions, "God Can Do Anything But Fail," and "My God Can Make A
Way." The organizers of the Newport Jazz Festival invited him to perform his new song "The Wicked Shall Cease Their Troubling," at New York's Radio City Music Hall in 1972. After the performance, Jessy and The Jessy Dixon Singers were requested to do an unprecedented four encores. Paul Simon, of Simon and Garfunkel, was in the audience and invited Jessy to share the stage with him as lead vocalist on TV's Saturday Night Live. Not only did they share that performance, Jessy soon found himself touring with Simon across the United States, France, Europe, Canada, Scandinavia, Israel, and Japan. Jessy's affiliation with Paul Simon lasted for eight years, during which time he recorded two albums, Live Rhymin (1974) and Still Crazy After All These Years (1975), both of which sold a million copies.

Paul Simon says of his eight-year singing comrade:- "Jessy has a rare and joyous musical gift. I have loved gospel music and during the years I have been associated with Jessy my appreciation of the gospel has grown."

Many of Jessy's award-winning compositions have been sung and recorded by such artists as Amy Grant, Sandi Patty, Cher, Natalie Cole, Diana Ross, Danniebelle, Point Of Grace, Walter Hawkins, Randy Crawford, The Thompson Community Singers, James Cleveland, among others. In 1993, Jessy Dixon composed "I Am Redeemed." It remained in the top ten gospel music charts for an unprecedented five years.

A few years ago, Jessy started touring with Bill and Gloria Gaynor, famous for their 'Homecoming' TV Shows and videos. Jessy is now a favorite on the series, and has travelled all over the United States and abroad surprising gospel audiences with his stirring performances. In addition to his current involvement with the Homecoming videos and concerts, his own concert schedule includes concerts both in America and abroad.

There will be no charge for admission to the concert, but a collection will be taken for the work of the 'Epiphany Trust', a North-West based Charity working with disabled and disadvantaged children in various parts of the world affected by disasters and human atrocities. They are currently doing work in Romania, Sri Lanka, D.R. Congo, India, Pakistan & Burma. Jessy Dixon is a patron of the Epiphany Trust.
The concert will start at around 7.30pm.
(Banks is situated just off the A59 between Preston and Southport, and is a 20 minute drive from Preston).

Further information can be found at www.jessydixon.com and www.epiphany.org.uk.