Lethal rural roads need 'Intelligent Speed Adaption' treatment first, says IAM
POTENTIALLY large reductions in road deaths and injuries - thought to be as dramatic as 29%, could result from a widespread
adoption of the new 'Intelligent Speed Adaption' (ISA) proposals that was put forward on Tuesday, 30 December 2008, said the Institute of Advanced Motorists (IAM), the UK's largest independent road safety charity.

The IAM, contributors to the government's Motorists' Forum, has backed the scheme but would like to see new digital speed maps at the heart of the ISA system prioritise potentially lethal rural roads.

IAM Director of Research and Policy Neil Greig cautioned that motorists may well resist initially a system that dictates how fast they can drive. "ISA may be able to ensure that all cars observe speed limits, provided that critical safety conditions are met and tested. However, even with these assurances, an understandable deep-rooted concern about 'Big Brother' will have to be overcome."

Mr Greig said that the report showed that fleet managers showed a general lack of support, as they did not believe that exceeding speed limits necessarily reduced a driver's safety.

Like an in-car navigation system, ISA uses global satellite positioning (GPS) and a digital map to establish a car's location and what the speed limit is at that point on the road. This information can be used to:-

· tell the driver the speed limit through a display on the instrument panel (Advisory ISA)

· control the speed of the vehicle, if the driver so wishes (Discretionary ISA)

· automatically control the speed of the vehicle (Controlling ISA).

Once ISA is set to keep the car to the speed limit, it does not allow the driver to accelerate beyond it. The system may apply the brakes lightly if the limit is exceeded by a certain amount (for example, while going downhill).

The IAM believes that certain safeguards need to be built in before extensive ISA trialing, including a very high standard of reliability of equipment and speed limit data.

"Drivers could keep their foot firmly on the accelerator, secure in the knowledge that they cannot exceed the maximum permitted speed - so they could fail to drop their speed to below the limit when conditions require it. That abdication of driver responsibility would not be helpful to road safety in the long run." said Mr Greig.

Mr Greig also added that drivers may adopt ISA devices if they promised that speeding fines, penalty points and loss of licence became things of the past.

Email us your views on this. Do you think it would help? news24@southportreporter.com.

Useful weblink - To take a look at the IMA "Controlling how fast you can drive" booklet click here here.
STAY SAFE THIS NEW YEAR... DON'T DRINK AND DRIVE!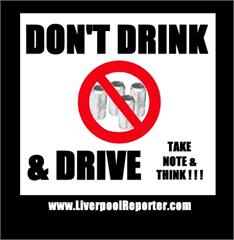 DRIVERS on the roads through out Cumbria, Lancashire, Greater Manchester, Merseyside and Cheshire are being warned that a New Year's tipple could see them end up behind bars. The Government and Police have once again joined forces to urge anyone hitting the party scene to leave their car keys at home and not risk the devastation that drink driving causes.
Keep an eye out for 'Buy one Coca-Cola and get two more free' deal for designated drivers - which will be running in 2,500 pubs across Britain over the New Year festivities thanks to Coca-Cola Great Britain in a bid to help tackle drink driving. Also get our logo on your mobile phones and pass it on to your friends to remind them not to drink and drive!
More from Liverpool Reporter at Myxer
Standard/other carrier charges may apply. Depending on your mobile data plan, your carrier might charge you to receive text messages (or PIX messages) or for internet access. If you don't know what plan you have, you should check with your carrier. Compatible with most carriers including AT&T, Cellular One, Sprint, and TMobile. Text STOP to 69937 to opt out. Myxer is not a subscription service - there are no recurring fees. So, why do we say 'Text STOP to 69937 Opt Out'? Well, because the carriers told us to!
Lost without Sat Nav?
THE Sat Nav is now seen by many as the most important development in navigation, since the introduction of the A to Z. And, with the government and even the Institute of Advanced Motorists, calling for more in-car navigation system, it seems likely that they will become increasingly more common. Integrated Speed Adaptation, ISA, a new addition for Sat Nav's, uses global satellite positioning (GPS) and a digital map to establish a car's location and what the speed limit governing the area they are in. From this, it instructs the driver about these speed requirements and warns if they are being exceeded. It could be used to prevent a car exceeding a limit in future. However, the law in the UK, regarding these matters, is currently reported to be rather obscure. It might be interpreted to conclude that the use of a Sat Nav is dangerous and that the driver is acting illegally. In various incidents, recently, drivers have fallen foul of the law by touching a button on a radio, adjusting the mirror, or altering the seat position. Even eating a piece of fruit or a Mars bar, whilst stationary at lights, can now put you on the wrong side of the law. Strangely, less has been heard of cases involving smoking whilst driving. The new road traffic laws are intended to protect the driver and other road users from the dangers caused by loss of proper control of the vehicle, but are they being over-zealously applied, in some cases, because the law is too obscure? The consequences of prosecution can be 3 points on a licence and £60 fine or worse So when Clive Forsythe, who is the head of marketing and sales at Masterlease, contacted us about this fantastic bit of kit, the Sat Nav , we took note. Masterlease is one of the fastest growing funding and fleet management companies in Europe.. So if he is asking whether people may be using their GPS system before using their common sense, it will surely be a big issue in 2009.

Clive Forsythe said:- "For adults, the top of gadget-lovers Christmas lists in 2008 must surely be, a satellite navigation system, if they haven't already got one. Sat Nav systems have become increasingly popular over the past few years, particularly as the gift to buy someone who has everything, and with the fantastic offers currently available on the high street it is the perfect time of year to snap up a bargain.

But have we become too reliant on Sat Nav ? Whether it is trying to beat our time on a regular route, in order to reduce the monotony of commuting, or slipping into the habit of programming every journey into the planner, no matter how well we know the route, Sat Nav is now a big part of our lives. However, could Sat Nav actually be erasing our inherent navigational skills, and is it actually more dangerous than reading a map whilst driving?

While physically reading a map en-route is distracting and not recommended, the audio options on Sat Nav can provide a driver with clear instructions without the need for map reading. People are able to drive in a more relaxed way, safe in the knowledge that they are being guided through their journey, without constantly having to refer to a
map. Or are they?

Many drivers are becoming so reliant on Sat Nav that they seem to be losing their inherent sense of direction and possibly common sense. Take for example the incident in 2007, where a Polish driver followed his Sat Nav into a lake. Police who attended this incident stated that the driver had such faith in his Sat Nav that he neglected to take note of the road signs warning that the road had been closed, after a water company flooded the valley to create a reservoir.

This extreme example highlights a trend for drivers to disregard all other external signals that contradict their Sat Nav s. For example, a Hampshire hamlet has erected signs telling drivers to ignore their Sat Nav , as faulty GPS programming directs HGVs down a small, single lane in the countryside, which has resulted in several vehicles getting stranded. This trend can only get worse; with a whole generation growing up with Sat Nav , who arguably won't develop decent navigational skills.

Anecdotal evidence also suggests a tendency for people to use their Sat Nav as a means of entertainment whilst on long journeys, trying to beat their predicted time of arrival. This not only causes drivers to be distracted, but in several cases to break the speed limit in order to reduce their journey time.

Added to this, there are legal considerations. Using a handheld mobile phone whilst driving has created great media attention, yet many drivers may not be aware that they are also liable to be prosecuted for editing the settings on their Sat Nav whilst in a moving vehicle, as this constitutes driving without due care and attention. Sat Nav s, which are a constant distraction in the eye-line of the driver, can also cause more confusion if it gives erroneous information.
A study, published earlier in 2008, suggests that Sat Nav systems have been responsible for over 300,000 crashes since GPS systems were introduced. Fleet managers have a duty of care to ensure that their drivers are well informed of both driving offence outlines, and also general safety whilst in their vehicles. Corporate responsibility guidelines mean that this is not only in the best interests of the individual, but also of the company as a whole.
Our advice to drivers is to programme their Sat Nav system before setting off, and to stay alert to external signs that may contradict the directions that they are being given.

There is no doubt that Sat Nav s are useful and reliable most of the time, but drivers need to use their common sense when following the directions of their Sat Nav and not use them in isolation, ignoring all other external factors, such as good, old-fashioned road signs!"

Please do email our news room with your views on this topic via this email address:- news24@southportreporter.com.