Liverpool Transition Light Night - 10 January 2009!!!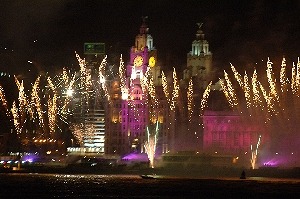 ON Saturday, 10 January 2009, the end of Liverpool's Capital Of Culture Year will be marked in style and what a year it has been. We would like to hear from you all, what you liked and did not like about it and also if you felt that it has been good for Merseyside to have had Liverpool hosting the year long event. Email us via:- news24@southportreporter.com and let us know what you think....

The audio and light show will start from 6.15pm, including a filmic review of '08 on screens at the new Museum of Liverpool, the new Mersey Ferry terminal and at the ECHO Arena Liverpool on Kings Dock.

At 6.25pm Liverpool's Lord Mayor, Councillor Steve Rotheram, will conduct the first ever Capital of Culture ceremonial handovers to the cities of Linz and Vilnius, the European Capital's of Culture '09, and a representative for London 2012 to mark the launch of Britain's Cultural Olympiad.

The show concludes at 6.40pm (approx) with an eight minute pyrotechnic finale fired from ships on the river.

The show finale signals the start of Liverpool's Transition Light Night with many of the city's world renowned cultural facilities such as The Merseyside Maritime Museum, Tate Liverpool, the Bluecoat, Open Eye, FACT, Liverpool Biennial, the Contemporary Urban Centre and The Flying Picket - all offering visitors and residents a unique and largely free late night experience. The city centre's high quality range of restaurants, bars and clubs will also and ready to receive the huge numbers expected in the city on this significant night.

Especially commissioned street theatre, music and dance performances will also follow at the city's public spaces, pedestrian and shopping zones.

All show times are approximates.
If you are travelling in we would strongly recommend you do so via public transport.

To find out all about the European Capital of Culture 2008 closing events please open this PDF file by clicking here.
We hope the other European Capital of Culture Stavanger also got as much out of it as Liverpool has gained.
All of us at Southport and Mersey Reporter wish both Vilnius who has been crowned as the Lithuanian Capital of Culture 2009 and also Germany's Capital of Culture 2009 Linz all the best for their events.