Liverpool launches first ever Pedal it Pink
ON Wednesday, 14 January 2009, Breast Cancer Campaign will launch its first ever Pedal it Pink cycle event, exclusively for women, in Liverpool.

Pedal it Pink is a new cycle event with a variety of routes to choose from so all abilities are catered for. There is a 26.2 mile (marathon course) for the more confident cyclist, a 13.1 mile (half marathon course) for intermediates and a 5km family lap for beginners and those who wish to involve their partners and family in the event. Taking place in Liverpool's Sefton Park on 19 April 2009, there is plenty of time for you to train for any of the distances. Entries are now live on the website...

The launch of Pedal it Pink is taking place in the Met Quarter from 9am to 6pm. Shoppers will be able to find out more information about Pedal it Pink and the charity and those who sign up on the day will be entered into a prize draw to win a pink Raleigh bike and helmet, worth over £220.

Shoppers will also get the chance to try out their cycling skills on a revolutionary new static bike called the Wattbike. The Wattbike tests your fitness over 27 different variables, enabling you to see how you compare to the likes of Chris Hoy and Victoria Pendleton, who is a keen supporter of Pedal it Pink.

The money raised from taking part in Pedal it Pink will help Breast Cancer Campaign to fund innovative, world-class research throughout the UK to understand how breast cancer develops, leading to improved diagnosis, treatment, prevention and cure.

Jayne Smith, from West Derby in Liverpool, is also going to be at the launch, she knows all too well how vital the work that Breast Cancer Campaign does. In 2006 Jayne discovered she had a lump in her breast after being urged to check them by the charity's 'Tickled Pink' campaign. "I couldn't believe it... Never in a million years did I expect to find anything during my self-examination but I couldn't ignore the hard swelling in my breast."

Terrified, Jayne rushed straight to the doctor but initially he said it was a cyst. But weeks later, the lump was still there and Jayne began to wonder if the doctor had been right. In October 2007 after yet another check up and a mammogram, Jayne discovered she did in fact have breast cancer.

"Although I wasn't too shocked, it left me absolutely devastated. For eight months I knew something wasn't right and now I didn't know if I was going to live or leave my two children without a mother." Without wasting any more time, Jayne went straight in for treatment and had a lumpectomy followed by a course of radiotherapy.

"After my treatment the doctors told me they'd caught all of the cancer and I was in the clear. It was the best news I'd ever heard and I was so relieved I'd been one of the lucky ones. Breast cancer affects so many people and it's heartbreaking to read about those who don't survive their diagnosis."

It is now over a year since Jayne was diagnosed and treated and to show her gratitude to Breast Cancer Campaign for helping her to find the lump in the first place she is taking part in the 5k family lap at Pedal it Pink. "I'm taking part in Pedal it Pink because I want to show Campaign how thankful I am for all the research they fund. Without it, I may not have survived my experience of breast cancer so this is my way of repaying them for everything they have done for me. Not only will it be a great way to get fit, but I'm sure it will be a really fun day out in support of a very worthwhile cause."

To join the pink revolution, visit breastcancercampaign.org, email or call 020 7749 3700 to sign up. Come on girls!
Let's get together and put the brakes on breast cancer!
LIVERPOOL MAN SET FOR RETURN TO IRAQI WARZONE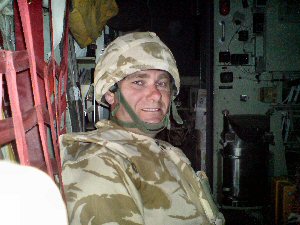 A decorated Royal Navy reservist from Bebington in the Wirral is set for a third tour of duty in six years in a theatre of war when he travels to Iraq this year. Geoff Harrison, 43, a logistician with the Royal Naval Reserve (RNR) unit at HMS Eaglet on Merseyside, is poised to embark on a two-month training stint in El Paso, Texas, before heading out to war-ravaged Iraq where he has been mobilised as a Phalanx gun operator, helping to protect the British Armed Forces on the ground. Geoff, who has campaign medals from the second Iraq conflict in 2003 and more recently in Afghanistan, plus the Queen's Golden Jubilee medal awarded in 2002, has been in the RNR for 20 years, during which time he has travelled the world. And Geoff, who works as a production operator for Vauxhall Motors at Ellesmere Port in his 'day job', comes from a military family. His late father, Ken, was called up in 1945 and served in Palestine until 1948, while his grandfather served in the King's Liverpool Regiment in the Great War between 1916 and 1918. The searing heat of the Iraqi desert holds no fears for intrepid Geoff, who said:- "I am really looking forward to getting back out there. It's my third tour of duty in six years so I have experience of the difficult living and working conditions. It can reach over 40 degrees centigrade in Iraq which makes things pretty unbearable at times, but I enjoy performing my role to the best of my ability. I couldn't join the Navy when I was young as I found out I was partially colour blind, so I feel this is my way of putting something into the senior service." The RNR is an integral part of Britain's naval forces, comprising a corps of 3,250 men and women who train in peacetime to enable the Royal Navy to meet its operational commitments. Although 25% of RNR personnel have previously served in the Royal Navy, the majority are volunteers drawn from all walks of life, together with a small number of qualified Merchant Navy deck officers, civilian medical practitioners and nurses.
Ferries capture the majesty of HMS Ark Royal
PASSENGERS on board the Mersey Ferries can get up close to the Royal Navy's fleet flagship – HMS Ark Royal – when she visits Liverpool from this Thursday. The ferries will take in the majesty of the 210m vessel during regular cruises operating throughout the visit. Two ferries will take to the water for additional cruises in the afternoon of Saturday, 17 January 2009 when the vessel is open to the public, with live commentary from blue badge guides. River Explorer Cruise services, calling at all three terminals, will depart from the Pier Head at 10am, 11am, 12 noon, 1pm, 1.30pm, 2pm, 2.30pm, 3pm, 3.30pm and 4pm and will be sailing as close and as safely as possible to Royal Navy vessel. Commentary will also run on the 11am, 12 noon, 1pm, 2pm and 3pm sailings on Sunday, 18 January 2009. Other cruises will operate as normal. Neil Scales, Chief Executive and Director General of Merseytravel which owns and operates the Mersey Ferries said:- "These cruises will be a great way to take in HMS Ark Royal. Passengers will be able to take in two Royal-titled vessels in one cruise." People should call 0151 330 1444 or visit www.merseyferries.co.uk, if they would like any more further information.