Fund for specialist nurse practitioner started with a Ball
EACH year over 310,000 patients will present to health care services in the UK with a fragility fracture. The majority of these fractures occur in the wrist, spine, ankle and hip and usually occur with minimal force. In the elderly population this is commonly due to osteoporosis, which is thinning of the bones. This number is on the increase with the annual number of hip fractures set to double by 2050.

Osteoporosis is the most common preventable bone disease in the UK and is on the rise as people live longer. However, like many conditions it requires a combination of hospital services and community support to effectively manage it. Patients admitted to hospital with fractures require help from a multidisciplinary team including orthopaedic surgeons, nursing staff, physiotherapists, occupational therapists and orthogeriatric specialists.

Preventing further fractures is a key goal for today's health care services and synchronisation of these services by a designated liaison person, such as a specialist osteoporosis nurse, would drastically improve patient outcomes and prevent further injuries.

With this in mind the £1,300 raised at last year's annual Orthopaedic Ball hosted by staff at the Hospital has been presented to the hospital with the aim of starting a fund to employ an osteoporosis nurse practitioner in the future.

Mr George Ampat, Consultant Orthopaedic Surgeon said:- "This may only be a drop in the ocean but it is a start and our efforts will continue.
Our local community has a greater proportion of elderly citizens and the presence of a specialist nurse practitioner would enhance the current service we can offer at the hospital. There are not only health consequences of fragility fractures, but also social and economic ones. These are often elderly patients with co-existing medical problems which can lead to a prolonged hospital stay and a permanent reduction in mobility, confidence and therefore independence.
Currently £2 billion is spent in the UK per year on medical and social costs relating mostly to hip fractures. It is an unfortunate fact that 10% of patients admitted to hospital with a hip fracture die within one month and another 20% within the year. Anything that can be done to reduce this number through prevention has to be looked at and I believe the provision of an osteoporosis nurse practitioner will help.
This would ultimately save the NHS hundreds of thousands of pounds.
I would like to thank everyone who helped organise the ball and all who have contributed to this cause."

This years Orthopaedic Ball will be held on Friday, 11 September 2009 at Formby Hall Golf Course. Funds raised from that Ball will also be used for this cause.
National Championships come to town – will you be the local hero?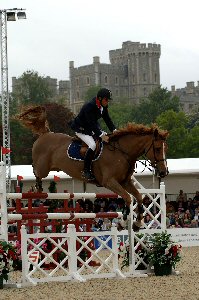 CALLING all amateur horse riders – you have the chance to take part in a revolutionary new National Championship series, with qualifiers taking place locally and across the country.

Royal Windsor Horse Show, the most prestigious and largest outdoor equestrian show in the UK, has launched a brand new Open Unaffiliated Jumping and Dressage Championships, for both junior and senior riders. The Championships are held in conjunction with British Riding Clubs and sponsored by AmTrust Equine Insurance.

British Riding Clubs across the UK will be holding qualifiers over the next few months, allowing a truly unique opportunity for any rider at grass-roots level to qualify for the Finals which will be held during the Royal Windsor Horse Show that runs over 13 May 2009 to 17 May 2009. The show is held at the iconic Windsor Castle in Her Majesty The Queen's private grounds!

To add even more excitement to the experience, the 6 winners of the Championships – named the AmTrust Equine RWHS Unaffiliated Championships - will be invited back to Windsor in August for the Alltech FEI European Jumping and Dressage Championships 2009, to collect their trophies in front of a capacity crowd.

Full terms and conditions of the Championship and details of which clubs are hosting qualifiers will shortly be available at www.rwhs.co.uk.

So what are you waiting for? Make sure you take a look and see if your local riding club is taking part – and if not get on the phone to them to make sure they do! You could be one of the finalists riding at Windsor with all the greats!