LIVERPOOL CITY REGION WORKS TOGETHER FOR BRIGHTER FUTURE
LIVERPOOL City Region partners on Monday, 12 January 2009 have signed an historic agreement which will see the city region pull together to help overcome the effects of the global downturn. At a meeting with the Prime Minister in Downing Street, Knowsley, Liverpool, Sefton, Wirral, St Helens and Halton will sign up to the Liverpool City Region multi area agreement which will bring closer working relationships between the areas to help strengthen the city region in the years to come.

Working together, the Liverpool City Region partners will tackle the biggest challenges facing the city region, including the local economy, transport, housing and environment. The 1st task will be to introduce locally tailored solutions to help safeguard local jobs, improve the skills of local people and support businesses to create a thriving international city region by 2020.

New ways of working will be introduced, including a new Employment and Skills Board that will give employers a prominent role in local decision-making. With almost 175,000 people in the city region claiming an out of work benefit, to have a genuine impact it is intended to design and commission services differently so that they are flexible, impact on areas with high levels of worklessness and mitigate the effects of the economic downturn. As a result the Liverpool City Region aims to get 9,000 people off benefits by 2012. It will also help raise the qualifications of thousands of local people. By 2012 77,000 more residents will be qualified to at least NVQ Level 2 (equivalent to 5 GCSEs) and a further 54,000 qualified to NVQ Level 3 / A level standard.

A new 'Fit For Work' plan across the Liverpool City Region will see specially trained employment liaison officers step in to help people who are in danger of falling out of work because of a health condition or impairment. A Flexible New Deal programme, designed with local needs in mind, will also be established to help people improve their skills and find employment.

Cllr Ron Round, Leader of Knowsley Council and Chair of the Liverpool City Region Cabinet said:- "The biggest and most important challenges facing the Liverpool City Region are common to all the local authority areas, so it makes absolute sense that we should share our resources and expertise to work towards a solution that is right for the whole city region. In these uncertain economic times, we all recognise the need to support local businesses and help local people find and retain employment.
We don't just want to 'survive' the downturn, we want to thrive.
We can achieve that by working together to get people into employment and raise the skills levels of our citizens over the coming years to meet the future needs of business in the area."

Working together as a City Region enables all the local authority areas and their partners to benefit by working on a collective basis rather than as an individual council area. The signing of the multi area agreement today is the result of an already successful partnership working approach in the Liverpool City Region and represents new powers to deliver home-grown solutions to issues that are of real significance to the area.

The Mersey Partnership Chairman Rodney Holmes, who will represent the private sector on the newly-created City Region Cabinet, said:- "The MAA will help deliver further economic growth across Liverpool City Region. By working together under its terms we shall be able to achieve more in key areas including employment and skills. TMP will continue to represent the private sector and provide analysis of the city region's economy.
We identify the challenges and opportunities and the Liverpool City Region Multi Area Agreement gives us a say in how they will be addressed.
Since its foundation in 1993 TMP has provided its private sector Members and partners with opportunities to influence public sector policy and we will continue to ensure the views of the sector are known and understood by all those represented by it."
ROYAL NAVY'S FLAGSHIP HMS ARK ROYAL REVISITS THE MERSEY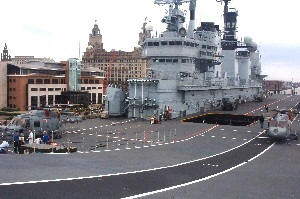 ONE of the most famous ships in the world, HMS Ark Royal, is to make a new year's return visit to Liverpool. This giant of the seas, the Flagship of the UK's Senior Service, made her hugely successful debut trip up the Mersey last June, and now seeks to renew her strong bonds with the people of Liverpool when she calls in at the city's Cruise Liner Terminal for a 4 day visit from 15 January 2009 to 19 January 2009.

During her stay, she will throw open her gangway to the people of Merseyside on Friday 16 January 2009, from 10am to 3pm, and again on Saturday, 10am to 3pm, offering them a unique opportunity to get a taste of life on board one of the Royal Navy's greatest ships. Personnel will be on hand to answer questions about careers in the Royal Navy and Royal Marines. Admission is free.
In addition, there will be a Sea King Asac of 849 Naval Air Squadron and a Merlin NH Mk1 of 814 Naval Air Squadron helicopter landing and taking off from the ship's flight deck during her stay, a fantastic opportunity for Liverpudlians to get an bird's eye view of the unique operations of an aircraft carrier.

Her ship's programme while alongside is packed with a range of activities involving the local community over the 4 days, including hosting a VIP reception for 250 invited guests from around the city led by the Lord Mayor, as well as visits by the emergency services plus naval and aviation societies.

With a number of Lliverpudlians serving aboard, the Ark Royal has a great affinity with Alder Hey hospital and the ship's company have collected money to hand over belated Christmas gifts that will be presented during her stay. In addition, a host of sea cadets, schools and other youth organisations will get the chance to go aboard and learn first hand about a life on the ocean wave with the Royal Navy.

Commanding Officer of HMS Ark Royal, Captain John Clink, said:- "My crew is very proud of the ship and we have a great community feeling on board. It's like a small village and each department goes towards supporting the whole. My team is very much looking forward to sharing their experiences with our visitors, communicating what it's like to be part of life aboard a modern warship."

HMS Ark Royal will visit a number of UK ports in the coming weeks including Glen Mallen near the Clyde, Scapa Flow on Orkney and then Newcastle, before entering a period of refit to enable her to return to the UK's strike carrier role. Her recent commitments have included playing an integral part in Exercise Joint Warrior off the coast of Scotland, joining forces with ships from her NATO allies, training officer cadets from Britannia Royal Naval College Dartmouth and paying tribute to HMS Ark Royal III, which sank near Gibraltar in 1941.

Larger than her sister ships, Invincible and Illustrious, HMS Ark Royal is 211 metres long, has a maximum beam of 36 metres, a draft of 8.4metres and displaces 20,000 tonnes. She is fitted with 4 Olympus gas turbine engines, making her the marine equivalent of Concorde and propelling the ship at a speed in excess of 30 knots. A steeper ski jump than in the other ships of her class is fitted at the forward end of the flight deck. Ark Royal can carry up to 682 sailors and 668 aircrew and has room for another 600 troops should the need arise. Aircraft Carriers are the largest ships in the fleet. Their versatility and command facilities make them key to modern warfare. Their main armament is provided by their embarked carrier air groups, enabling them to deploy rapidly around the world to points of crises wherever they arise.
Related story and photos CLICK HERE.