HMS Ark Royal visits Liverpool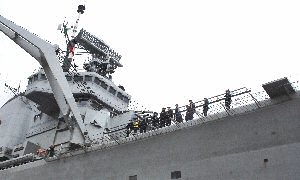 THE amazing Royal Navy Flagship, HMS Ark Royal visited Liverpool over the weekend. This stunning ship is one of the most famous ships in the world and Liverpool put on a fantastic reception as she drew into Liverpool's Cruise Liner Terminal last Thursday, 15 January 2009. This is her second visit to Liverpool and what a visit it has been. On Friday and Saturday, more than 9,000 people took advantage of the opportunity to visit this giant of the seas during the two days when she was open to visitors. Nearly all the visitors were able to chat with members of the crew, view two helicopters on the flight deck and enjoy access to many areas of the vast ship. On offer to all members of the public, over the weekend, where trips on the Mersey Ferry, so you could to get a close look at her from the outside. As well as plenty of interest both inside and out from locals and tourists to the city, there was a real sense of homecoming aboard, too, as quite a number of the ship's crew hail from Liverpool and the surrounding area. One of the crew was even able to have her 21 Birthday at home! Of particular highlight to the Merseysiders among the crew was a visit to Liverpool Football Club's ground Anfield, which was much enjoyed by all. And then a lucky few were further delighted to be given tickets to the Liverpool v Everton derby match – a hot fixture in the diary and an invitation which is much appreciated. As if that weren't enough, the ship's football team enjoyed some expert training courtesy of Liverpool Football Club's community coaching staff. But that was not the end of this amazing weekend for the crew and also the public, in addition, a host of sea cadets, schools and other youth organizations where taken around her and many go the chance to learn about the special celebration the Royal Navy will be celebrating this year. 100 years of Naval Aviation! On top of that the Lord Mayor and a whole host of VIPs had a reception on board. Even children at Alder Hey hospital got a look in as Liverpudlians serving aboard, the Ark Royal presented gifts to them. The event was a very good promotion for the Royal Navy and not only did it give people the chance to learn first hand about a life on the ocean wave but also for the city to show how proud we are of our service men and women.

The visit ended in style on Monday, 19 January 2009 when at 10am as Sea King and Merlin helicopters disembarked Ark Royal. Then at 5.30pm HMS Ark Royal left the Cruise Liner Terminal and slipped out into the river Mersey and then off into the Irish Sea. Let's hope we will see her return again soon.
Did you know?
HMS Ark Royal, is larger than her sister ships, Invincible and Illustrious, HMS Ark Royal is 211 meters long, has a maximum beam of 36 meters, a draft of 8.4metres and displaces 20,000 tonnes. She is fitted with four Olympus gas turbine engines, making her the marine equivalent of Concorde and propelling the ship at a speed in excess of 30 knots. A steeper ski jump than in the other ships of her class is fitted at the forward end of the flight deck.

Ark Royal can carry up to 682 sailors and 668 aircrew and has room for another 600 troops should the need arise. Aircraft Carriers are the largest ships in the Royal Navy's fleet. Their versatility and command facilities make them key to modern warfare. Their main armament is provided by their embarked carrier air groups, enabling them to deploy rapidly around the world to points of crises wherever they arise.

The ship has The Sea King ASaC - Airborne Surveillance and Area Control that offers tactical control to the aircraft carrier-based assets. It can detect low flying aircraft trying to attack surface ships under conventional shipborne radar cover. It can also be used for surface search again using the sophisticated, computer controlled long range radar. This sixty-foot long aircraft weighs nearly 10 tonnes, but can fly at speeds of up to 150mph. There are three crew onboard.

The carrier also has the Merlin HM Mk 1. It is employed as an anti-submarine helicopter and also contributes to anti surface warfare. With a top speed of 167 knots, the Merlin can carry four homing torpedoes or depth charges, and has sufficient fuel for a radius of operation of over 200 nautical miles. The aircraft is almost 70 feet in length and weighs over 14 tonnes. It has a three-man crew.