Willmott Dixon 'local pound' strategy paying off at Cowley Language College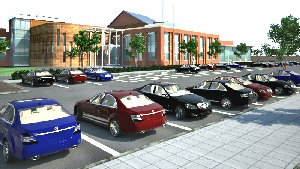 WILLMOTT Dixon's £21 million project for St Helens Council to redevelop Cowley Language College is providing a massive boost to the local economy.

Up to 78% of the £15 million being spent on subcontractor works packages is with local companies based within 25 miles of the project, rising to 91% within 30 miles.

Local companies who are benefiting by working on Cowley Language College include the AA Group, who provide structural steel, concrete floors and precast Stairs, Fulwood Roofing, Murraywood Construction, who provide substructures, drainage and external works, plus Fastrack, responsible for balustrading and sundry metalwork.

Anthony Dillon, managing director for Willmott Dixon in the North explains:- "We place great emphasis on maximising the 'local pound' on our projects by ensuring we give as much work as possible to local companies. Cowley Language College is no different and our research has found that 41% of our subcontract spend is with companies based within 10 miles, rising to 91% within 30 miles. It's important that local projects benefit the local economy and we are very pleased with our success here."

Cllr Shirley Evans, St Helens Council's Executive Member for Children and Young People's Services, said:- "I am delighted that the redevelopment of Cowley is not only going to provide our pupils with a top rate college in which to learn but that it is helping to boost the local economy and to provide jobs at a time when the 'credit crunch' is affecting many people's lives."

Willmott Dixon is currently mid-way through carrying out Cowley Language College's redevelopment over two phases. The first involves building new, purpose built, premises for 11 to 16 year olds on an adjacent site. The pupils then decant across to the new facility on completion.

The second phase sees the vacated Cowley site developed into an independent sixth form centre, with facilities for sport, community use and the extended schools agenda.

Willmott Dixon will work within an integrated partnering team to carry out pre-construction work such as planning, design co-ordination and supply chain appointment. The entire project completed by summer 2010.
After 8 at the Phil - New 2009 Season
A new year brings a new listing for the Phil's continuing After 8 series with a prime selection of roots, jazz and unplugged gigs… only to be found in Liverpool Philharmonic Hall's intimate Rodewald Suite. £10 all tickets (except After 8 Specials) From Miles Hunt to Surinder Sandhu, Chris Wood to Andy Irvine, the Phil's dynamic series of roots, jazz, and unplugged music continues strong into 2009, attracting an array of acclaimed artists for the new season. Providing an intimate and relaxing cabaret venue experience, with an in-house bar, rooftop terrace and the opportunity to meet the artists, the 2009 series of After 8 has something on offer for everyone. 2009 sees the return of The Wonder Stuff's lyricist Miles Hunt and Erica Nockalls. There's jazz from the best artists in the region including Welsh minimalist pianist Huw Warren, the founder of Manchester's Matt & Phred's jazz club Matt Nickson and his trio and the innovative Real Book North West project. Young Folk Musician of the Year and three-time All Ireland Champion piper Jarlath Henderson with Ross Ainslie and renaissance man of English folk, Chris Wood will appear in April 2009. Tim Garland and The Lighthouse Trio return by popular demand taking over for two nights. Garland, who is undoubtedly one of the UK's most gifted and prolific jazz composers and saxophonists, is joined in the line-up includes by the talented percussionist Asaf Sirkis and the mighty Gwilym Simcock. The After 8 phenomenon has been successfully running since 2007 with almost all of the shows selling out. This season the series features two After 8 Specials; Joscho Stephan - Gypsy Guitarist will play a one off late night show to compliment Paco Pena - Requiem for The Earth kicking off Liverpool's Year of the Environment in the main auditorium, while the award winning guitar innovator Martin Taylor will be in residence for two nights in May 2009. "What started as a cult series now attracts a host of big names and acclaimed artists, and is consistently a great evening out" – Phil's Programme Manager, Jake Roney.

Tickets for all shows are on sale now; so please call the Liverpool Philharmonic Hall Box Office on:- (+44) 0 151 709 3789 or order online via:- www.liverpoolphil.com.
RECOLLECTIONS FREE EVENTS
Philip Jones Griffiths photography exhibition!
FIVE free self-contained photographic workshops are linked to the National Conservation Centre's popular exhibition Recollections: Philip Jones Griffiths.

Held at the National Conservation Centre between 1030 and 1230 hrs on Mondays, 26 January, 9 February and 23 February and Wednesdays, 4 March and 11 March 2009, the tutor is Zoe Richards of www.zoephotography.co.uk.

The workshops look at photographic skills and image composition and the role of photography in recording personal histories.

Although the work of Philip Jones Griffiths is not discussed in particular, participants spend some time in the exhibition. They look at how Griffiths' images capture moments in time and how they can learn skills to do the same with their own family photographs.

People wishing to attend should book on 0151 478 4847. They should bring a camera (digital if possible) and three photographic images with personal appeal such as their own photos, magazine pictures or postcards.

In addition, there are two free Focus on Photography events on Saturday 7 February 2009:-

1130 hrs National Conservation Centre: Dr Julian Stallabrass of the Courtauld Institute of Art, London, discusses the role of Philip Jones Griffiths in the photographic community and his impact upon the art world.

1400 to 1515 hrs Open Eye Gallery, 28 to 32 Wood Street, Liverpool:- Prof Tamar Garb of University College London talks about David Goldblatt's photographic exploration of life in South Africa before and after the collapse of apartheid in 1990. This is linked to the major new Open Eye exhibition Intersections Intersected featuring Goldblatt's work. It runs until 28 February 2009.

Visitors are welcome to attend one or both events and are advised to book:-
National Conservation Centre:- 0151 478 4999
Open Eye Gallery:- 0151 709 9460.

Evocative images by celebrated photographer Philip Jones Griffiths are on display in Recollections at the National Conservation Centre until 15 March 2009.

The first display of his work since Griffiths died in March this year, the exhibition features around 60 images of Britain in the 1950s and 60s.

One of the greatest photographers of the twentieth century, Griffiths' depiction of the Vietnam War redefined photojournalism and provided a window on the actions of America.

Recollections showcases lesser-known but equally engaging images of Britain, and in particular Liverpool, at a time of social and political change.

Born in Rhuddlan, Wales, Griffiths took photographs of local weddings and day-trippers whilst still at school, creatively influenced by Liverpool artist and friend Adrian Henri who was evacuated to nearby Rhyl.

Speaking in 2008, Griffiths remembered fondly his time spent in Liverpool:- "In my youth Liverpool was the unofficial capital of North Wales. It was where I went to expand my horizons, experience the world outside my village. It provided a mix of enlightenment and education and an early experience of multiculturalism. The bustling seaport city became my favourite!"

Highlights of Recollections include:-

► Evocative images of 1950s Liverpool street scenes.

► Striking photographs of the conflict in Northern Ireland.

► An insight into the 1950s and 60s cultural scene including revealing shots of the Beatles, Adrian Henri, Lawrence Olivier and Norman Wisdom.

► Captivating images of London life, from Buckingham Palace to Battersea Park, Piccadilly Circus to Pentonville prison.

► Fascinating portraits of protests and political figures such as Tony Benn and Harold MacMillan.

► Slideshow of Griffiths most important pictures from Vietnam.

The exhabition at the National Conservation Centre Whitechapel, Liverpool is free FREE and the venue is open 10am to 5pm every day. For more information call 0151 478 4999 or visit www.liverpoolmuseums.org.uk.