Competition Time:- "Harvester In Offers Even Better Value With New Menu"
AS the credit crunch continues to bite, the Otters Pool Harvester has launched a new Earlybird menu which features major price reductions to help guests and their families in these tough times.

The Earlybird offers the same freshly prepared and quality dishes for less, allowing customers at the Salad and Grill on Otters Pool Drive in to enjoy three course meals for less than £10, including unlimited free access to the famous Salad Cart. The new menu is now available seven days a week, until 6:30pm.

Paul Sutton, Manager of the Otters Pool said:- "We have worked hard to ensure that our new Earlybird menu provides fantastic value to guests and that we deliver the best deal in . We are delighted to be able to offer our guests a main course for just £4.99, including unlimited free salad, which is an incredible deal."

Tempting starters such as Flame-Grilled Chicken Wings and the Harvester King Prawn Cocktail are just £2.49 on the Earlybird. Mains like the Original Spitroast Chicken and the Harvester Burger are £4.99, and delicious desserts start at only £2.35. And anyone counting the calories can still choose from the Healthy Heart options on the menu.
For more information on Harvester and its offering visit www.harvester.co.uk.

But you have yet another way of getting a credit crunch busting launched by entering our Competition, now in week two. To see last weeks report click here here. So what have we cooked up for you... Well, The Otters Pool Harvester and our selves are offering one lucky family a night off from the cooking and the chance to enjoy the newly refurbished surroundings at the restaurant in Liverpool.

All you have to do to win one of the family meals is to answer the following question:-

Question:- Where does the Lamb Shank on Harvester's new Evening Menu come from?

1. New England
2. New York
3. New Zealand

Send your answers and your full name, postal address and phone number, via email to:- news24@southportreporter.com with the subject marked "Havister Comp". Closing date for this competition will be 12 noon on 8 February 2009.
...Competition Terms and Conditions...
1. Prize must be claimed by 8 March 2009
2. Prize is as stated; there is no cash alternative.
3. The winning families must be no larger than 4 people.
4. Meals can be up to three courses.
5. Prize meals do not include drinks.
6. Prize can only be claimed at the Otters Pool Harvester.
7. No employees of PBT Media Relations Ltd. / PCBT Photography and/or Harvester / Mitchells & Butlers plc. can enter.
8. The judges verdict is final.
9. Our standard competition rules also apply, use this link for more information.

Please note that your contact information if you win will be passed on to Haslimann Taylor who are working for Harvester, in order to arrange the collection of your prize. All none winning entries will be deleted.
Gerrard denies nightclub assault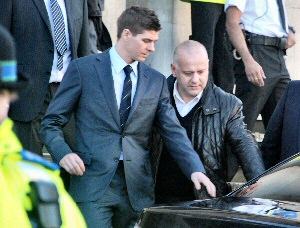 THE world's media camped out in force on Friday, 23 January 2009, as Steven Gerrard appeared at North Sefton Magistrates' Court. The Liverpool Football Captain and England player had been arrested after a disturbance at the Lounge Inn nightclub in Southport, Merseyside on 29 December 2008 and had been charged with affray and assault. Gerrard spoke only to confirm his details and indicate a not guilty plea at this appearance. Two other men, John Doran, 29, and Ian Smith, 19, both from Huyton, face the same charges. They also spoke only to confirm their names, ages and addresses and say they intended to plead not guilty. The case was adjourned until Friday 20 March, when the three men are scheduled to re-appear at the magistrates' court. All three were granted bail on the condition they did not go to the bar in which the alleged attack happened, or approach a number of prosecution witnesses.