Warning of City's recession risk...
THANKS to a fantastic year in 2008, as European Capital of Culture, Liverpool has been feeling good for the first time in years, with many business leaders throughout the UK and internationally, predicting 2009 will be better than ever for Liverpool. But could this be too optimistic? A report released on Monday, 26 January 2009 by a charity called The Centre for Cities has caused a huge reaction from Merseyside based businesses, who are shocked at its findings and the headlines that follow the report but describe the picture in different way. The report says Liverpool should be put on "red" alert along with Belfast and Hull, owing to high numbers of unemployed and unqualified residents. The Centre for Cities has been running since 2005 and is aimed at helping cities improve their economic performance, but after this report many business leaders have questioned this. The group work with employers and national government to develop research with practical policy solutions which help urban economies grow. Interestingly, the group's research programme in 2008 focused on the economic prospects of our cities, but according to their own website they are working with specific cities, including Bristol, Brighton, Belfast, Cambridge, Hull, Sunderland and York. Also they say on their website that:- "We are producing new solutions and fresh thinking on the challenges and opportunities that they and other cities face." (Ref.) This has also caused many of the business leaders in and around Merseyside to ask if these attention grabbing and alarming headlines are correct.

Liverpool City Council commented:- "We are not really bothered by this report. Our city is now very strong and our new figures and those of many other organisations show that Liverpool is well on the way up and able to ride out the storm. What people outside Liverpool need to understand is that the City is looking to the future with high hopes and lots of confidence. The new figures we have show this and we need to focus on them and not the negative figures in the headlines."

We contacted Centre for Cities and asked them why they listed Liverpool as a risk. Dermot Finch, Director at the Centre for Cities said:- "The Capital of Culture and the associated investment did provide a boost to the Liverpool and the £1bn investment in retail means Liverpool is now the fifth busiest shopping destination in the country. What is more, its secondary schools are now producing GSCE results which are just above the national average. But these huge strides forward won't insulate Liverpool, with its low employment rate and high numbers on benefits, from the effects of the recession in the next couple of years. The best way for cities like Liverpool to mitigate the worst impacts of recession and to lead the UK economy back to recovery in future is for each city to put together its own front line action plan - and to identify new sources of growth for when the upturn comes."

As several 08 BusinessConnect members commented:- "Interestingly Liverpool has been doing that for a long time as it developed the program for Capital Of Culture and is still doing so."

Despite the doom and gloom in the financial services, Liverpool, if the new figures are anything to go by, will not be as badly hit as this report makes out, leaving many to question if this report...But could it be a case of shooting the messenger?

Another group of business leaders said:- "It is interesting they did not pick Manchester or Birmingham in their statements. Birmingham for example is having massive redundancies in their business sectors and many more are expected over the year."

To this Centre for Cities responded that:- "We listed Liverpool due to the massive increases in people claiming Job Seekers Allowance in the City and the levels of unqualified workers." They also stressed that:- "All cities were assessed on the same basis..." According to the Centre for Cities, research showed that:- "More than two thirds of the cities with the largest increases in people on Jobseeker's Allowance were in northern England", leading on to them suggesting early job losses were amongst "the more vulnerable workers", this was backed up by "their figures from Jobseeker's Allowance claims over 2008, that saw Cambridge with the lowest increase with Hull having the highest."

One self employed business man, Mark Smith from Liverpool commented:- "It strikes us that Bristol, London and Edinburgh were only placed on amber alert, as most of the big job losses are involving the vulnerable financial services. Also the fact that the all clear has been given to places including Oxford, Cambridge and Reading, due to what a report has called their 'highly qualified workforces', is highly insulting for Liverpudlians. Merseyside is one of the few cities with a flexible and mobile workforce, who are often highly skilled. We have a massive tourist business that is growing and a port that handles ever increasing amounts of cargo. So to say that Liverpool will be one of the worst affected is scare scaremongering and in our view, just designed to centre finance back on the South East."

Please do let us know your views on this by emailing us on news24@southportreporter.com.
Big banks fail to make customers smile, says Which? Money
LAST Week we ran a report by the 'The Institute of Customer Service (ICS)', who clamed "The banking sector saw a satisfaction rise – proving that customers will rate service as they see it, rather than reflecting recent media coverage." This statement has been contradicted by Which? Money who say that "the big banks are trailing behind smaller banks, building societies and internet banks for customer satisfaction", in the first annual People's Choice report from Which? Money.

Which? Money surveyed almost 15,000 Which? members about how satisfied they are with their current account, savings, mortgage and credit card providers. Smile, First Direct and the Co-operative Bank were the top three overall winners, while Abbey, Barclays and Halifax were the bottom three.

Smile and First Direct were awarded the two highest customer scores for their current accounts, at 88% and 85% respectively, followed by Cahoot (82%) and the Co-operative Bank (82%). Abbey and Clydesdale Bank were the worst, scoring 44% and 45%.

The highest scorers for savings accounts were the Co-operative Bank (80%) and First Direct (78%). First Direct also impressed its mortgage holders - with 90%, it scored 11% more than the lender that came second – Yorkshire Building Society.

People were most satisfied with their credit cards from John Lewis/Waitrose (90%), Nationwide Building Society (87%) and Smile (86%).

Abbey, Barclays and Halifax were the bottom three for savings accounts and mortgages, and Abbey took the bottom spot for credit cards, with a customer score of 52%.

Martyn Hocking, Editor, Which? Money, says:- "While a good deal is likely to be the main reason for choosing a financial provider, customer satisfaction should also figure highly.
Factors that affect this could include overall service, whether the provider keeps you informed about better deals, the accuracy of your statements and the product itself – all of which are very important to the customer.

Once again our findings show that the big banks are being left behind by the smaller players, which seem to offer a better service and keep their customers more satisfied.
If you're not happy with a provider, then switch... not only could you be treated better, but you could bag a better deal."
See last weeks report by clicking here.
Everton pledge donation of 500 football shirts to Ethiopia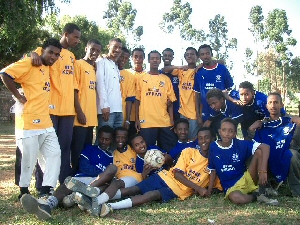 FOOTBALL fanatics in Ethiopia will kick start the New Year in a sea of blue and gold after receiving a donation of 500 football shirts to the town of Lalibela from the Everton's Former Players Foundation.

Members of the Foundation made the pledge after witnessing the remarkable work undertaken by Ex-England footballer and Merseyside resident John Barnes as part of the Score Ethiopia campaign - a partnership between 'no fuss' shampoo Wash & Go and educational charity Link Ethiopia.

As part of the campaign, Barnes took to the road on a week-long 'van dash' visiting all the Premiership clubs in the country with special stops at Goodison and Anfield. John was presented with unique signed shirts which were then auctioned off to raise funds for football facilities, schools and water amenities in Ethiopia.

Rev Harry Ross, a Trustee of the Former Player's Foundation said:- "When we read the story in the Echo about John's activities and spoke to Graeme Sharpe who presented the shirt to John, we knew instantly this was a campaign we wanted to help out with.
Football is a fantastic medium through which to build bridges and raise awareness, so I would like to think we have put a few smiles on faces in Ethiopia."