Readers Photos:- "What's this white stuff?"
SALLY Wright from the Dogs Trust sent us this photo of one of the many pup's rescued this year on Merseyside enjoying his first sight of snow!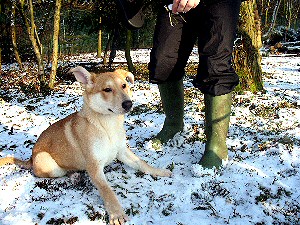 We asked Sally how many dogs need re-homing this year across the UK and she said:- "Dogs Trust cares for over 16,000 stray and abandoned dogs every year, all over the UK. We expect due to the bad financial state of the UK, this number will rise. If any of your readers can help re-home a dog then please do go to www.dogstrust.org.uk for more information."

If you have a snow picture, or any pictures you want to let others see, then send them over to us via news24@merseyreporter.com and we will take a look and see if we can include them. See T&C for more information.
Cream Easter Special 2009
CREAM catapults itself into 2009 with a mouth watering line up for the first of three parties this year at its Liverpool home Nation. Taking place on Sunday, 12 April 2009, Bank Holiday Weekend, parisian DJ/Producer du jour David Guetta is back by demand for Cream's Easter Special. Coming No.5 in the DJ Mag Top 100 Poll, Grammy nominated Guetta is one of the world's most sought after house DJ's and Producers, with an arsenal of hits under his belt including 'The World Is Mine', 'Love Is Gone' & 'Delirious' to name a few. Having scooped the award for 'DJ Of The Year' in the House Music Awards and with a hugely successful Residency at Pacha in Ibiza that attracts the islands glitterati, 2009 is set to send him to even greater heights!

Joining him in the Main Room is Dave Spoon. Having landed himself a coveted show on BBC Radio 1's 'In New Music We Trust', and having a reputation for producing dancefloor killers such as 'At Night' has made Dave one of the most in demand DJ's in the country. Already championed by everyone from Deep Dish to Tiesto, we cant wait to have him back at Nation. Other Main Room attractions include Cream resident Gareth Wyn and from the white isle, we welcome Amnesia Resident Mar T.

Headlining the Courtyard is another highly sought after DJ that has been snared for the party…Eddie Halliwell, who is without doubt one of the most exciting DJ's on the scene. With enough energy to light up a room, Eddie's return is always a big one, just be sure to claim your plot before he comes on! And returning after a 3 year hiatus and jetting in from Italy is Mauro Picotto, who will be joined by Adam Sheridan and rising star Rob H.

Following Boxing nights proverbial mash up, house music once again takes over the Annexe. The Swedish invasion continues, as House Mafia don Sebastian Ingrosso heads up the bill, joined by fellow swede and highly acclaimed DJ/Producer John Dahlback who pops his Cream cherry on Easter Sunday! Making his debut will be Kim Fai who has been tipped throughout the press as 'one to watch'. Kim burst onto the scene only a year ago and since then has showered the scene with an arsenal of twisted techy floorfillers, the biggest being his mammoth re-rub of Funkagenda's Toolroom Trax smash 'What The F***', thus cementing his position as one of the foremost young producers on the scene. Arno Cost is another DJ making his debut, and lets not forget our unsung resident heroes, Andy Mac, Lee Ellis and Anthony Probyn. Sunday, 12 April 2009 Bank Holiday Weekend:- David Guetta; Eddie Halliwell; Sebastian Ingrosso; Mauro Picotto; Dave Spoon; John Dahlback; Adam Sheridan; Gareth Wyn; Arno Cost; Kim Fai; Mar T (Amnesia); Andy Mac; Lee Ellis & Anthony Probyn; Rob H

Nation, Wolstenholme Square, Liverpool, L1 4JJ, Tel:- 0151 707 1309 / www.cream.co.uk, Tickets:- 0844 888 4401, Tickets on sale now £23.50+BF, 10pm to 6am (Sawmill Bar open from 9pm), Strictly no sportswear, jeans & trainers ok.
Liverpool's Paul Askew wins Best Chef at star-studded Hi-Life Dining Awards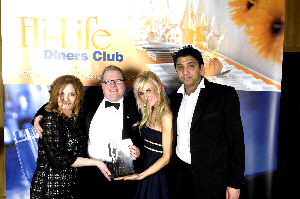 LIVERPOOL'S top celebrity chef, Paul Askew, won the coveted Best Chef Award at the 25th anniversary Hi-Life Dining Awards at The Hilton in Manchester tonight.

The award was voted for by the dining public, sponsored by Caterer.com and presented by Coronation Street stars, Kate Kelly and Jennie McAlpine.

Paul Askew is head chef of the London Carriage Works restaurant. Commenting on the achievement, he said:- "I'm over the moon to have won the award and we've had a fantastic time as well. It's a real honour to be recognised by the dining public and my peers in the industry in this way."

Paul beat off strong competition from across the UK to scoop the award – including Nigel Smith at Nigel Smith's Restaurant in Wrea Green, Michael Deane at Deane's Restaurant in Belfast, Harry Yeung at Yang Sing in Manchester and Alison Seagrave at Harvey Nichols in Manchester.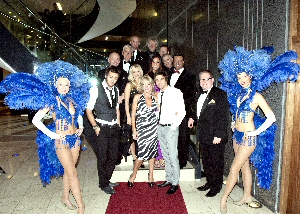 Hi-Life is the UK's largest dining club, with 130,000 members who enjoy two-for-one dining across the UK and Ireland, at a network of 3,000 partner restaurants.

Spotted on the red carpet in the glamorous surroundings of the stunning Beetham Tower were a host of TV stars from Coronation Street, Hollyoaks, Emmerdale, The Bill, The Apprentice and Big Brother and music legend, Noddy Holder.

The evening was hosted by award-winning BBC news presenters, Gordon Burns and Ranvir Singh. The 500 guests mingled with the
stars amidst the glitz and glamour and were entertained by swing singer, Paul Pashley, of Wayne Rooney's wedding fame.

The judging panel for the Best Overall Restaurant award included Noddy Holder, Richard Harden (editor of Harden's Restaurant Guide, London), Ray King (food and drink critic), David Heeley (Hi-Life company president) and Paul Askew (head chef of London Carriage Works in Liverpool).

The star-studded annual awards – or "HiLDAS" as they are now universally known – this year celebrate their 25th anniversary. The highly coveted awards are voted for by tens of thousands of regular Hi-Life diners and restaurateurs.

The event also raised thousands of pounds for Cancer Research UK through a charity raffle and auction. Prizes included the chance to win a Maserati for an hour, a pair of Carling Cup Final tickets for Wembley, two pairs of European return flights courtesy of Flybe, two pairs of tickets to any Manchester City FC match this season and VIP weekend tickets to this summer's V-Festival.