LEARNING IS CHILD'S PLAY – KIDS ARE CHALLENGED THROUGH GAME
PRIMARY school children are more likely to progress with maths when fractions are fun and equations are exciting. Gone are the days when maths equalled tiresome times-tables, dull division and mind-numbing multiplication.

Now, a leading UK educational company is speaking the language kids understand and tutoring through computer games. Online maths tutoring service Whizz.com is launching Maths-Whizz Challenge in GAME stores nationwide from Saturday, 31 January.

"We're thrilled to announce our deal with GAME. It shows that computer game stores are seeing the potential of a winning combination of education and games. By launching the product in GAME, we're bypassing traditional educational sales routes and going straight to a store which children love. As of Saturday, there's going to be tens of thousands of Maths-Whizz Challenge games available around the country." says Richard Marett, CEO of Whizz.com.

Maths-Whizz Challenge is £14.99 and is aimed at children aged 7 to 12. However, the game can be fun for all the family, allowing kids and parents to compete against each other.

"Research by Whizz.com has shown that the average adult in the UK has a 'maths age' of just 10.5. So children stand a really good chance of beating their mums and dads. We also think children work better when challenged by others, especially at Key Stage 2 level. Giving them the chance to beat their parents at mathematical games gives them confidence and makes them more willing to learn." says Marett.
River Nile – Birkdale Beach
SSGB recently noted that the outflow from the Rive Nile on Birkdale Beach looked like it was in a possible state of pollution with sewage coming out of the outlet and revolting smells emanating from the area.

Pat Regan (SSGB founder) quickly wrote for clarification to the Environment Agency and to ask if the EA inspector could have a look at this particular site. We are also aware that the site has been inspected by Conservative PPC, Cllr Brenda Porter and her colleagues, Cath Regan (Birkdale's Conservative Spokesperson) and Mr Tony Crabtree. The EA wrote back to Mr Regan on 29 January 2009.

They have now inspected the site and told SSGB that:- "There were 1 or 2 bits of sewage litter on the banks of the channel. The odour was the seaweedy type odour that you tend to get on the beach - not especially pleasant, but not something I would have attributed to pollution."

The EA stated that samples were "acceptable" but also said:- "There was a slightly higher organic carbon figure from the right side, which could indicate a small pollution source, but the value was very low and not something we would be able to investigate unless it deteriorated further. The ammonia (which is usually a good indication of sewage pollution) was too low to be detected in both samples."

SSGB are urging the EA to keep a vigilant eye on this old watercourse and to monitor it at regular intervals for several protected species, including Natterjack toad, frequent this area.
Merseyside Police cycle across the country for cancer research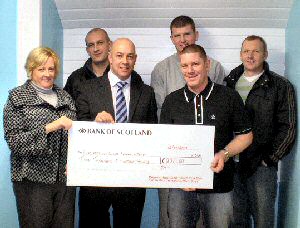 A group of Merseyside Police Officers presented Clatterbridge Cancer Research with a cheque for more than £2,000 on Monday, 12 January 2008. The five Police Officers took part in a coast to coast bike ride from Whitehaven to Tynemouth in July to raise funds to pioneer cancer treatment research for patients in the North West.

The demanding all-terrain route normally takes three to four days to complete, but to make the challenge that extra bit tougher, Mike Farrington, Dave Brent, Dave Keegan, Mark Howard and Mike Carroll decided to complete it within just two days. Bad weather and blisters did not dampen their spirits, and the officers cycled on to help fund the development of more personalised cancer treatments tailored to the individual and the specific features of each cancer.

The officers felt that the challenge was a tough one – their shortened completion time and lack of training added difficulty; however the end goal made their efforts worthwhile. The group chose Clatterbridge Cancer Research (CCR) as the charity to support because several of the team have friends and relatives who have experienced cancer and therefore understand the true importance of CCR's work.

Mike Farrington says:- "I was inspired by the large donation cheques I had seen displayed on previous visits to the charity, and was determined to present CCR with one myself one day."

This ambition was realised when they visited the JK Douglas Laboratories and presented a cheque to Donna Baxter, Finance Manager and Jo Parry, Fundraising Manager for CCR.

Jo Parry says of the team's efforts:- "It was really great to meet the group when they came in. Their stories of the challenge were hilarious, but it was also really touching and sobering to find out why they took part to begin with.

All five of them did really well considering they admitted to not doing as much training as they should have! They have done so well to raise such a fantastic sum of money, which will go a long way to help fund our research work. We are so grateful to them for their efforts, and to everyone who supported them along the way. The team are hoping to better their efforts so we look forward to working with them again in the future."

For more information about Clatterbridge Cancer Research or to make a donation, please contact CCR on 0151 343 4300 or email Jo Parry on jo.parry@ccrmail.org.