MPs urged to heed public warning over Postal Privatisation
WITH results of a public opinion poll showing the public's overwhelming opposition to the government's plans to privatise part of Royal Mail, leaders of postal workers across the North West have called on the region's MPs to follow suit and register their opposition by signing an early day motion calling for the government to abandon its plans to privatise Royal Mail.

In a phone poll of people across the UK 75% of those questioned disagreed with privatisation, 33% strongly disagreeing, and this rose to 89% when foreign ownership was mentioned, with 58% strongly disagreeing. Only 6% of those polled were in favour of privatisation and this halved to 3% when sale to a foreign company was mentioned.

Carl Webb, CWU Regional Secretary, said:- "Dozens of Labour MPs across the region have defied the government and have openly opposed this crazy decision to sell part of Royal Mail, possibly to a foreign postal company. I call on the remaining MPs to follow suit and take onboard the concerns of their constituents and postal workers.

TNT are strongly rumoured to be the most likely private investor in Royal Mail and have definitely expressed an interest. It is felt that Lord Mandelson would look favourably on a bid from TNT for their alleged managerial experience in a modernised postal service. The problem with this approach is that the type of modern postal service we seek is a one price goes everywhere delivery service, six days of the week i.e. the universal service obligation unique to the British Postal service. TNT's version of a modern postal service sees them deliver just twice a week to certain parts of the Netherlands."

Ian Taylor, Divisional Officer, said:- "Such a move would, we believe, risk fracturing one of Britain's greatest public services and put our universal (one price goes anywhere) service under threat. It would also have a devastating affect in terms of job losses. We should be looking for ways to improve the service not wreck it. "

Finally Carl Webb, CWU Regional Secretary, said:- "I can assure the public and businesses that postal workers will campaign directly in the constituencies of those NW MPs who are supporting this privatisation irrespective of which party they belong to."
PHOTOGRAPH APPEAL - ASSAULT, CUBE BAR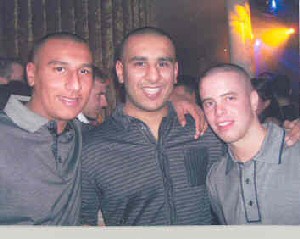 DETECTIVES from Merseyside Police who are investigating an assault in Cube bar, Liverpool city centre have released a photograph of 3 men they believe could have information, which is vital to their enquiry.

The 25 year old victim was assaulted in the Cube Bar, at about 2.30am, on 9 November 2008, as he was on a night out with friends.

The victim was in the VIP area of the bar when he bumped into a man. A 2nd man stepped in and punched him in the face before the 1st man hit him with a glass. The victim went to hospital the next day and was treated for injuries to his face.

A photograph keyring was recovered by staff on the floor of the club and police believe they could have information that could help them find the 3 men pictured in the photograph and we have descriptions of 2 of these men.

The 1st is described as mixed race, aged around 25 years, approx 6ft tall of medium build with short or shaved dark hair.

The 2nd man is described as mixed race, around 6ft 2in tall, stocky build with short dark hair.

Merseyside Police is appealing for these men to come forward and contact St Anne Street CID on 0151 777 4064/4065, or Crimestoppers on 0800 555 111.