Over 100,000 people get back to work through Local Employment Partnerships
FOR the past few weeks Belle Vale Shopping Centre has been searching for Liverpool's Most Improved Young Sports Person in order to recognise and celebrate their hard work when faced with adversity.

Nominations have been received from hardworking footballers, rugby players, swimmers, and athletes, who have all overcome a setback in their lives, or who have dedicated themselves to a sport by never giving up.

Belle Vale Deputy Centre Manager Paul Wilson said:- "What we have been looking for is a young person who we can reward for the hard work they have put into their chosen sport. All of our finalists completely deserve their nominations, each of them a winner in their own right. We hope that this award inspires other young people in Liverpool to work hard and be the best that they can."

The finalists will be attending a special prize giving presentation on Wednesday, 18 February 2009 where they will each be handed a certificate of achievement. The winner will be selected by a panel of judges who where The Lord Mayor of Liverpool, Councillor Janet Kent, Deputy Centre Manager at Belle Vale Shopping Centre Paul Wilson and Manager of Belle Vale's Mersey Sports Steven McLeod.

The winner will receive a specially engraved award, a donation to their sports team on behalf on Belle Vale, some fantastic prizes from Mersey Sports and a professional portrait of the winner's team courtesy of Venture in Liverpool, but most importantly hold the title of 'Most Improved Young Sports Person 2009'.
NEXT OF KIN APPEAL - JOHN BARCLAY
MERSEYSIDE Coroner's Office has appealed for the next of kin of John Barclay who died on 27 January 2009.

Mr Barclay, 88, of Dowhills Park, Blundellsands, died at home. There are no suspicious circumstances surrounding his death.

The Merseyside Coroner's Office is now trying to trace Mr Barclay's next of kin. It is believed he may have had a nephew called Ian Barclay from the Birkenhead area.

Any next of kin, or anyone who knows of his next of kin, is asked to contact the Merseyside Corner's Office on 0151 777 3480.
NORFOLKLINE NAME THE MASCOTS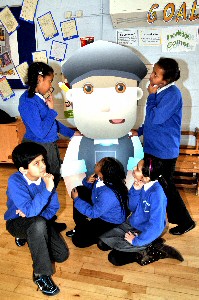 NORFOLKLINE Ferries have recently launched their new 2009 advertising campaign, based on three new characters, representing each of the ports that Norfolkline travel to and from on the Irish Sea – Liverpool, Belfast and Dublin.

To help launch the campaign Norfolkline has invited a select number of primary schools in Belfast, Dublin and Liverpool to take part in a competition to 'Name the Norfolkline Mascots.'

The aim of the competition is to not only have each of their mascots named, but to teach the children and encourage class discussion about each of the three regions.

Diane Poole, General Manager of Passenger Services at Norfolkline, commented:- "At Norfolkline we are always keen to involve and give something back to the community. We thought involving local schools would be the perfect way to name the mascots and to give a sense of ownership to the mascots and the respective cities. This competition is essentially a bit of fun for those who are involved, but it will also educate the children that take part and teach them a little history about Belfast, Dublin and Liverpool..."

There will be three winners in total, one for each of the mascots. The winning children will win £500 each for their school and a return crossing with Norfolkline for them and their family. There will also be the chance for a school trip to a Norfolkline ship for the winning child's class.