DON'T BECOME A VICTIM OF CAR CRIME
MERSEYSIDE Police are this week advising the public to take care to protect the contents of their cars, to help ensure that they don't become a victim of car crime.

The advice comes following a recent spate of thefts in the Litherland and Netherton areas. Car owners are being asked to be
vigilant, a number of incidents have involved the theft of items, which have been left on display within the car.

Neighbourhood Inspector for Litherland and Netheron Kirsty Jennett explains:- "Opportunist thieves are always on the look out for items such as satellite navigation systems, sports bags, brief cases and handbags. When leaving your car unattended ensure valuable property is either removed from the vehicle or placed out of sight. Taking these small steps could stop you from becoming a victim of crime."

The Neighbourhood Policing team for the Litherland and Netherton area are currently conducting operations to catch those responsible for this recent spate of thefts and are urging anyone with any information to contact them.

Anyone with further information about car crime is asked to talk to their Neighbourhood Policing Team or contact Crimestoppers in confidence on 0800 555 111. For information on how to contact your Neighbourhood Policing team go to:- www.merseyside.police.uk and on the map to the left hand side of the page click on Sefton, or the area where you live.
RUN SOUTHPORT RACES TO HELP FUND CURE FOR MUSCLE DISEASE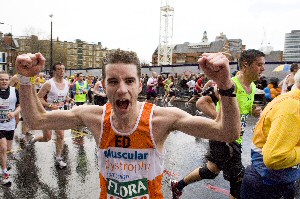 THE Muscular Dystrophy Campaign is appealing to local readers to run on its behalf in the 2009 Southport Good Friday races.

Participants who excel at fundraising will be rewarded with some great sportswear and each person running for the charity will also receive a top quality running vest to show their support for the charity on race day.

Regional Fundraising Manager, Charles Horton said:- "We are urging local people to enter this race and raise sponsorship to help us in the fight against muscle disease. Even if you have already entered, but would like to run for a charity, we would like to hear from you. It's a great way to help others and help yourself to keep fit. People die from the effects of muscular dystrophy every week in the UK. Every second counts if we are to give people with muscular dystrophy a chance in the future. Contact me today for an entry form or for sponsorship forms if you have already entered "

An estimated 7,000 people in the North West are directly affected by one of more than 60 forms of muscle disease, which result in the progressive breakdown of muscles, leading to varying degrees of disability - some forms severely reduce life expectancy. The Muscular Dystrophy Campaign funds internationally acclaimed medical research to improve treatments and runs a Care Service in the UK, providing practical advice and emotional support for families, whilst also vigorously campaigning for improved services.

The Southport races, which are four miles in length over a traffic-free course in Victoria Park, take place on Friday, 10 April 2009, starting at 10.30am for ladies and 11.15am for men. There is also a 3k fun run starting at 10am.

If you are up to the challenge please contact Charles Horton at the Regional Office of the Muscular Dystrophy Campaign on:- 01244 403012 or email:- northwest@muscular-dystrophy.org.
Only one week remaining for Not for Profit organisations to enter £6million awards
NOT for Profit organisations in Liverpool have just one week remaining to enter the groundbreaking Bank of Scotland Corporate £6 million Social Entrepreneur Awards. The awards is the biggest ever of its kind in the UK and has been created to encourage and nurture the British organisations that put welfare before wealth and reward those that put the greater good ahead of personal profits.

Sam Kerr, Head of Specialist Banking, Bank of Scotland Corporate, commented:- "With only a week left to enter, this really is the last opportunity for Not for Profit Organisations to secure a chance of winning the funding that will enable them to build a bright future for their organisation. We have had entries from many diverse social entrepreneurs, so it is going to be interesting to see where these last minute entries come from. I want to wish any organisation finishing their application form the very best of luck and encourage others to enter as The Social Awards will change the face of two Not for Profit organisations forever."

There are two awards are on offer and entrants must specify which they wish to enter:-

1) Up to £5 million funding free of interest and arrangement fees for 3 years, or a one off cash donation of up to £500,000

2) Up to £1 million funding free of interest and arrangement fees for 3 years, or a one off cash donation of up to £100,000

The winner of each award will also secure a true 'money can't buy' reward of three days mentoring from one of the UK's best known social entrepreneurs and the title of 'Bank of Scotland Corporate Social Entrepreneur 2009.'

Who can enter?

The Social Entrepreneur Award is open to Not for Profit organisations whose primary purpose is to further social or environmental goals, and those who operate for non-commercial purposes and social benefit. Such organisations cover a vast spectrum, ranging from Charities, Churches and Social Groups, to Public Sector organisations, Schools and Universities.

► For more information – and to download an entry form – visit www.bossocialawards.co.uk
► The closing date for entries is Monday, 23 February 2009
► The national final takes place on 25 June 2009

The entry criteria:-

► Entries should be submitted online

► A specialist team from within Bank of Scotland Corporate will shortlist up to 6 entries in total*

► For the final there will be a judging panel comprising senior figures from Bank of Scotland Corporate, The Sunday Times, Deloitte and a leading UK Social Entrepreneur.

► Each finalist will be given the opportunity to present their business idea to the panel and explain why their organisation should receive the overall prize.

► All finalists will then be invited to a prestigious dinner where the winners will be announced.

► Please note the minimum funding which can be applied for is £500,000 and the minimum donation is £50,000.
What defines a social entrepreneur?

Social entrepreneurs operate Not for Profit organisations which are not capable of distributing profits generated by the organisation back to shareholders, members or other participants in the organisation.
Additionally, their primary purpose is to support an issue of public interest or concern, or to further social and/or environmental goals for non-commercial purposes and social or community benefit.