Big improvements through Small Schemes fund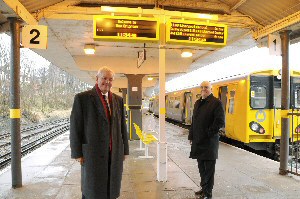 MERSEYTRAVEL and Merseyrail, with the support of the Department for Transport, have invested £557,000 at a further 4 stations on the network to improve access for people with mobility problems.

At Bidston Station, improvements include a fully accessible toilet, better seating and customer information screens on the platforms and waiting room.

New Brighton now also has information screens in the booking hall and on the platforms. There is also a rise and fall ticket counter, automatic station entrance doors, improved seating, tactile paving and new flooring in the booking hall.

Wallasey Grove Road improvements include new information screens, rise and fall counter, tactile paving, and double-glazed windows to the Liverpool platform waiting room.

At Wallasey Village, both waiting rooms have been refurbished; there are improved seating and information screens on the platforms and at the top of the stairs.

The projects have been part-financed by the Department for Transport's Access for All Small Schemes fund (£265,760) with Merseytravel contributing a further £271,240 and Merseyrail £20,000.

Councillor Mark Dowd, Chair of Merseytravel, said:- "Improvements such as these can make a big difference to people's lives and we hope all of these projects will directly benefit both disabled passengers and people with mobility difficulties."

Councillor Chris Blakeley, Chair of Merseytravel's Rail Services Committee, added:- "This investment is important because we are making these stations, and the way information is provided, much easier for people to use.
Everyone should have the opportunity to reap the benefits of the services we provide."
Email our newsroom (news24@southportreporter.com) with your views about the service and also how you feel investment has been used.
Letters to the editor:- "If you can't tell where the road begins and the pavement ends, how can you feel safe?"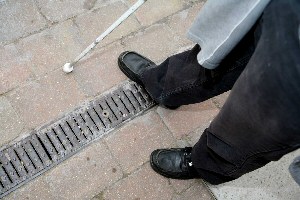 "WE are concerned by recent media reports of towns and cities across the UK which are considering implementing shared surface street designs, similar to the scheme recently introduced in Ashford, Kent.

We would like to address some of the perceived benefits of this increasingly popular street design which puts blind and partially sighted people, disabled and elderly people, and young children at serious risk.

Guide Dogs is campaigning to stop the implementation of shared surface streets in the UK when roads and pavements are built at the same level with little or no divide between areas for vehicles and pedestrians. In this design the kerb, which traditionally separates traffic from the pedestrian footway, is removed and replaced with a shared surface street design. Blind and partially sighted people, particularly guide dog owners and long cane users, are trained to use the kerb as a key navigation cue so its removal has dangerous consequences for those pedestrians.

To use a shared surface street, pedestrians, motorists and cyclists need to make 'eye contact' to establish priority. This places blind and partially sighted people at serious risk and undermines their safety, confidence and independence. Their experience is mirrored by vulnerable pedestrians in the Netherlands –often cited as a country where shared surface streets 'work' - where Guide Dogs research shows that shared surface streets are becoming 'no-go' areas for these pedestrians.

It is essential that all road users, including blind or partially sighted pedestrians, are considered in any new street design. Over 20 national disability organisations, including Leonard Cheshire Disability, Arthritis Care and MENCAP, share Guide Dogs calls for inclusive streetscapes. We would therefore urge all local authorities to ensure that new street developments do not become "no-go" areas for vulnerable pedestrians.

Indeed, Guide Dogs hopes that towns and cities across the UK will follow the example set in Northern Ireland recently when design consultants in both Belfast and Londonderry decided to move away from the shared surface street concept. They retained a kerb line and, significantly, reinstated a full kerb in an existing shared surface street scheme." Yours faithfully, Sue Sharp, Head of Public Policy and Campaigns, The Guide Dogs for the Blind Association