Heart charity calls on people in Merseyside to help fight UK's biggest killer
THE British Heart Foundation (BHF) is calling on people in Merseyside to sign a petition demanding a new Government plan to support people affected by heart and circulatory conditions in England. People can sign the petition in their local BHF charity shops in Merseyside or online at:- newheartplan.org.uk.

Heart and circulatory disease is the UK's biggest killer, claiming the lives of around 200,000 people each year in the UK. Every 6 minutes someone dies from a heart attack and in Merseyside the BHF estimates that 869 people died prematurely from heart disease in 2008.

The National Service Framework for Coronary Heart Disease for England comes to an end in 2009/10 and there is currently no plan to replace it. The framework has been crucial in providing a focus for the health service in reducing death and disability caused by heart and circulatory conditions.

Betty McBride, Director of Policy & Communications, at the BHF said:- "This isn't a "job done" – heart disease remains the UK's biggest single killer and the Government mustn't be allowed to take its foot of the pedal on this. If that happens the undoubted progress we've made in we've made in recent years will unravel. Heart patients deserve better."

The BHF is a member of the Cardio & Vascular Coalition (CVC), a group of 41 organisations who are all calling for a new Government plan to tackle heart and circulatory conditions.
The Coalition has conducted a public consultation to find out what patients, their families and carers want from a new plan, ahead of publishing its own strategy for the future of heart patient care in March 2009.

Betty McBride said:- "Stroke and Cancer have plans and the Government has just published its new Dementia strategy.
The two million heart patients in England have every right to ask where's ours?
The Government can't afford to take its eye off the ball.
The burden of cardiovascular disease is set to increase as more people are living longer with heart conditions. And with an increasing number of people overweight and obese the progress we've made could be reversed unless we make every effort to maintain momentum."
Let us know your views on these plans and any other health related stories to news24@southportreporter.com.
Willow Grove Bar wins Award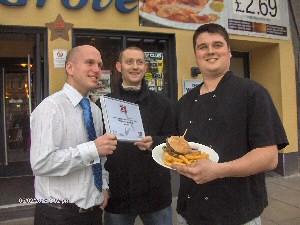 THE Lloyds Number One Bar on Lord Street, Southport has won the Best Bar None and the Scores on the Doors awards yet again. If you have any nightlife related news from the Merseyside area, let us know by emailing our news room with all the information to:- news24@southportreporter.com.
Teen film warns of illegal driving dangers
A HARD hitting film warning young people of the dangers of so-called joyriding and drink driving is being launched in Liverpool. 'Reverse Gear' tells the story of Joe Stiles (Stylus) who takes his friends Trevor (Rev) and Emily on a journey which changes their lives forever.

It will be shown to pupils at the city's secondary schools as part of the Car Offending Programme, which aims to reduce the number of youngsters who get involved in vehicle crime. The aim is to encourage discussion among young people about what to do if placed in a similar situation, and explore how the actions of an individual can put others in danger.

Councillor Marilyn Fielding, Liverpool's executive member for safer, stronger communities, said:- "This thought-provoking film is a graphic way of illustrating the dangers of drink driving and joyriding. By bringing this issue to life in a realistic way on screen, we can get a strong message across to young people that there can be horrific consequences from their actions. This will send out a very powerful message to many young people and hopefully prevent accidents or even deaths."

The 12 minute film has been produced by Insight Moving Images and is acted out by three local youngsters – Danny Burgess, Sean Harrison and Jessica Martin. It has been commissioned by the city's Youth Offending Service and funded by the Neighbourhood Renewal Fund.