The First catwalk in St. Georges Hall's Concert Room, Liverpool

THE Claire House Charity Fashion show takes place on Wednesday, 11 March 2009 at St .George's Hall Concert Room, Liverpool. Organised by four students from the Liverpool Institute for Performing Arts, the purpose is to raise awareness of the Liverpool charity

Kyle Meadows, said:- "We have secured donations from leading designers, including: Stella McCartney, Zara, Ted Baker, Mango, and underwear designers Secret Drawer."

Confirmed to model the ranges at the event are two of Big Brother's biggest stars Dale and Stuart. To be joined by more very special guest models.

Based in Bebington, Claire House celebrates its tenth anniversary in 2009. It provides 24-hour care for children, and young people up to the age of 23 who have life threatening or life limiting illnesses, and their families. The hospice cares for people from all areas of Cheshire, elsewhere in Merseyside, North Wales and the Isle of Man.

The hospice is named after Claire Cain. Born in 1979, Claire was just 8 years old she was diagnosed with a malignant tumour. Claire endured months of chemotherapy and radiotherapy, she never complained, despite losing sight in one eye, hair and most of her teeth. She was and still is an inspiration to all who knew her. However, Claire felt strongly that no other child should endure what she did without support and care for the whole family. Claire passed away ten days before her 10th birthday. Her parents then began the task of founding the hospice. From this, it is easy to understand why 2009 is such an important year for the charity.

Mr Meadows added:- "2009 is a milestone for this important charity. We can only sell 360 tickets, but patrons will get to see some of the best fashion in Britain, modelled by new talent especially auditioned from Liverpool's Search for a Supermodel."

Tickets are now on sale from £15.50 to £30. Available only from www.seetickets.com.
E-FIT APPEAL - ATTEMPTED ABDUCTION - KNOCLAID ROAD...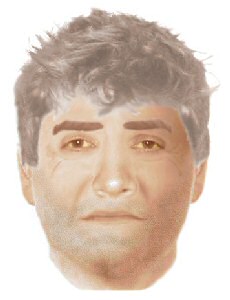 MERSEYSIDE Police have this week issued an e-fit of a man they would like to talk to in connection with the attempted abduction of a 14 year old girl on Knoclaid Road, Clubmoor, on Friday, 30 January 2009.

At around 1.30pm the victim was walking home from school along Knoclaid Road when she noticed a man sitting in a dirty white pick-up truck. He called her over but she ignored him and carried on walking. He got out of the truck, followed her then grabbed hold of her. The victim managed to struggle free and ran away. The offender is described as white, around 50 years old, 5ft 7in tall, of medium build with black and grey scruffy hair and was wearing a black jacket. He has distinctive small eyes which are yellowing.

Anyone who recognises this man, or who has any information that may help police in their enquiries, is asked to call 0151 777 3110 or Crimestoppers on 0800 555 111.
Media Question Time 2009 - Your Help Is Required
WE are just finishing compiling a list of venues to host our Media Question Time Events for 2009. We hope to have 6 locations across Merseyside, but we are still interested in suggestions and offers. Do you have a venue we could use to host a Question Time or Community Forum style event? If you do, please let us know as soon as possible. Already we have 8 media representatives from national to local news to sit on the panel, so all we require now are the venues. But if any of the public or the media want to suggest another prospective member of the panel, then please feel free to email us via our newsroom email address:- news24@southportreporter.com. Deadline for Venue information will be, 28 February, 2009. For more information about the event and to hear audio highlights of the last event, go to our dedicated page:- www.southportreporter.com/mqt08/.
The First Formby Business Networking Event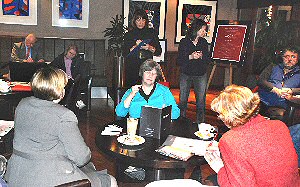 ON Wednesday, 4 February 2009 the fabulous Gallery Bar and Grill played host to the first Formby Business Networking event,
run by Gill Fell and Pat Wordley. The event was a fantastic success. Gill Fell from Impact PR commented to us that:- "Formby now has a brand new business network. This was the first of what we hope will be many events. The idea is that the Network has two parts to it. One is business to business with the sole aim of helping develop trade in Formby during the "Credit Crunch" and over 30 businesses have either attended a meeting or been involved in some way.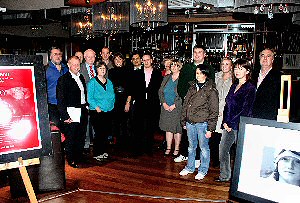 The other meeting is for ironing out some of the problems in Formby that the traders are experiencing. Councillors Barry Griffiths and Debi Jones have been helpful with ideas and offers of assistance and Parish Councillor Sean Brady has come up with useful ideas also.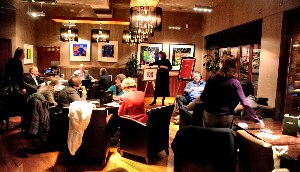 All Formby Businesses are welcome to attend the meetings, The next one is at the Gallery Bar and Grill, on 4 March, at 5.30pm to 6.30pm. This one will be aimed at building business awareness, "Get to know each other".
If you want to attend the next business meeting, then please do not wait, email Gill now at fells@tinyworld.co.uk and she will add your name to the list.
Editors note:- Businesses who have joined have been sent an advertisement offer from our newspaper website (Southport Reporter), so please do take advantage of it and help us to help you build your business...