Over 100,000 people get back to work through Local Employment Partnerships
OVER 100,000 people have been helped back into work through the Government's pioneering Local Employment Partnerships (LEPs), Minister for Employment Tony McNulty was announce on 17 February 2009.

The LEP initiative, launched in March 2007, has now seen many thousands of employers working in partnership with Government to help people who are often overlooked in the jobs market. Over 100,000 people have now been helped back into work - a milestone reached more than two months ahead of schedule.

LEPs involve major employers in both the public and private sectors giving a commitment to offer guaranteed job interviews for people who have been on benefit and who are ready and prepared to work. Each LEP agreement is tailored to the individual needs of the employer.

Tony McNulty Minister for Employment said:- "Local Employment Partnerships' continue to be a success. Despite the economic downturn and ahead of schedule, over 100,000 people have been helped back into work since the scheme's creation in March 2007. And we're aiming to help 200,000 more jobless people back into work through LEPs in 2009/10.

We must build on this success; we are doing everything we can to ensure that more people can benefit from Local Employment Partnership's so that they can get back into employment."

The announcement today follows on from the first meeting of the National Employment Partnership (NEP), chaired by the Prime Minister and James Purnell Secretary of State for Work and Pensions last week, which brought together key public and private sector employers to discuss how they could fill more jobs through the scheme.
ADULLAM STAFF IN SPONSORED 'SLEEP-OUT' TO SUPPORT THE HOMELESS
MERSEYSIDE employees from Adullam Homes Housing Association have helped raise valuable funds and awareness for local homeless people, by taking part in a sponsored sleep-over and fun run.

As part of the national Poverty & Homelessness 'Action Week', the team braved the winter chills to complete a 2.5 mile run around Sefton Park, before abandoning the comfort of their own homes to spend a night sleeping rough in the hall of All Saints Parish Church, Stoneycroft, Liverpool.

The Action Week was organised by Church Action on Poverty, a national ecumenical Christian social justice charity, committed to tackling poverty in the UK. CAP works in partnership with churches and people in poverty to find solutions to poverty, locally, nationally and globally.

Janet Taylor, Area Manager for Merseyside, of Adullam Homes Housing Association said:- "We wanted to remind ourselves, and raise awareness amongst our various communities, of the plight of those people who live with poverty every day of their lives.

We have raised around £350 for Liverpool City Centre based charity groups who provide food distribution and shelter directly to those left most vulnerable by poverty and homelessness."

Janet added:- "All Saints Church is A 'Friend of Adullam', an active group engaged through Adullam and working with the community to assist and support vulnerable people.
The Church kindly agreed that we could use their hall for the sleep out. It wasn't the most comfortable night's sleep any of us had ever had, but when we think about the conditions that many have to put up with every day, it did remind us how lucky we are."
18 YEAR OLD MURDERED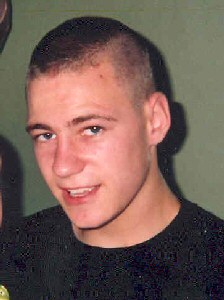 MERSEYSIDE Police have named the man who died after being attacked in the early hours of Saturday, 14 February, 2009.

Detectives have confirmed his identity as 18 year old, Tony Bromley from Anfield.

His body was discovered outside of a house on Sprucewood Close, Everton, just after 1.30am. A post mortem examination later revealed he died as a result of multiple stab wounds.

Chief Superintendent Stephen Watson, Area Commander for Liverpool North said:- "Merseyside Police has now launched a murder investigation following the death of Tony Bromley.

We believe Tony had been out drinking with friends in the area earlier in evening and would appeal to anyone who was with Tony, or who saw him and his friends to contact us, as they could have information which could be vital to the investigation.

At this moment in time we do not know the motive for the attack, but we do believe the victim was targeted and we are following up a number of lines of inquiry to establish the motive.

This was a deliberate and particularly brutal attack on a young man, which has devastated his family. I would reassure the community that our investigations will be thorough and will continue until we bring those responsible before the courts.

Merseyside Police relies on the co-operation and support of its communities to tackle all crime. Information from the public about any crime is vital and we would urge anyone who has information to come forward.

We are particularly interested in speaking to anyone who may have seen anyone people acting suspiciously on Breck Road and Belmont Road before or after the murder as they may have information which could be vital to our inquiries."

The mother of Tony Bromley, Sandra Bromley, said:- "Saturday, 14 February would have been my son Tony's 19th Birthday, this should be a special day to celebrate his life, that has now been cruelly taken away.

How could anyone do this to my lovely son?

My son, who I will not be able to say 'Happy Birthday' to, watch his lovely smile as he opens his presents. He won't be there to give me a big hug and kiss and say 'Thanks mum'.

Today should be a happy day but instead its a very sad day, my heart is broken in two and it will never mend.

Tony was my life and I don't know what I am going to do now he's gone. I can't believe he was taken away from us in this brutal way. Someone must know who did this to my son and we want people to speak to the police. If anyone has any information please come forward."

House-to-house enquiries have taken place and high visibility patrols have been stepped up in the area to reassure the local community. Officers are also speaking to licensed premises in the area and examining CCTV footage.

Anyone with information should contact the Major Incident Room on 0151 777 8649, or Crimestoppers on 0800 555 111. Alternatively you can text the word CRIME followed by your message to 61051, or email information to murder@merseyside.police.uk.