APPEAL FOR INFORMATION DISTRACTION BURGLARY, BIANCA STREET, BOOTLE
MERSEYSIDE Police are appealing for witnesses to a distraction burglary on Saturday, 28 February 2009, at a house on Bianca Street, Bootle.

At 2:30pm a 77 year old woman answered the door of her flat to a man, who said that he was a there to check on the intercom system. The lady let him into her flat, and whilst she was making a cup of tea he stole her handbag containing a quantity of cash and bankcards. The victim was left shaken by the incident.

The offender is described as white, approximately 45 years old, 5ft 7in tall, short dark, slightly curly hair, with a stocky build, he spoke with a local accent. He was wearing a high visibility jacket.

DC Dave Hales said:- "I would ask that anyone who saw anybody acting suspiciously in the area at the time of the incident to make contact with us. I would like to remind the public to check for identification at all times when strangers claiming to be officials attend at the door and follow the safety advice. Ask for and take the time to check their identity card. Call the company they say they are from using the phone book. Don't call the number on the ID card as it could be fake."

Anyone who witnessed the incident or has any information is asked to contact the police at Copy Lane on:- 0151 777 3168 or Crimestoppers anonymously on:- 0800 555 111.
Advise About:- "BOGUS CALLERS!"
SEFTON Home Watch have informed us that they have seen an increases of distraction burglary occurring in the Sefton area. In one of the incidents a male called at a house, he told the resident he had come to fit a house alarm. He showed the lady an ID which was later found to be false.

He was invited into the house by the occupant even though she had not arranged for an alarm to be fitted or for any one to call about security.

During conversation the man asked her details about her financial arrangements and what she had in her house.

After he left the premises items of value were found to be missing.

This is a general warning based on an actual incident, to warn all residents in Sefton to be wary of any unexpected callers to your property.
If you are not expecting someone to call:-

* Do not open the door,
* Use your door chain,
* Ask why they have called,
* Thoroughly inspect their ID and challenge them .

Genuine callers will be more than happy to answer your questions

* Do not be bullied into allowing people to enter your house who you do not know.

** IF IN DOUBT - KEEP THEM OUT ***
WITNESS APPEAL - BOGUS OFFICIALS, KENSINGTON AND TUEBROOK
MERSEYSIDE Police have appealed for witnesses following two burglaries in the Kensington and Tuebrook areas which were committed by bogus callers.

At around 3.30pm on Tuesday, 10 March 2009, a man called at the home of an elderly woman in Muirhead Avenue, Tuebrook, claiming to be an electrician. After spending some time inside the house, he demanded payment and when the woman produced the cash, he snatched the money and ran off. He is described as white, around 5ft 5in tall, aged between 40 and 47 years old, with a round face. He spoke with a local accent.

On Thursday, 12 March 2009, between 3.30pm and 4.30pm, a man called at the home of an elderly woman in Minto Close, Kensington. He was allowed into the house and stole cash from the homeowner.

Merseyside Police is urging people to take precautions when people call at their homes:-

* Always make sure visitors to your home are who they say they are by asking to see their identification.

* Remember to close and lock the back door before answering the front door.

* The best defence against a bogus caller is to have a viewer or spy hole and a stout door chain fitted to your door.

* If the caller claims to be from the electricity, gas or water company, ask them to quote your customer reference number. A
genuine caller from these utility companies will be able to quote these numbers.

* If you are faced with a bogus caller, call 999 if the offenders are nearby. Make sure that you take vehicle registrations and a description of the caller. For non-emergencies use:- 0151 709 6010.

Anyone who has any information regarding these burglaries or has witnessed anything suspicious is urged to call detectives on:- 0151 777 4565, Crimestoppers anonymously on:- 0800 555 111, or contact their local police station.
GUS OFFICIALS, KENSINGTON AND TUEBROOK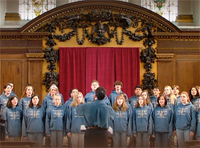 THE Arts In Prescot group are holding an event on Tuesday, 24 March 2009, from 7.30pm at the Prescot Parish Church, Church St, Prescot. Preforming on the night will be the Hood River Valley high School Chamber Choir, all the way from Oregon in the United States. The night will offer a fantastic classical programme with songs like:- 'Tomas Luis de Victoria's O' Magnum Mysterium', 'Tavener's The Lamb', 'Siegfried's Shaker Songs', 'Allaway's Kyrie on Logan Dell' & others. Tickets are only £3 on the door and can be obtained in advance from the groups website at www.artsinprescot.org.uk. Tickets can also be booked via phone on:- 08444 771 000. All proceeds in aid of Willowbrook Hospice.