Film Review:- "Paul Blart ~ Mall Cop"
THIS film looks funny in the trailers and it does not let you down. It is not the most original film, but it is one of the funniest I have seen since the 'Police Academy'. The film begins on an obstacle course where new recruits to the New Jersey Police Department are being tested. I can't possibly imagine why this sequence reminds me strongly of 'Police Academy'. Anyway, as the film goes on, it develops from this in a very interesting way and sets the stage for Paul Blart (Kevin James), who is an over weight, hypoglycaemic, security guard, to enter the film. Blart is a workaholic who seems to be fixated by the fact Black Friday is coming, and this leads to conflict at home; where, Blart, who is single, objects to the idea that his mom (Shirley Knight) and daughter Maya (Raini Rodriguez) both want him to join a online matchmaking service. Spot, the promo plugs throughout the film.... Anyway this leads onto a love story involving a little kiosk owner, Amy (Jayma Mays). Ultimately this paves the way for the start of the main story, as a group of men break into the mall in and locking it down in true 'Die Hard' fashion. Ultimately leaving, as you guessed, the only thing standing in their way, the Segway cruising Paul Blart. So keep an eye out for a new form of vehicle chases! What follows reminds me of films like 'FX The art Of So Illusion', 'Beverly Hills Cop' and 'Pineapple Express' to name just a few! We will not spoil the rest of this story but will leave you with this question... Will the mild-mannered, overweight Blart foil the criminals on his own?

To summarise; throughout the film, there appear has fantastic digs at films such as 'Die Hard' and countless police films, but, done in a subtle and very funny way. This is the film's charm and in our view, what makes it so funny. It is entertaining and light hearted. Like so many this year, it is bound to get lost in amongst all the massive high profile box office releases, so it is not likely to win any awards. But for entertainment it must get 4 out of 5 stars... A fantastic feel-good film that is well worth a visit especially if you are feeling down!

This film is out this Friday! So if you get a chance, go and see it!
Star rating out of 5









"Still room for improvement, but very enjoyable."
Rated:- PG
Parents Guide:- Some violence, mild crude and suggestive humour, and language.
Runtime:- 91 min
Director:- Steve Carr
Tagline:- "Safety never takes a holiday."
If you have seen this film, then please let us know what you think about it. Email us now to:- news24@southportreporter.com.
Free gym classes for under-fives childhood obesity
NEW fingers have shocked the city after it was found by Liverpool Council that 1 in 20 of Liverpool's young children was clinically obese. The also found that research found half of 11 year old boys and 40% of 11 year old girls in Liverpool were overweight. Now plans are being made to provide free gym memberships to thousands of children under the age of five to halt rising obesity levels. If this goes ahead as planned it will see around 65,000 children will benefiting from the scheme according to Liverpool Council. Warren Bradley, Liverpool City Council leader told the media that:- "As a nation I believe it is our primary duty to do all we can to give our children the healthiest possible start in life and in Liverpool we are exploring every possible avenue. This is just one of them. Already youngsters aged 5 to 16 are already getting free Lifestyles membership, as do the over 60s in Liverpool. Nowhere else in the UK is delivering a health and fitness programme on this scale and, in the build up to Britain hosting the next Olympics, it would be a triumph if we could provide every child in the country with free access to their local leisure centre. Our view is that if Liverpool can do it so can other towns and cities." The under-fives programme, the council is calling called Futures, is planed to provide 30 hours of free classes a week, from a 13 strong team of youth and community coaches. It is also planned that 1,600 low-income families would also be given free Lifestyles membership so that older children and parents could make use of the fitness centres. Email us your views on this drive and let us know hat you think about it. Our email is:- news24@southportreporter.com.
ARCTIC ADVENTURE FOR MERSEYSIDE RESERVIST MARK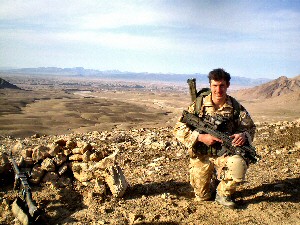 BRAVE Mark Warrener from Prescot is set to swap the cranes of Liverpool's dockland for the pains of the Arctic Circle when he joins the Royal Marines Reserves (RMR) on Exercise Hairspring next week. Lance Corporal Mark is traveling north to Harstad in Norway until 22 March 2009 for a two-week winter deployment, which forms part of the RMR's annual training programme. This will involve novice ski and survival training, cold weather warfare training and other exercises in the hostile environment, including ice-breaking drills, building snow shelters, trapping and camp-building. The RMR volunteers will be under the control of Royal Marines mountain leaders, widely regarded as the world's leading arctic and mountain specialists. An electrical engineer by day, Mark, 22, joined the Merseyside RMR back in September 2004 and is second in charge of a close combat company while on duty. Mark was anticipating his trip with excitement mixed with apprehension:- "I am really looking forward to testing myself in what I know are challenging conditions. Training will include basic arctic survival skills and cross-country skiing carrying full fighting equipment. So it will be a really tough exercise but one I think will stand me in good stead for the future." The former Rainhill High School pupil spent one year in the FTRS (Full-time Reserve Service) with Bravo Company of 40 Commando during which time he served in Operation Herrick in Afghanistan. He has also visited Cyprus, Sierra Leone and France with the RMR. He added:- "The best thing about being in the Royal Marine Reserves is being with like minded lads. The camaraderie we enjoy is second to none and I've really enjoyed my time in the service."