Awards Scheme offers Cash Boost for Merseyside Craftspeople
CRAFTSPEOPLE in Merseyside are being given the chance to compete for a cash boost to their business by entering Country Living Magazine's The Balvenie© Artisan Awards 2009.

The scheme, created by hand-crafted single malt Scotch whisky, The Balvenie, aims to reward the individuals and businesses who are helping to keep traditional skills and crafts alive in the UK today. It offers a total of £9000 in cash prizes plus bottles of The Balvenie and launches in the current (April) issue of Country Living Magazine, on sale now.

Craftspeople can enter the Awards by downloading an application form and, for the first time, the general public is being invited to nominate craftspeople they know. Full details can be obtained by visiting:- www.thebalvenie.com or calling Artisan PR on 01578 722690.

The Awards feature 4 categories: Artisan Mentor of the Year; Best Start-up business based on a traditional craft or skill; Artisan Apprentice of the Year and Artisan of the Year. Entry is free of charge. The closing date for entries is 30 May 2009 and the winners will appear in the November issue of Country Living Magazine.

Susy Smith, editor of Country Living Magazine, says:- "This is the third year we have run these awards and previous winners have included a thatcher, wood carver, stained glass company, traditional builder, furniture maker and weaver. Many of our traditional skills and crafts are dying out and it's vital to revive them before the knowledge is lost. We want to hear from anyone and everyone who uses a traditional skill – individuals, small businesses and larger enterprises are all in with a chance."

David Stewart, The Balvenie's Maltmaster commented:- "At The Balvenie Distillery the skills of the craftsmen have been handed down from one generation to the next. Preserving these crafts is essential for the future of the whisky industry and for Britain's heritage too. We devised this awards scheme to recognise those who keep traditional skills alive and also to encourage a new generation to learn them."

Mike Moody, Chairman of the National Heritage Training Group (NHTG) and member of the Award's judging panel said;- "NHTG research has revealed that the future of five million pre-1919 buildings in England could be at risk because most of the workforce undertaking repair and maintenance work do not possess the skills or knowledge required to do the job properly. Initiatives like Country Living Magazine's The Balvenie Artisan Awards play a valuable role in raising awareness of the importance of preserving traditional skills and crafts."

Country Living Magazine's The Balvenie Artisan Awards are open to anyone who uses a traditional skill or craft to earn their living. To enter, the business needs to provide a 500 word summary on why they should win a particular category. The same business/individual can enter more than one category.

Full details of the categories and prizes are as follows:-
Artisan Mentor of the Year
Open to businesses/individuals that are passing on a traditional skill to others, through both formal or informal apprenticeships. Entry must include information on both the business and trainee.
Prize: £1500 plus a selection of whiskies from The Balvenie and a specially commissioned trophy

Best Start-up business based on a traditional craft or skill
Open to businesses less than two years old on the Awards entry closing date.
Prize: £1500 plus a selection of whiskies from The Balvenie and a specially commissioned trophy

Artisan Apprentice of the Year
Open to anyone 18 or over who is currently undertaking formal or informal training in a craft or skill
Prize £2000 to be put towards training/development plus a selection of whiskies from The Balvenie and a specially commissioned trophy

Country Living Magazine's The Balvenie Artisan of the Year 2009
Open to anyone who uses a traditional craft or skill to earn their living.
Prize:- £4000 plus a bottle of The Balvenie Thirty Year Old single malt and a specially commissioned trophy.
APPEAL FOR HACKNEY CAB DRIVER TO COME FORWAR
THIS week Merseyside Police are appealing for the driver of a black Hackney cab to come forward to help detectives investigating an allegation of rape.
Between 1am and 3.30am on Monday, 16 March 2009, after a Hackney cab driver picked up a man and a woman outside the Little Merton public house on Merton Road, Bootle. The woman was white, 19 years old and was wearing a blue and white striped cardigan and black leggings. The man is described as white, around 25 years old, of stocky build and was wearing a white T-shirt with a swirling pattern. They were dropped off near to the Caradoc public house on Verdi Street, Seaforth.

Detective Inspector Dave Keegan said:- "We are anxious to trace the cab driver who picked up the victim and the man accompanying her in the early hours of Monday morning. They were picked up from outside the Little Merton public house in Bootle and dropped off by the Carodoc public house in Seaforth. We believe the fare was £3.60. The driver is not a suspect but he may have information that is important to the investigation. We need to speak to him at the earliest opportunity and would ask him to call officers on 0151 777 3165 or Crimestoppers on 0800 555 111."
Obama Generation Unites To Fight Far Right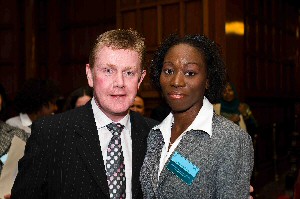 LIVERPOOL's great and good came together to proclaim their intent to stand united against bigotry and racism in the city. Set against the backdrop of recent news about far right activity in Liverpool, members of Operation Black Vote's Councillor Shadowing Scheme celebrated their unity with the completion of a ten month mentoring scheme.

With the coming European elections in which the Far Right presents a serious threat of gaining their first MEP Saeed Mohammed, Scheme Shadow said:- "We need to send out the message that racism and bigotry are not welcome in Liverpool. We are all Liverpudlians. We need to embrace this rich cultural diversity. While we can see there are differences within our diverse communities, we need to accept and celebrate our differences more. We need to come together to defeat the rise of the far right democratically".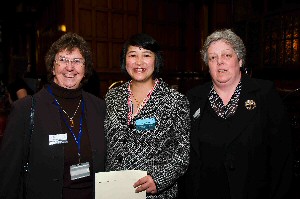 Operation Black Vote and Liverpool City Council honoured 9 Black and other minority ethnic (BME) trailblazers of democracy with a formal Graduation Ceremony on Monday 9 March at Liverpool's Town Hall. The Ceremony marks the completion of a ten month mentoring scheme to address the deficit of BME political representation in Liverpool City Council and to ensure that BME communities engage with the Council at all levels. The cross party initiative has nurtured 9 BME individuals representing a wealth of untapped political talent in Liverpool. The Graduation Ceremony was hosted by The Right Worshipful Lord Mayor of Liverpool Cllr Rotheram and included key note addresses by Leader of the Council Cllr Warren Bradley.

The Right Worshipful Lord Mayor of Liverpool, Cllr Steven Rotheram said:- "The council must better reflect the people from its culturally rich and diverse communities. Positive role models are needed to reflect the needs of all sections of society".

The event was attended by local BME community members, political activists, youth councils and students as well as other distinguished Liverpool figures.

Council Leader Warren Bradley said:- "We are determined to make the council chamber representative of the communities we serve. This scheme has demonstrated the commitment of the whole council to change the current situation and make sure the elected members reflect Liverpool's diverse population."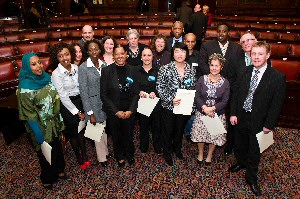 Simon Woolley, Director of Operation Black Vote, said:- "I'm convinced that from this historic Shadowing Scheme a new generation of leaders, Councillors, school governors, community organisers will emerge. Liverpool Council and all those that took part deserve full credit for the extraordinary work they've undertaken."

OBV will be running voter registration drives throughout the UK preceding the June 4 Elections.

Jing Liu Deng, Scheme Shadow, said:- "It has been a wonderful programme and has opened my eyes to the work of the local political system. I now realise the importance of a councillor's role; and through the scheme feel that all the graduates can make a positive change in our community for the betterment of all Liverpool's citizens."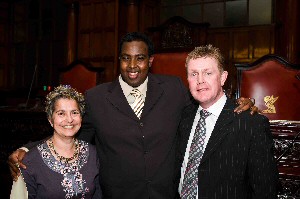 Nathalie Nicholas, Scheme Shadow said:- "I hope the scheme continues so that people from other BME groups can have the same opportunity to become more engaged in their community thereby, bringing all groups together to make a positive change in Liverpool."