Czech mate! As Wizz Air expand their operations at JLA

THE Central and Eastern Europe's largest low cost airline Wizz Air, who first started operating from Liverpool in late 2004, have today announced a further expansion of their Liverpool operations.

At a time when many airlines across Europe are cutting back on services, Wizz Air will commence a new service to Prague, capital city of the Czech Republic, with three weekly flights from Liverpool John Lennon Airport commencing in mid-July 2009. One way all inclusive fares start from as low as £12.99

The Capital of the Czech Republic, Prague is one of the most popular city break destinations in Europe with something on offer for everyone. The beautifully preserved historic city has stunning architecture and many famous sights such as Wenceslas Square, Prague Castle and Charles Bridge. The Czech hospitality is legendary and visitors are guaranteed a warm welcome to the trendy bars or cosy traditional restaurants. Prague is also famed for its Christmas markets which are among the best in the World and now for the first time passengers will be able to travel direct from Liverpool to experience them.

Flights will commence on 11 July 2009, departing each week from Liverpool on Tuesdays, Thursdays and Saturdays at 12:50pm giving travellers to Prague convenient times and days of the week for short breaks or business trips.

Wizz Air currently operate popular flights to the Polish cities of Warsaw, Katowice and Gdansk, carrying over 200,000 passengers on their Liverpool services last year.

John Stephenson Chief Commercial Officer of Wizz Air said:- "Liverpool has been an excellent market for us and since starting operations from here over four years ago we have carried over 700,000 passengers. Whilst these are challenging times for all airlines, we continue to see real potential for growth at Liverpool, reflecting the importance of the Airport in our network and the gateway role it plays in the North West of England."

Neil Pakey, Deputy Chief Executive of Peel Airports, added:- "The new service to Prague will complement the diverse range of destinations now available from Liverpool. The Czech Republic was one of the few countries yet to be served by a scheduled service from here and we are delighted that Wizz Air are continuing to develop new services at a time when many in the industry are looking at consolidation."
Wingwalkers search Merseyside for ultimate high flyer..!
THE worlds only formation wingwalking team, Team Guinot, is searching Merseyside to find the ultimate high flying recruit to join the team and spend their summer strapped to the wings of the famous wingwalking biplanes.

The team, who is currently looking for a new sponsor and often making appearances in the national media, is searching for a new wingwalker to join the team for their thrilling 2009 season.

"Wingwalking is the most exhilarating job in the world! Standing on the wings of a biplane you literally feel as free as a bird, the experience of looping through the skies at 160 mph is incredible! We perform in Merseyside each year so the lucky candidate will hopefully display in front of a home crowd which is amazing." says 20 year old wingwalker Danielle Hughes.

The successful applicant will be trained to climb around the beautiful 1940's biplanes, performing a sequence of handstands and acrobatic manoeuvres in the wingwalking rig while the aircraft loop through the skies.

"This is a fantastic opportunity for a high flyer. Our wingwalking team is demand all over the world and the successful applicant will be displaying in front of millions of spectators every year. Wingwalkers need to be fit and agile in order to complete the graceful routines whilst standing on the wing against immense wind pressure." says Team Leader Vic Norman

In 2009 four Boeing Stearman biplanes and their wingwalkers will display across the UK and Europe throughout the week and during weekends; whoever lands this job can be sure of an action packed summer!

To apply for this position please visit:- www.teamguinot.com then click on the wingwalker search icon and follow the on screen instructions.

We will be running a very special interview in next weeks issue with lots more information about this amazing opportunity.
Historic railway cutting restored to former glory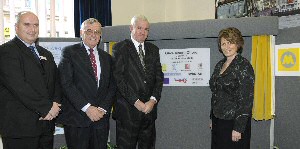 THE world's first railway cutting has been restored to use after more than 20 years.

The £7.6million Olive Mount Chord, a quarter mile stretch of rail track linking the Port of Liverpool to the West Coast Main Line, has been officially opened at an event in the city.

Merseyside MP and Chair of the government's Transport Select Committee Louise Ellman and Neville Chamberlain, Chair of the Northern Way joined a host of organisations who have worked to deliver the project.

Louise Ellman said:- "This is a very important scheme and will improve the movement of freight and support the regeneration of this region."

Neville Chamberlain added:- "Our ports are major assets and important drivers of the North's economy. It is important for their future growth that they have excellent connectivity. The restoration of Olive Mount Chord helps deliver that for the Port of Liverpool."

The multi-agency project has rejuvenated the disused stretch of railway line, linking the Docks' Bootle branch line, used for rail freight trains, with the Chat Moss line to Manchester and West Coast main Line to London.

The project was a key element of Merseyside's £230 million Local Transport Plan (2006 to 2011). A unique funding package that was put together by the Merseyside Transport Partnership (MTP) meant that the programme could be accelerated and delivered much more quickly than schemes of a similar size and significance.

The funding package brought together MTP (Merseytravel and the five Merseyside local authorities), Network Rail, Department for Transport, Northwest Regional Development Agency and the European Regional Development Fund.

Councillor Mark Dowd, Chair of Merseytravel, and a former train driver himself, said:- "This is project that is vital to Merseyside in economic terms, speeding up lines from the West Coast Main Line to Seaforth Docks and, we hope, encouraging a greater shift of freight from road to rail."

Neil Scales, Chair of the Merseyside Transport Partnership, said:- "This rail freight link is a key priority for us and our partners. It will create a fast route into the Port, allowing it to expand and create more employment and it will ease both congestion and pollution through the ability to transfer increased amounts of container cargo from the region's roads."

Simon Whitehorn of Network Rail added:- "Olive Mount Chord is a great example of how, by working with our partners in a spirit of cooperation, we can deliver major rail projects early and to budget."

Cllr Peter Millea, executive member, Liverpool City council, said:- "This is a very important scheme for the city region and it is very appropriate that Olive Mount Chord, which will transfer freight from road to rail, was completed ahead of Liverpool's Year of the Environment."

The project removes the need for freight trains to reverse at Edge Hill, slashing rail times by cutting the need to cross lines into and out of Lime Street at Edge Hill.
About Olive Mount Chord
Olive Mount Chord first opened for traffic on the 11 July 1883.

Part of the London and North Western Railway Company, the chord was one element of the huge expansion of rail in the Edge Hill area, developed to handle the vastly increasing levels of North American freight going through Liverpool Docks.

The line handled huge amounts of freight traffic right up until the late 1960s, playing a particularly important role in both World Wars.

Olive Mount Chord was a casualty of declining freight traffic being carried by rail and was finally closed on 28 February 1987.

Twenty-two years later the line is back in use following a major investment programme.

The new line uses the same structures and earthworks as 1883, but now includes a single track and modern signalling systems capable of dealing with high volumes of freight traffic.