Easter Family Fun @ the Beatles Story!
THE Beatles Story will be holding their annual programme of Easter events with the 'I Am The Eggman' trail running throughout the Easter holiday period, 4 April 09 to 19 April 2009.

Visitors to the Beatles Story can complete a fun quiz based around the exhibition with a chance for all the family to win some amazing prizes. There's something for everyone with the questions being split into 'soft boiled' (aged 5 to 11), 'medium boiled' (aged 11+) and 'hard boiled' (adults and Beatles experts!).

The Beatles Story will also be running an exciting series of children's weekend workshops which will take place throughout the holiday period.

Based around the ever popular 'Yellow Submarine' song, children will get the opportunity to design and make their own special 'Yellow Submarine' mobile using cut out characters from this famous Beatles tune.

All children's weekend workshops are free of charge to guests paying full admission or £2.00 for guests wishing to visit the Discovery Zone only. Weekend workshops will take place on Saturday, 11 April and Sunday, 19 April 2009 beginning at 2pm.

Please check beatlesstory.com for details or ring them on:- 0151 709 1963.

With The Beatles being discovered by a new generation every year, the Beatles Story provides the ideal fun, family day out for all ages! To reflect this, 2008 has seen the opening of our new interactive, hands-on Discovery Zone.

Employing the latest, groundbreaking technology our fully interactive learning centre allows young and old alike, to learn about The Beatles' music, the times they lived in and their influential legacy.

The Discovery Zone is staffed by specialised facilitators who are on hand to answer your questions and ensure you have a fab time! Kids have the opportunity to create their very own newspaper, select a song at the 1950's NEMS record store, create their own Beatles inspired artwork and play a Beatles tune on a giant piano!

Add to this our new 'family friendly' audio guide (specially designed with kids in mind) and a number of special 'Family Saver' ticket discounts and you have the perfect fun filled day for all ages.
Teams wanted to join It's a Knockout!
FOLLOWING last year's huge success, children's charity Children Today are looking for teams of up to 10 people from the Merseyside area to take on a series of games and battle it out against other teams with giant inflatable to become the It's A Knockout champions whilst getting soaking wet and covered in foam. The 'Utterly Brilliant' Timmy Mallett, recently seen on ITV's 'I'm A Celebrity…. Get Me Out Of Here' will be hosting the It's A Knockout Challenge taking place at Aigburth, Liverpool on Sunday, 19 July 2009. The teams taking part in this event each have a fundraising target of £1000 and the money raised by each team will go to meet the needs of disabled children and young people living in the local area. Children Today provide grants for vital, life-changing equipment for disabled children and young people living in the UK. Fundraiser Elizabeth Oakes said:- "We believe that the provision of specialist equipment for young people with disabilities has a direct and immediate impact on their quality of life and independence and is vital in helping them to overcome obstacles to live a life of greater freedom." To help children in the Merseyside area receive specially adapted equipment, enter your team in It's A Knockout today and join in the fun and games on the 19 July 2009.
To register for this event please call Ceri Ward at Children Today on:- 01244 335622 or by email ceri@childrentoday.org.uk.
Summer Time Brings Longer Hours For Recycling Centres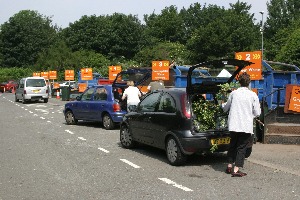 All 14 Household Waste Recycling Centres (HWRCs) on Merseyside are switching to longer summer opening hours this week.

From Wednesday, 1 April 2009 the Centres will be open from 8.00am until 8.00pm* – three hours longer than the current winter
service.

The 14 HWRCs are currently operated by Mersey Waste Holdings Limited on behalf of Merseyside Waste Disposal Authority (MWDA).

Householders can use the Centres to recycle almost everything - from cans, car batteries and cardboard to garden waste, glass, paper, scrap metal, textiles and timber, and more.

Carl Beer, Director of MWDA, said:- "The Recycling Centres are an excellent resource for people across Merseyside to do their bit and help tackle the region's waste mountain."

MWDA is also urging people to re-use items before throwing them away.

Under strict government targets Merseyside could be paying up to an additional £30m every year if it does not reduce the amount waste it sends to landfill over the coming years.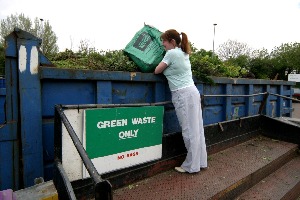 From 1 April 2009 until 30 September 2009 Merseyside's Household Waste Recycling Centres will be open from 8.00am until 8.00pm. The Centres can be located at:-

Bidston – Wallasey Bridge Road, Birkenhead – CH41 1EB
Clatterbridge – Mount Road, Clatterbridge – CH63 6JE
Formby – Altcar Road, Formby – L37 8EG
Huyton – Ellis Ashton Street, Huyton Industrial Estate – L36 6BJ
Kirkby – Depot Road, Knowsley Industrial Park – L33 3AR
Newton-le-Willows – Junction Lane – WA12 8DN
Otterspool – Jericho Lane, Aigburth – L17 5AR
Rainford* – Southerns Lane - WA11 8EY
Rainhill* – Tasker Terrace, Rainhill - L35 4NX
Ravenhead – Burtonhead Road, St. Helens – WA9 5EA
Sefton Meadows – Sefton Lane, Maghull – L31 8BX
Southport – Foul Lane, Scarisbrick New Road – PR9 7RG
South Sefton – Irlam Road, Bootle – L20 4AE
West Kirby – Greenbank Road – CH48 5HR

*NB. Rainhill:- Open 9.00am to 6.00pm on Saturdays; 9.00am to 3.00pm on Sundays

Rainford:- Open 8.00am to 6.00pm on Saturdays; 8.00am to 3.00pm on Sundays