US BASED ERIC FRIEDMANN AND THE LUCKY RUBES RETURN TO THE UK FOR IPO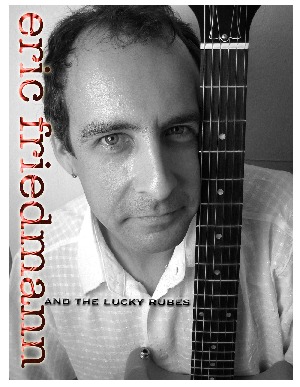 ERIC Friedmann and The Lucky Rubes will be returning to the United Kingdom for the annual International Pop Overthrow Festival in Liverpool. The San Francisco-based Americana rock outfit will be performing at The Cavern Club on Sunday, 24 May 2009 at 3:45 pm, and at The Beaconsfield on Monday, 25 May 2009 at 7:45 pm, with possible additional last-minute shows to accommodate any potential cancellations. So lets give him an amazing welcome back....

Mr. Friedmann, who did some growing up in the UK, has been a fixture in the California music community in numerous bands since the mid-eighties, working as a performer, producer, engineer, promoter, and session musician. Eric Friedmann and The Lucky Rubes have been playing since 2001, concentrating primarily on Bay Area and Los Angeles venues. This year Mr. Friedmann is bringing to the IPO Festival an ensemble consisting of long-time bandmates and old friends. Steve Schneider (guitar, vocals), has been sharing a stage with Eric in one way or another for over twenty-two years, as has Will Strickland (drums), also of the highly acclaimed San Francisco band DuDS. Rounding out the lineup and returning to Liverpool once again is Russell Pickett (bass, vocals) originally hailing from Tulsa, Oklahoma.

The band's newest single, "Baby You Could Make Me Famous", has enjoyed some airplay in England recently, and the most recent CD "Telephone Girl", on Poison Tree Records will be available at the shows as well as the new EP "Scrapheap Sessions vol. 1.", to be released on San Francisco's Last Stop Records. To find out more go to ericfriedmann.com or myspace.com/ericfriedmann.
Formby By Pass RTC

AT around 2:45pm, on the A565, the main trunk road from Liverpool to Southport, know locally as the 'Formby By Pass', was brought to a stand still as both lanes of traffic on the north bound side of the roads became blocked, as police dealt with an incident. From what we have been told Ford Fiesta and a small Vauxhall Combo Van where involved in the collision, that happened near the 50mph speed restriction sign, close to the entrance into RAF Woodvale. The incident resulted in tail backs backing up passed the Formby Tesco Junction, on the north bound side of the A565. We understand one person was taken to hospital with minor injuries, but this has not yet been officially confirmed. The incident is just one of many that have happened over the last year on the same stretch of road. The road was fully re-opened to traffic at around 3:20pm. Photos in next weeks issue of Southport & Mersey Reporter.