North West too trusting when it comes to gas safety
FROM 1 April 2009, Gas Safe RegisterTM replaces the CORGI gas registration scheme in Great Britain and launches a campaign to make the nation gas safe. New research from Gas Safe Register reveals that when it comes to gas safety, the North West is far too trusting.

Alarmingly, over half of households in the North West said they took it on trust that their gas engineer was properly registered and never checked that they were. A trust which if broken can make the difference between life and death.

With 14 people dying from carbon monoxide (CO) poisoning last year due to badly installed, repaired and maintained gas appliances, keeping the public safe is Gas Safe Register's top priority. The 'make Britain gas safe' message is simple. Be safe, use a registered engineer and always check the card.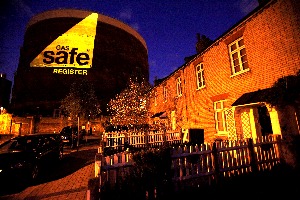 Pete Eldridge, chief executive of Gas Safe Register said:- "As the new hallmark for gas safety in Great Britain, Gas Safe Register will make it much easier for the public to be gas safe because in the wrong hands, gas can kill. Our message is simple. To keep you and your family safe, always use a Gas Safe registered engineer when you have any gas work done in your home. We will raise public awareness of the importance of always asking for the ID card and checking the unique licence number. Different types of gas work requires different skills, so it's important that you check the back of the ID card to make sure your engineer is qualified to carry out the work you want them to do."

Gas Safe Register will offer the public an improved service making it easier to find and check an engineer.
To find a Gas Safe registered business and to check each individual engineer to see what work they are qualified to do visit:- gassaferegister.co.uk or you can also call the dedicated helpline on:- 0800 408 5500.

Every Gas Safe registered engineer has a photo ID card with a unique licence number, and details of the work they are qualified to do. To check this information simply enter the engineer's licence number on the website or call the helpline.

The new register will aim to reduce the number of gas-related deaths and injuries every year caused by incorrectly installed, badly repaired and poorly maintained gas appliances by raising awareness that appliances should be inspected regularly by a qualified engineer. Shockingly almost a fifth of households in the North West with a gas boiler had not had it serviced for at least three years. Gas Safe Register recommends that all gas appliances are safety checked and serviced at least once a year.

From 1 April, all work on gas installations or appliances must only be carried out by a Gas Safe registered engineer.
Gas Safe Register's top tips to keep you and your family gas safe:-
1. Always use a Gas Safe registered engineer for any gas work in your home – and check their ID card.

2. Make sure your gas appliances are safety checked and serviced in accordance with the manufacturer's guidelines, or at least once a year.

3. If you live in rented accommodation, your landlord must arrange for a Gas Safe registered engineer to carry out a safety check every year on all gas appliances. You should be given a copy of the safety certificate before you move in or within 28 days of the safety check. If you don't have this certificate, ask your landlord.

4. Install an audible carbon monoxide alarm, which will alert you if dangerous levels are present in your home.

5. If you smell gas or think there might be a gas leak, so turn off the gas at the meter, extinguish naked flames, open windows and leave the area. Seek medical advice if you feel unwell. Call the Gas Emergency Freephone number 0800 111 999.
Usdaw celebrates ten years of minimum wage
SHOPWORKERS' union, Usdaw, is celebrating the tenth anniversary of the implementation of the national minimum wage benefitting over a million low paid workers.

The minimum wage which was brought in on 1 April 1999 was originally set at £3.60 per hour. Following continued campaigning by Usdaw it has been increased to today's figure of £5.73 and covers many workers in retail.

Some of the most vulnerable workers such as women workers, younger and older workers have been protected by the introduction of a minimum wage.

In 2004, an Usdaw campaign was successful in extending the national minimum wage to young workers aged 16 to 17.

John Hannett, Usdaw General Secretary and member of the Low Pay Commission, commented:- "It was an historic occasion when, ten years ago, the Labour Government established a national minimum wage. Usdaw is proud to have been at the forefront of campaigning for such an important piece of legislation for working people.

Over the last ten years, over a million people across the UK have benefited from the security and extra income afforded by a minimum wage, including many workers in retail."

Tracy Scott is an Usdaw member on the minimum wage:- "I think the national minimum wage is a good thing because otherwise it would be an employers' market, rather than a labourers' market. Workers would try and undercut others by offering to work for 50p less per hour and wages would be lowered. Having the national minimum wage gives security to people's jobs."
TRAVEL NOTICE:- "Liverpool will standstill on 15 April 2009!"
THE transport network in Liverpool will come to a standstill at exactly 3.06pm GMT on 15 April 2009 to remember those who lost their lives in the Hillsborough tragedy.

Merseytravel has written to all bus and rail operators to support a two-minute silence to honour the victims and their families.

Neil Scales, Chief Executive and Director General of Merseytravel, said:- "We have been blown away by the support of our transport partners. This is our chance to pay tribute to those who lost their lives at Hillsborough and for the families that survive them."

The Mersey Ferries river cruise vessel will moor at the Pier Head, delaying sailing to observe the two minutes silence.

Vehicles travelling through the Mersey Tunnels in both directions will be stopped at the booths for two minutes.

Merseytravel's Traveline team will suspend calls for two minutes. The organisation's seven travel centres across Merseyside, Hatton Garden headquarters and other offices around the region will also observe the two-minute honour.

Merseyrail will make announcements on the tribute at all of its stations.

Tannoy announcements will be made to all passengers at Merseytravel's bus stations and bus drivers will be asked to switch off their engines.

Bus operators working across Merseyside have agreed to do likewise across the streets of the city where it is safe to do so – among them are Arriva, Stagecoach, First, ACE Travel, Napier Point Coach and Bus Hire and Huyton Travel.

Neil added:- "We hope people travelling by whatever mode of transport appreciate this gesture; it is two minutes in a lifetime and a silent tribute to show that all of the victims of the tragedy are not forgotten 20 years on."

Greater Manchester's equivalent GMPTE is also arranging for buses at depots in Wigan to observe the silent tribute.