Lancashire Hotpots have announce tour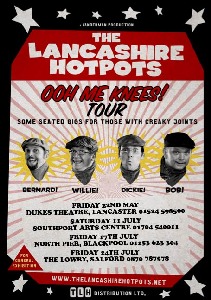 THE Lancashire Hotpots have announced an 'OOH ME KNEES' tour, a sit down tour for those with creaky joints! The band take comedic observations of the trappings of modern day life (Sat Navs, meeting women on the internet and Shopmobility Scooters) added some infectious melodies and created a live show where singing, drinking and having fun are equally important for both the audience and band alike. Because of their no nonsense approach to comedy and fun, the band have quickly acquired a massive following. In just two years, the Hotpots have become one of the biggest live bands in the North West of England. Their last tour which included 18 dates supporting ardent fan Paddy McGuinness on his 'Paddy McGuinness Plus You' tour saw them playing to more than 30,000 people. With 880,000 Myspace plays currently to their credit, their first album Never Mind The Hotpots reached No 2 in the BBC 6 Music Album charts with national support from Radio 1 (Colin Murray, Rob Da Bank), Radio 2 (Chris Evans, Arthur Smith) and 6Music (Steve Lamacq). Never Mind The Hotpots and their new album 'Pot Sounds' have both made it to No 1 in the iTunes comedy download charts. To find out more go to:- www.thelancashirehotpots.net.
Heads Up... Southport Plant, Food & Country Fair 2009
THE fantastic Southport Plant, Food and Country Fair is back on Saturday, 11 April, Sunday and Monday, 13 April 2009... This years event will be held at Stanley High School, Fleetwood Road, Marshside, Southport and offers lots to do over Easter for all ages. The event has concessions for Senior Citizens and the Disabled as well... The show has Morris Dancing on the Saturday, Sheepdogs and Duck Herding on Sunday and Monday, Hwavy Horses, Gun Dogs and Falconry ever day, lots of gardening and Sundry stands. On Sunday and Monday, the Marshside Brass Band and Horse Vaulting... That's not forgetting, you can watch a Chainsaw carver and go around 50 other trade stands, take a ride on a donky ride as well. But that is not it, on Monday take a look at the Cookery Demos and also th Military Stands.... For more information go to:- garden-festivals.co.uk or to book a ticket in advance call the ticket hotline on 01492 523 410
BBC to visit Chester Food & Drink Festival
BBC2 has delayed the deadline to 13 April 2009 for entries for the latest series of The Restaurant enabling a visit by the production team to Chester's Food & Drink Festival on Easter weekend. Researchers will be giving visitors to the Taste Festival at Chester Racecourse, which is the highlight of the Chester Food & Drink Festival and runs from 11 April 2009 to 13 April 2009, more information and an opportunity to enter the flagship BBC2 programme, back for its third series with Raymond Blanc. They will be looking for couples passionate about food and great service.

Stephen Wundke, Chairman of the Chester Food and Drink Festival, said:- "We are delighted to showcase this BBC programme at the Festival and are confident that we will find some budding restaurateurs."

Assistant Producer Melissa Waterson said:- "We would love to see many more entrants from the region and see the Chester Food and Drink Festival as a good opportunity of showcasing entry to the programme. We know there is the talent out there! We are looking for people with a flair for food, who are passionate about food and the dining experience and who are interested in running their own restaurant."

Raymond Blanc added:- "This year will be survival of the fittest. I am not looking for dreamers. I want to see couples with fresh ideas and a partnership that will flourish under pressure."

The successful couple will go into business with Raymond and try their luck at being restaurateurs. Married, friends, siblings, relatives, partners, colleagues – anyone over the age of 18 can apply. Experience of a restaurant or catering environment is not necessary but whether you're a chef or a cleaner, a waiter or writer, Raymond wants to hear from people who are passionate about food and the dining experience.

Series one had one couple of the nine from the North West whilst the second series had no-one.

In the lead up to the Food and Drink Festival, there are events in and around the city, including Alice in Wonderland, the Great Easter Egg Hunt and a Beer Festival at Boughton Hall Cricket Club from 9 April to 11 April 2009. The popular Cocktail Competition will also return at new venue Cruise nightclub, St. John Street, Chester, on 7 April 2009, where the city's finest bartenders will shake up the crowd with smooth talking and strong liqueurs.

There will be more than 80 food producers at the Taste Festival and cooking demonstrations featuring Simon Rimmer on Saturday, 11 April 2009 and Andrew Nutter on Monday, 13 April 2009. Tickets are £6 for adults and children under 12 are free. Parking is also free for all visitors to the event at the Racecourse.

For more information about other events happening over the Chester Food & Drink Festival, please visit:- www.chesterfoodanddrink.com.

Chester's Food and Drink Festival is sponsored by Chester Racecourse and PR consultancy, Marketing Projects.
More sponsors to be announced.