OUR EASTER GIVE-AWAY:- "IRON MAIDEN: FLIGHT 666"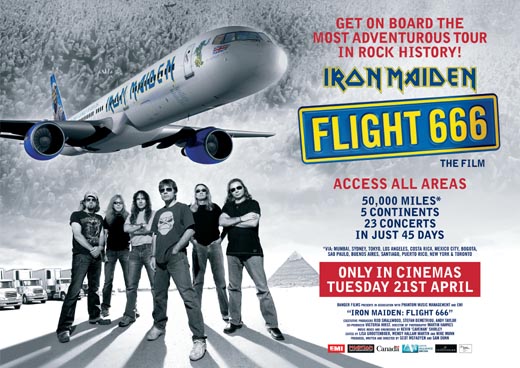 WITH thanks to Vue Cinemas we are pleased to announce that we have tickets to give-away to one of the critically acclaimed rock-umentary's special global release screenings on Tuesday, 21 April 2009.

In London, UK: 20 March 2009, Vue Entertainment announced that it will showcase 'Iron Maiden: Flight 666', the first film on the iconic rock band Iron Maiden, winners of the 2009 Brit Award for Best British Live Act. This extraordinary feature length documentary film will be shown in some of the Vue cinemas for one day only on Tuesday, 21 April 2009 at 7pm as part of "Maiden Day" – a global release on over 400 screens in 35 countries.

The film has just won the "24 BEATS PER SECOND" award for best music documentary at the prestigious SXSW Film & Music Festival in Austin, Texas.

Iron Maiden: Flight 666 was shot as the band embarked on the first leg of their momentous 'SOMEWHERE BACK IN TIME WORLD TOUR' in early 2008, considered to be the most ambitious and adventurous tour in rock history. The film is a revealing portrait of one of the world's most successful rock bands and an inspirational and often humorous account of the chaotic world of a band on tour.

'Flight 666' gives a close-up behind-the-scenes look at what happened on and off stage, when Maiden gave full access to a film crew for the first time ever, and contains some of the most spectacular live footage yet seen of the band. Taking the viewer from Mumbai to Santiago, LA to Sydney, Tokyo to Sao Paolo, Buenos Aires to Toronto and all points between, through exhaustion and fan pandemonium, travelling with band and crew on the plane to and from shows, in the bar and during leisure time, this really is Access All Areas.

The film will be distributed worldwide in 2K digital cinema, the highest quality standard in cinemas today, together with 5.1 surround sound by Arts Alliance Media, in association with Phantom Music Management and EMI Records.

Vue's Marketing Director Mark De Quervain said:- "We are delighted to be able to offer Vue customers the opportunity to be part of a unique global music event. The one-off screening of 'Flight 666' again demonstrates Vue's continuing commitment to offering customers unbeatable choice."

Iron Maiden's Manager, Rod Smallwood commented to us that:- "This film is a testament to an extraordinary tour and to our incredible fans all over the world. Seeing it on the big screen, in digital, will make you feel like you were there on that spectacular journey."

If you do not manage to win one of our tickets, do not worry... you
still have a bit of time to get a ticket. Tickets for Iron Maiden: Flight 666 are currently on sale and can be purchased at:- www.myvue.com/ironmaiden, by calling 08712 240 240 or directly from participating cinemas. But they are selling fast!

Over the next 3 weeks we will be giving away a few tickets to the Southport Vue Cinema's screening and all you have to do is answer a question we give that week and you will be entered into a draw. The winner/s will be contacted by Vue or ourselves with information as to how to collect the prize. The rules are simple... Enter your full name, address, phone number in to our email, then the answer to that week's easy question. You must be 15 or over and have ID, should you win, which shows your age. You cannot sell the tickets on or pass them on, so only enter if you can go!

This week's question for a pair of tickets is:- "What is the number of The Beast?"
Well, we said it was easy........
Cut off for week 7 April 2009
Please note that no employees or family of PBT Media Relations Ltd. PCBT Photography, Vue Entertainment, Arts Alliance Media, Phantom Music Management, Freud Communications and EMI Records can enter. The cinema has the right to reject entry.
Rating:-

Running time:- 112 minutes
Cast:- Iron Maiden ~ Released on:- 21/04/2009

For direct information about Southport's screening use this link.
Book signing at Pritchards, Brows Lane, Formby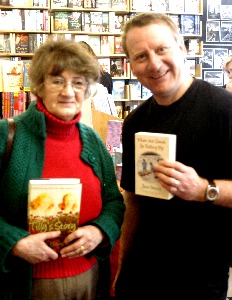 ON Saturday, 28 March 2009, the author of Bridesmaid, Jane Costello, was signing her latest publication, The Newly Weds. This is her second book which is following the successful Bridesmaids, which sold well over 90,000 copies. Her third novel,
Project Henry, will be on the shelves of bookshops some time in 2010.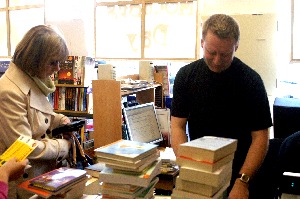 At the signing there was a pile of books awaiting Jane's signature.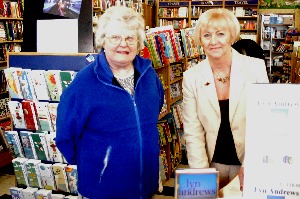 Another well known local author, Katie Flynn, was also present supporting Jane Costello.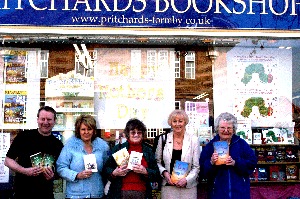 Further information can be obtained from Pritchards Bookshop, 54, Brows Lane, Formby, L37 4ED
The National Union of Students 'Extremely Concerned'
THE National Union of Students report, released on 31 March 2009 has reveals 80% of current students are 'concerned' or 'very concerned' by current graduate employment levels and their likely future job prospects.

Dr Peter Slowe, Founder and Director of Projects Abroad, the largest commercial volunteer service abroad organization internationally said that:- "Projects Abroad have announced that from January 2008 to January 2009 there has been a 50% increase in the numbers of volunteers that have signed up to their projects. With young people struggling to secure employment straight out of school or university and being made redundant, Projects Abroad offers CV enhancing opportunities. Projects on offer are wide ranging and vary from sports coaching in Costa Rica, training to be a journalist in Bolivia, animal care in Mexico and advising on law and human rights in China."

If you are a student do you agree with this result, please let us know by emailing us at news24@southportreporter.com.