Nationwide search for aspiring architects comes to Liverpool and the North West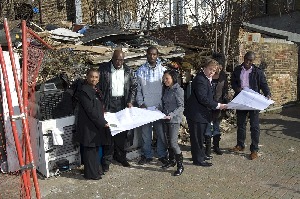 ARCHITECTURE for Everyone, an initiative created in memory of murdered teenager Stephen Lawrence, will be heading to Liverpool on Friday, 17 April 2009 as part of its nationwide search for Britain's architects of the future. The most talented individuals will have the chance of winning an all expenses paid trip to study architecture at Harvard University, USA.

The 'Architecture for Everyone' campaign is a creative collaboration between UK-based architects RMJM and the Stephen Lawrence Charitable Trust. Backed by politicians and celebrities including Prime Minister Gordon Brown, Dame Kelly Holmes, David Lammy MP, broadcaster Jon Snow and Apprentice winner Tim Campbell, the campaign aims to encourage greater diversity in the architectural profession.

Supported locally by architecture centre Places Matter! and Liverpool John Moores University architecture department, the campaign is looking for 40 aspiring architects to take part in a one-day design workshop in Liverpool on Friday, 17 April 2009. Aimed at 18 to 25 year olds, particularly those from socially excluded or Black and minority ethnic backgrounds, workshops will be led by architects from RMJM and other design professionals.

For young people unable to attend the design workshop a national design competition will also provide them with a chance of a dream trip to Harvard. Doreen Lawrence OBE, whose son's death prompted the landmark Macpherson report 10 years ago, helped launch the 'Waste of Space' design competition which is looking for young people across the country who have the vision to radically transform a 'waste of space' in their local area for the benefit of the community.

The 6 most promising young people from workshops in Britain's inner cities and the 'Waste of Space' competition will be flown to Harvard University's Graduate School of Design to study architecture for six weeks.

Annie Atkins, Programme Director of Places Matter said:- "Architecture for Everyone is an excellent opportunity to encourage talented young people from across the North West to consider a career in architecture. Our towns, cities and rural locations could be very different if people from a wide variety of backgrounds were able to use their skills and experiences to shape the environments of the future."

RMJM's Chief Executive Peter Morrison has been publicly outspoken in claiming that the architectural profession is similar to an "old boy's club", since it is dominated by white middle class men. The campaign was inspired by the memory of Stephen Lawrence, murdered 15 years ago, who wanted to become an architect.

Peter Morrison, CEO of RMJM, whose firm is providing a package of Ł1m in support for the campaign said:- "Youngsters from socially excluded groups and black and ethnic minority backgrounds typically consider architecture to be an unattainable profession, yet it is these people who are in the best position to help us transform inner cities from the inside out.

The launch of the Waste of Space design competition and the wider Architecture for Everyone workshop programme marks an exciting moment for us.
We're now looking forward to uncovering talented and aspiring architects across the country and providing them with a unique opportunity to engage with an industry they may otherwise have felt excluded from."

Doreen Lawrence, mother of Stephen Lawrence said:- "I truly welcome the collaboration with RMJM and the Stephen Lawrence Charitable Trust on 'Architecture for Everyone'.
I take pleasure that Stephen's name is able to help inspire young people to fulfil their dreams."

Young people aged 18 to 25 who would like to take part in 'Waste of Space' or express interest in attending a workshop in Liverpool, Birmingham, London or Glasgow should visit:- architectureforeveryone.org.uk for further information.
MAPPING THE CITY
THE people of Liverpool are being asked to play a part in creating a special work of art to celebrate the legacy of the city's year as European Capital of Culture.

Highlighting Liverpool's local, national and global significance, international glasswork artists Inge Panneels and Jeffrey Sarmiento have been commissioned to create the Liverpool Map, researched and developed in conjunction with the people of Merseyside to go on display in the new Museum of Liverpool when it opens in 2010.

To uphold the map's close association with residents, the artists are including a community layer in their design, giving people the chance to add their own personal touch to the unique artwork which uses pioneering techniques to create a large multi-layered glass monolith.

People attending the Liverpool Map Handwriting Sessions, like the one held Tuesday, 14 April 2009 at Merseyside Maritime Museum where participants where asked to write creatively about Merseyside places that mean something to them. They also copied out extracts of the Liverpool Saga poem; an 800 line poem written by people from Merseyside to celebrate Liverpool's 800th birthday in 2007. If you missed that one and want to take part, you can at the next one to be held on Friday, 24 April 2009, from 10am to 5pm, at BBC Radio Merseyside.
A 3D structure, the map features many layers of sheet glass, each printed with different imagery and designs fused into a solid block depicting Liverpool as a city defined by culture and heritage rather than geographical lines. One layer includes the public's handwritten fragments of the Liverpool Saga along with their ideas on the boundaries of Liverpool and their own special places on Merseyside.

Like the Liverpool Map, the Liverpool Saga is part of Open Culture; a platform devised to enable the people of Merseyside to create their own culture, rather than just consume it.

The 800 line poem was written by BBC listeners from across Merseyside, with special opening and closing verses by the famed Mersey poet, Roger McGough. Local poets Sylvia Hikins and Dave Ward whittled down the 500-plus submissions to create the finished Saga, and both poets will be present at the handwriting sessions for the Liverpool Map.

Georgina Young, exhibition curator for the Museum of Liverpool said:- "It's fantastic that the artists have chosen to include the Liverpool Saga as a community layer in the map's design. Devised and written by the people of Liverpool it reflects the heart and history of the city and their impact on its past, present and future. The finished glass piece should say something about, and mean something to the people of Liverpool. Their involvement in defining the map's geographical, historical and cultural boundaries means that it can truly reflect the city's perception of itself."

Phil Redmond said:- "Culture is not just about attending or creating events, it is also about artefacts and how those artefacts form part of our collective and inherited culture. The map is a depiction of the way Liverpudlians live, not as something defined by a line on a map, but by where they and their families and friends live, work, shop and play. It is about a shared culture not geography."

The Liverpool Map project is supported by National Museums Liverpool, the Liverpool Daily Post, Open Culture, Phil and Alexis Redmond, Liverpool Culture Company and BBC Radio Merseyside.
Fact file:-
► Currently under construction at the Pier Head, the Museum of Liverpool is the new national museum for the people of Liverpool

► The museum will provide 8,000 square metres of public space across 3 floors, and visitors will have access to over 6,000 objects that are currently in store, many of which have never been on public display before

► The galleries in the museum will focus on 4 main themes: Port City, Creative City, People's City and Global City

► As a major boost to the Liverpool economy, it is estimated the Museum of Liverpool will attract more than 750,000 visitors per year, provide at least 500 construction jobs and 73 direct permanent jobs

► Find out more: A new display about the museum has now opened at Piermaster's House, Albert Dock. It features a model of the museum and more information about the museum's galleries and the objects and stories they will feature. The display is open daily from 10am to 5pm and entry is free

* For more information visit:- liverpoolmuseums.org.uk